Now Iceman Returns in September, from Sina Grace and Nathan Stockman
Following up on yesterday's news that Unstoppable Wasp would return from Marvel in September, the House of Ideas today announced that Iceman, whose solo was canceled back in December 2017, will return with another volume (and a shiny new #1 issue) in September, by writer Sina Grace and TMNT villain Nathan Stockman. It's almost as if… diversity… does sell… after all?
One of the favorites of our own X-ual Healing weekly recap column, Iceman's return is very welcome. Especially if we get to see his O-face again in any new Legacy ads, like this one from 2017: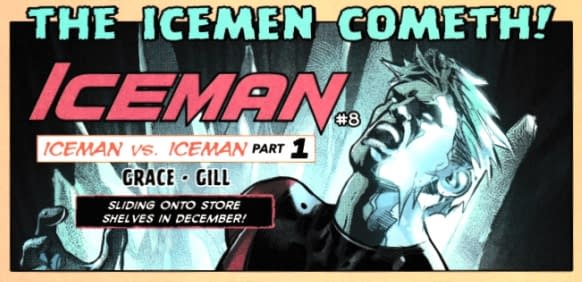 He sure is.
Marvel revealed Iceman's return on Marvel.com, where writer Sina Grace talked about how it felt to have readers connect with his take on the character in the first volume:
I'm amazed that the series connected with an audience so much that we defied odds and got another arc. The whole process of writing the first one, I was focused on doing my best work and crafting a series that sat well as a standalone…I had blinders on. Apathy is such a huge force in this world, so when the letters kept coming after the final issue—in my DMs, on Tumblr, to the Marvel offices, at comic conventions—that was when I had to ask, "Is this the impact other Super Hero books have on their readers?"

My heart warmed when gay Twitter stood by my choice to have Bobby irrationally want to move across the country for a guy—they saw that same insane puppy love in themselves. When the New York Times article hit, that's when I was like, "Oh, we did something special, and people took notice. Tight."

TL; DR: It feels pretty chill.
He also talked about what we can expect from the new one:
Iceman got to try his hand being a leader in the pages of X-MEN: GOLD. While he's fine enough running a team, he knows it's not where his strengths are best put to use. He's still sorting out how he fits in this world when he discovers that Morlocks are disappearing in the sewers. What he uncovers in the catacombs is far more terrifying than he could have imagined. From there? Things get really bad.

Readers can expect to see more relationship evolution with Kitty Pryde. They are not always gonna be on the same side of an argument. For anyone who had read interviews with me answering the question of who I'd really want to play with…just you wait for the cover unveil for issue #2!

Oh, and Jubilee makes a cute cameo at the end of issue #1. Am I allowed to share that?
In addition, we'll get a team-up with Bishop in the first issue. Iceman #1 hits stores on September 12th!