IDW to Publish the Mueller Report as a Graphic Novel
Shannon Wheeler, longstanding comics creator famous for Too Much Coffee Man (and for cosplaying as his character), Sh*t My President Says, God is Disappointed in You and new work for the upcoming Heavy Metal comedy spinoff Soft Wood has teamed up with actual journalist Steve Duin to turn the Mueller Report into a comic book…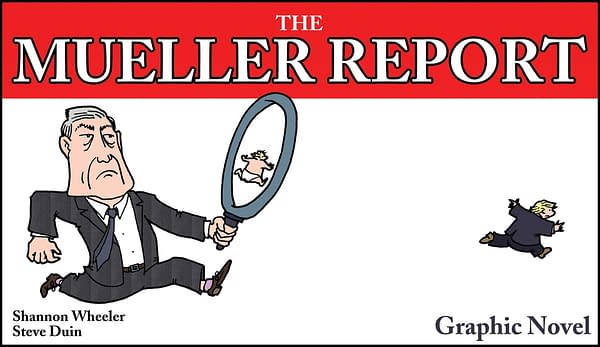 Fight the spin spewing forth from both parties and political pulpits and check out this graphic novel that brings a 400-page legal document down to size. Wheeler and Duin, in graphic form, bring to life scenes detailed in the report: from the infamous Trump Tower Meeting of 2016 to Trump exclaiming "I'm f*cked" upon finding out he was the subject of investigation. It's in the report and it's in the graphic novel!

The Mueller Report: Graphic Novel borrows style from classic private detective yarns, complete with a villain's rogues' gallery, nail-biting cliffhangers, and a lone lawman standing proud against the wave of crime.
And they seem to know their audience;
See Trump berate his Attorney General. Watch a petulant Commander-in-Chief lob insults at the White House counsel. Witness the "witch hunt" as it happened, cataloged as only the top lawman in the country could!

This staggering laundry list of questionable contacts, misleading statements, unreported engagements, and possible coordination — enough to stun any student of the U.S. Constitution — is laid bare with a cold, satirical edge.

You'll laugh. You'll cry. You may Tweet in anger. But most importantly, you will be reading the report for yourself!

"It's the Mueller Report… with pictures… and funny," explains Wheeler.
But you'll have to wait almost as long as the actual Mueller Report took as The Mueller Report Graphic Novel goes on sale in April 2020, from IDW Publishing. 208-page, black & white squarebound softcover, 6″ x 9″…