Infinity Countdown: Darkhawk #4 Review – Mecha Darkhawk vs. Dark Starhawk
[rwp-review-recap id="0"]
Nova Richard Rider is still searching the galaxy for his brother, Robbie Rider, aka the Raptor known as Talonar. He finds Robbie among the resurrected original Raptors battling a giant-sized Darkhawk. Nova isn't sure what's going on, but he will do whatever necessary to save his brother from danger, even if that brother is currently a space god being lauded as the Dark Starhawk.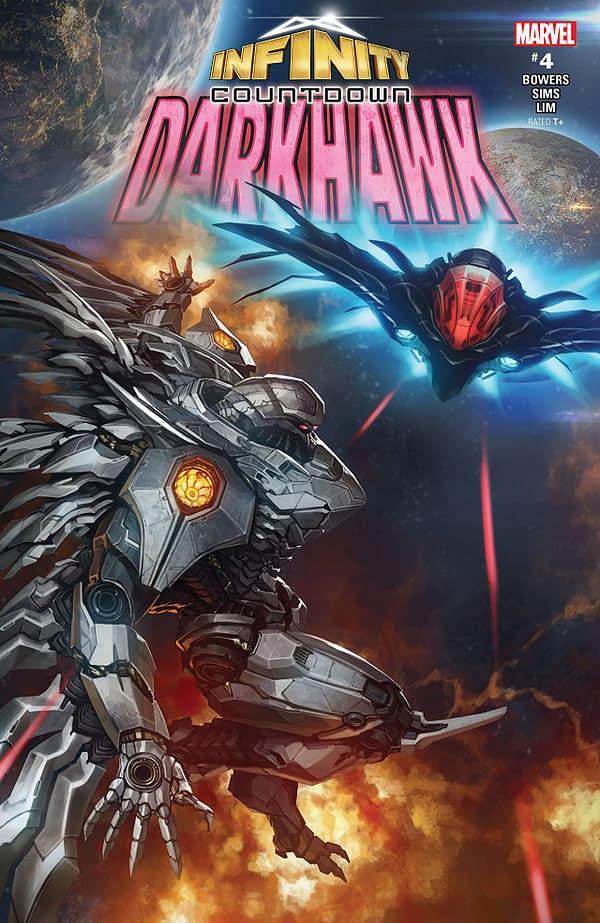 Infinity Countdown: Darkhawk comes to an end with a bang, bringing the Raptors, Darkhawk, and Nova into a three-way combat. Darkhawk knows Robbie is too far gone, and the Raptors need to be stopped. Nova doesn't believe in Darkhawk's pure intentions, but he will fight the Raptors. Of course, the Raptors want both Chris and Richard dead.
Nova comes off as a bit of an ass in this issue, but you can somewhat understand his motivations. Robbie is his brother, and Darkhawk is at least part Raptor.
That said, it's cathartic as hell to see Chris Powell even more powerful than ever. Giant Darkhawk is a great way to get me to read your comic.
The conclusion to Chris's story is somewhere between closure and affirmation. He has his powers back, but he knows that space is still a dangerous and chaotic place.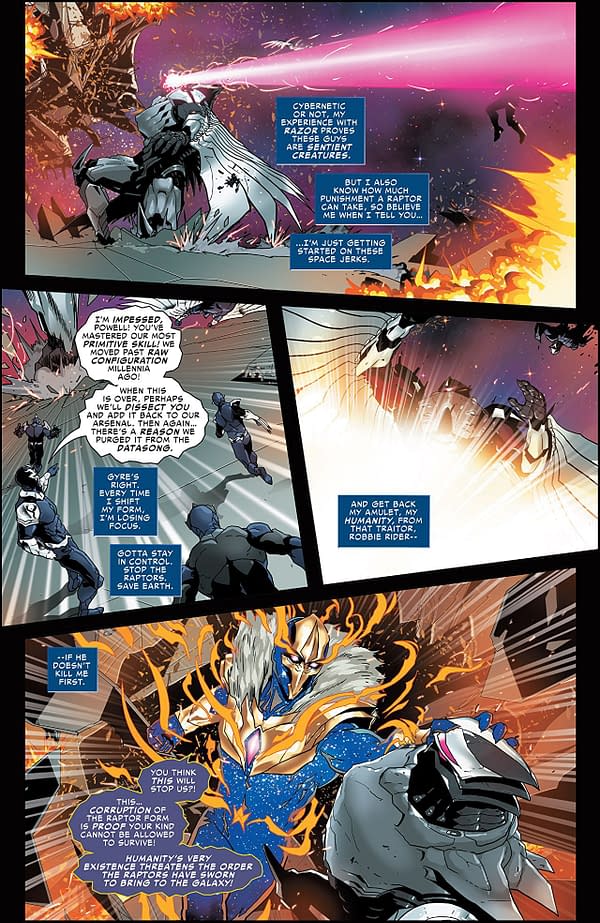 Gang Hyuk Lim provides excellent work once again. He shows a skill in depicting this cosmic battle between great powers. The visuals are striking, creative, and often a little strange. There is a gleam and glare that gives the work extra punch and shine. His color work is a vibrant balance of deep blacks and neon blues and reds to bring even more vibrance into the artwork.
Infinity Countdown: Darkhawk #4 is a solid ending to this side story for Marvel's current big cosmic hoopla. It doesn't seem especially relevant to the main story, but Chris Powell is a fun character to follow. Plus, Gang Hyuk Lim contributes excellent work in this story. This one earns a recommendation. Check it out.
[rwp-review-ratings id="0"]
[rwp-review-form id="0"]