Jamal Igle – Making People Think Differently, At Phoenix Comicon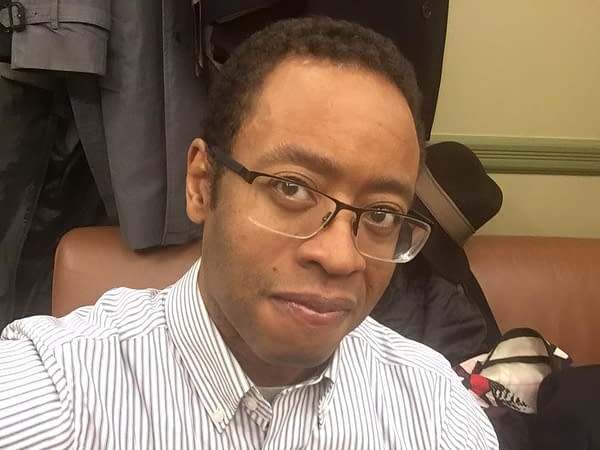 Don Guillory, history professor at Arizona State University, specializing in civil rights and black culture, writes for Bleeding Cool
Walking through Phoenix Comic Con, I felt compelled to look more deeply upon the vendors, writers, and artists in attendance. I saw a variety of work and many that seemed to follow the same trends, characters, and ideas we all witness and become accustomed to in the world of Pop Culture. As I continued to stroll throughout the hall, I stopped by a booth that caught my eye. Jamal Igle sat sketching away on his pad. After introducing myself, he and I engaged in a discussion of his past, his career, his work, and his plans for the future.
Mr. Igle has been working in the world of comics since he attended the High School of Art and Design. While there he served as an intern for DC Comics where he met several up and comers in the industry. Despite obstacles that presented themselves throughout his early career, he stayed focused and determined, understanding that he would be able to make this career work and have his art, designs, and ideas showcased. We discussed several of the projects that he has worked on over the years, but it was his newest projects that intrigued me: Molly Danger.
From speaking with Mr. Igle, he stated that that Molly Danger started as a pitch for an animated series. Unfortunately, the project, featuring a strong female protagonist similar to Kim Possible and Atomic Betty, was shelved in 2011. As he attended more panels, networked, and spoke with female fans, he saw the need for a character like this. Fans are demanding more female characters in what is more understood and accepted as a male-dominated space. Having a daughter of his own during that same period, he felt personally invested in making sure that he created a character that his daughter, as well as his nieces and other young women, could look to as more than just a symbol or token. It would result in greater inclusion and more accurate representations of females dealing with a variety of issues based on reality in comic books and graphic novels. It is important that we have these discussions and see more examples like this in pop culture. It starts to redefine the narratives that have developed for marginalized groups and people.
Mr. Igle released Molly Danger in 2013. Encouraged by the success and positive reception of Molly Danger, Igle pursued an even more provocative and engaging endeavor. Igle revealed to me that this project, a graphic novel entitled "Black," will help to make readers think differently about the worlds that they enjoy reading about and the characters they connect with. In the world of "Black" the only people gifted with superpowers are black. The concept itself is provocative and allows for its audience to see a variety of stories and interactions play out under a different light. I am awaiting the printing of this piece so that I may slip away into this universe and see the world of comics and graphic novels from a different perspective than before.
I walked away from his table thinking about the heroes I read about and always wanted to see something different than what mainstream comics and storylines offered. As I continued on my path, I thought about all of the young girls and Black readers who would now have a little more variety and depth to the stories that will unfold before their eyes and the impact that may have on them going forward.