Justice League #48 Review: Big, Relevant Ideas Here
The team is in deep space and discovers themselves in deep philosophical trouble in Justice League #48. They stumble into a very messed up situation and, through a well-meaning but ultimately problematic phone call, make it dramatically worse.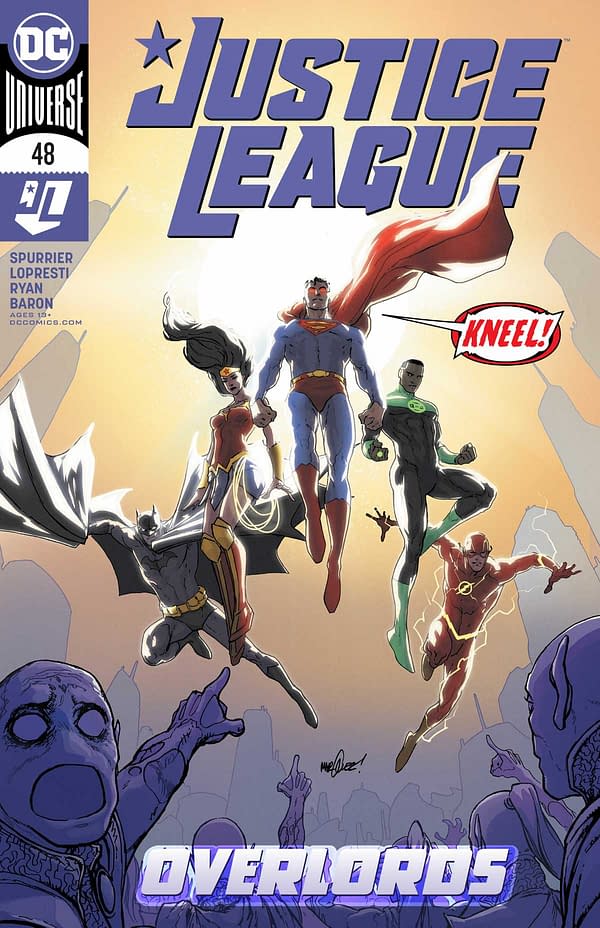 The core ideas here — an internecine struggle between two parts of an alien culture, the challenge of understanding — are interesting. Unfortunately, the execution of this idea is fairly clunky. Despite very strong and imaginative artwork from the visual team of Aaron Lopresti, Matt Ryan (not the Constantine guy … or is it?), David Baron and Tom Napolitano, the dialogue between the characters is facile and (with the exception of Wonder Woman) kind of dense (as even she notes).
"Our only qualification is that we can hit things harder than they can," Diana tells her colleagues as they dither about the great responsibility their great power has unexpectedly delivered. The challenge they face is one that, honestly, all their training and powers are not well suited to face.
Si Spurrier clearly had some big, relevant ideas here. Unfortunately, the combination of the limited page count and cast size made nuance a little challenging to expose. Perhaps the next issue can build upon this but for now, the ambition of this work outstrips its ability at this point. RATING: MEH.
JUSTICE LEAGUE #48
written by SIMON SPURRIER
art by AARON LOPRESTI and MATT RYAN
cover by DAVID MARQUEZ
variant cover by CLAUDIO CASTELLINI
As writer Simon Spurrier jumps on board for the start of the three-part tale "The Rule of War," it's close encounters…of a Justice League kind! After answering a distress signal from distant space, Batman, Superman, Wonder Woman, the Flash, and Green Lantern discover an abandoned cargo ship full of young aliens! When the League attempts to return the children to their home planet, they are met with awe, terror, and war! Thus begins a three-part storyline that will take the League to a previously unknown planet, with an all-new species, a dangerous mystery, and a new, otherworldly villain.