Justice League #6 Advance Review: The League Rallies, Doom Reigns
[rwp-review-recap id="0"]
The Totality is within the grasp of Lex Luthor and the Joker. Batman and Hawkgirl make a last rally to stop the two rogues, but Batman, Superman, and Martian Manhunter are sent back to the Hall of Justice with Hawkgirl now missing. Umbrax and Sinestro are close to indoctrinating all the Earth into the Invisible Spectrum, and Gorilla Grodd has the Flash powerless through the Still Force.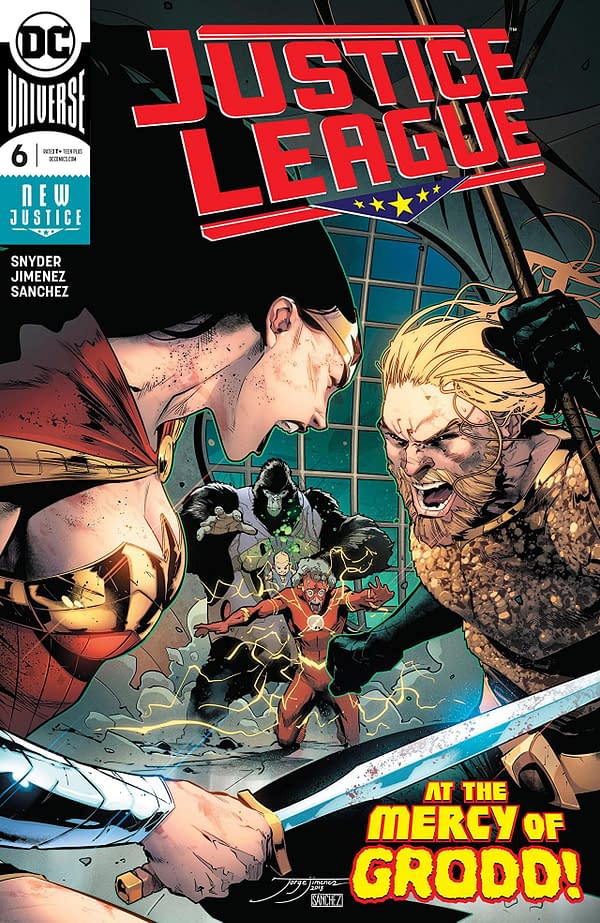 Justice League #6 brings a spark of hope for the world's heroes. While the Legion of Doom seems to have conquered the League, there are small hints of how the team could overcome this apparent victory of Lex Luthor.
The comic is bookended by a focus on the Joker which doesn't quite go anywhere. It poses the question of his origins and motives, but it doesn't really go any further with that.
Black Manta shows some dissatisfaction with Lex Luthor essentially surpassing him as a treasure hunter. This seems to be setting up something, but we'll see. Manta and Cheetah have been somewhat underserved in this story so far, and I hope to see more from them in issues to come.
I won't spoil what the Justice League is doing to gain the upper hand, but it is a bit cool, even if it isn't the most unexpected plot turn in the world.
Jorge Jimenez turns in another great-looking comic here, with the opening Joker page turning out damn unnerving. The brief fight between Batman and Lex Luthor is quite good, and the shadows are played with especially well here. The main criticism is the scattershot nature of the paneling, which has been a detail of this comic that has bothered me for the past few issues. It's not awful, and it's not impossible to follow. It can just be a lot for the eyes to make sense of. That aside, Jimenez does some great work, and Alejandro Sanchez backs him up with some wild and wonderful color art.
Justice League #6 is another impressive entry in Scott Snyder's new take on DC's premiere superhero team. The story begins to turn slowly, and the Legion of Doom is given some moments to remind us why its membership is among DC's greatest villains. Jimenez and Sanchez give the book a damn good treatment, and the book earns a recommendation. Give it a read when it comes out tomorrow.
[rwp-review-ratings id="0"]
[rwp-review-form id="0"]