The Ludocrats by Kieron Gillen, Jim Rossignol, Jeff Stokely and Tamra Bonvillain was originally announced at Image Expo in 2015. Then it was with just Kieron Gillen, David LaFuente, Jim Rossignol, and Ricardo Venancio. And now it's on the cover of next week's Diamond Previews. It's been a while.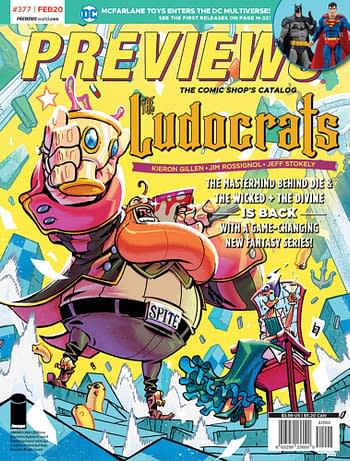 While one of the Diamond Gems for that month is Adventureman #1, which is a comic by Matt Fraction and the Dodsons announced at San Diego Comic Con in 2015. Basically Diamond Previews is looking like a window into half a decade ago.
Especially when on the other cover is the revival of The Boys that ran from 2006 to 2012, and now The Boys: Dear Becky by Garth Ennis and Russ Braun, with covers from Darick Robertson. While on their order form are Panda Mony's Alter Nation action figures which we first covered way back.
Diamond Gems include:
· BOOM! Studios' Faithless II #1
· Dark Horse Comics' Alien: The Original Screenplay #1 and Spy Island #1
· DC Entertainment's Catwoman 80th-Anniversary 100-Page Super Spectacular and The Joker 80th-Anniversary 100-Page Super Spectacular
· Dynamite Entertainment's The Boys: Dear Becky #1
· IDW Publishing's Sleeping Beauties #1 and Star Wars Adventures: Clone Wars #1
· Image Comics' Adventureman #1 and Fire Power by Kirkman & Samnee Volume 1: Prelude
· Marvel Comics' Black Widow #1
Enjoyed this article? Share it!