How Kieron Gillen Grabbed the Warhammer at Marvel Comics
Kieron Gillen has been talking (lots) about picking up the Warhammer… hammer at Marvel Comics, a new comic book line based on the RPG from Games Workshop, of which he has talked a lot in the pub and occasionally brought along painted figures. On his newsletter, he revealed it was the real name for his code 'Project Brighter Shade Of Blue' which he has been talking since August last year. Here are a few of those comments, now given added context, and how far he is in.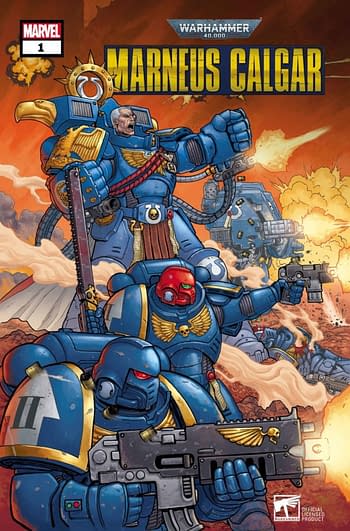 August 2019: Oh – I started a new project idly on Saturday night which may just be for my own amusement. Let's call it PROJECT BRIGHTER SHADE OF BLUE. This is very much experimental stuff, but I'm lucky enough that I had space to have a little play. Trying to create space to have a little play was basically one of my goals for this year. It's easy as a freelance writer to just cascade from one job to the next in a panic. Taking a step back to survey the terrain is something I've planned hard for.

January: I'm aware that time is pinching a little. I had a significant meeting with PROJECT BRIGHTER SHADE OF BLUE, where I presented my Big Idea Nonsense, and went worryingly well. Thankfully that's the last bit of big plotting required for a while, leaving just the work.

March: BRIGHTER SHADE OF BLUE artist is working. Whenever the books can come out, they will.

June: I sent off the third script for PROJECT BRIGHTER SHADE OF BLUE, which now actually have a release date.
It's not the first time there have been Warhammer comic books and there was a recent run at London-based Titan Comics. So why now? Kieron elaborates.
I've been approached to do Warhammer things in relatively recent years before. I've turned them down for various reasons – which are less relevant than the reasons I said yes this time. With the resources that Marvel can bring to bear on a project, it's a chance to do try and do Warhammer comics with a different sort of scope. I basically pitched a set up where I write the first mini, consult on the line and generally give them fun connective tissue to play with. It's not the Full Hickman Age Of X, but a chance to be more involved in a development of a line is certainly one of the reasons I said yes.
There was also the natural fit – like it was a fait accompli.
I also suspect it's not a surprise to many people that I'm launching this. I'm told when it was mentioned they had the licence at the Marvel Summit, the room basically went "So Kieron, right?" My brand is remains my brand.
As to his approach for the Warhammer-deprived,
Marneus Calgar is our entry way into the world of 40k. My inspiration is very much Batman Year One. As in, do a book which works both as an introduction to a character and a world while also absolutely hitting the notes a fan of the world would like to see. If you've always wanted to know more about 40k, this is a place to join us. If you always wanted to see how a power fist turns people into mist, this is also the place to join us.
Out in October, with art from Crossed co-creator Jacen Burrows.