 Lance Fensterman is a busy guy right now. Group Vice President of Reed Exhibitions, the New York Comic Con has been his baby from the beginning. And this year, it's having babies of its own, extending across ten days as New York Super Week. We had a little chat about the burden.
He told me "I don't get paid more, the bigger it gets. I think I'd prefer something smaller, I'd get a lot less stressed." However his ego does benefit from the increasing size of the event. As for the reason for the Super Week he puts it down to selling out tickets to NYCC faster and a greater demand, which can be mopped up a little better by the longer, larger occasion. He realised that there was only so big the show could get in the Javits Center, and there is less room to expand in an already full city, to expanding in time and across the whole city was a great solution.
Super Week won't quite visually dominate New York as San Diego Comic Con does to its city, as Manhattan already has plenty going on as the city that doesn't even power nap. But in five or ten years, he wants to see Super Week become a similar brand to Fashion Week or Ad Week, and let everyone know what's going on. But with 110 events over 25 venues, from Midtown to Union Square to Brooklyn, that's enough to be going on with. And he already has reports of full houses at various venues.
He also talked how it was a way to make the NYCC more about comics, by extracting events such as the Star Trek Captains and the Walking Dead Cast events out of the show, as well as creating "smaller, nichier events" that more people can get a chance to see without having to buy a full attendance ticket. There is lots of money, lots of time, lots of attention being spent on expanding Super Week and sees this as the future, "where this is all going." He emphasised how difficult to run such a show is in such a location, that it can be a dangerous situation but wanted to emphasise how much he wants it to be as safe as possible, for people to get access in a timely fashion, get to enjoy the show and most importantly see something they'd never heard of and fall in love with it. And as to safety, the anti-harassment information is more prominent that ever before, and indeed this year has been designed by Amy Reeder (above and below).
He also talked about how much more there is to see than anyone will have time for, and underlined that people should use the NYCC mobile app to plan their time.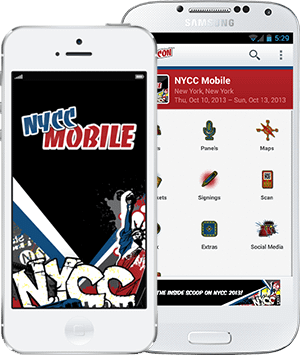 But what will be different with the show this year? Well, Lance talked about how last year's introduction of electronic badge readers was a response to attendee feedback, and how this year they will be clearing the Main Theatre after every panel, rather than just the smaller rooms. So no camping out in a panel for the whole day in the best seats. And a greater chance for more people to get into panels, and also to get more people onto the showfloor.
Which brought be onto recent statements about comic conventions from Denise Dorman and the like, which Fensterman seemed to recognise. However he stated that the response of attending artists to the surveys he mentioned previously were amongst the highest and happiest in recent years and sees no reason that wouldn't continue this year.
As for the focus on comic books against other media, also emphasised how the Artists Alley was the biggest such in the country, and how the existence of Super Week helped the NYCC focus more on comics within the show walls.
But I get get to wheedle out of him that there is going to be "cool news about toys" at the show, with a specific brand of toys and that it will be a big, big reveal. Though he seemed rather nervous about even saying that and was watching every word.
He was less guarded talking about this being DC Comics last year at NYCC as a New York publisher. "How weird is that? How crazy is that?" but he saw it as "not really saying goodbye, we're still doing cool stuff, they'll still be at the show every year… I just don't want John Cunningham (DC Comics VP – Sales) renting a room in my basement."
I can concur with that…
Enjoyed this article? Share it!