Posted in: Comics | Tagged: Comics, dynamite, entertainment, joe benitez, Marc Andreyko, red sonja
---
Writer's Commentary: Marc Andreyko on Legenderry Red Sonja #2
Dynamite has sent us a new writer's commentary by Marc Andreyko for Legenderry Red Sonja #2 with a cover by Joe Benitez and interiors by Igor Lima.
Red's return to the life of a pirate-for-hire puts her square in the middle of a High Seas gang war, which spells trouble for someone, but maybe not who you would expect!
And now, the commentary…
Marc Andreyko!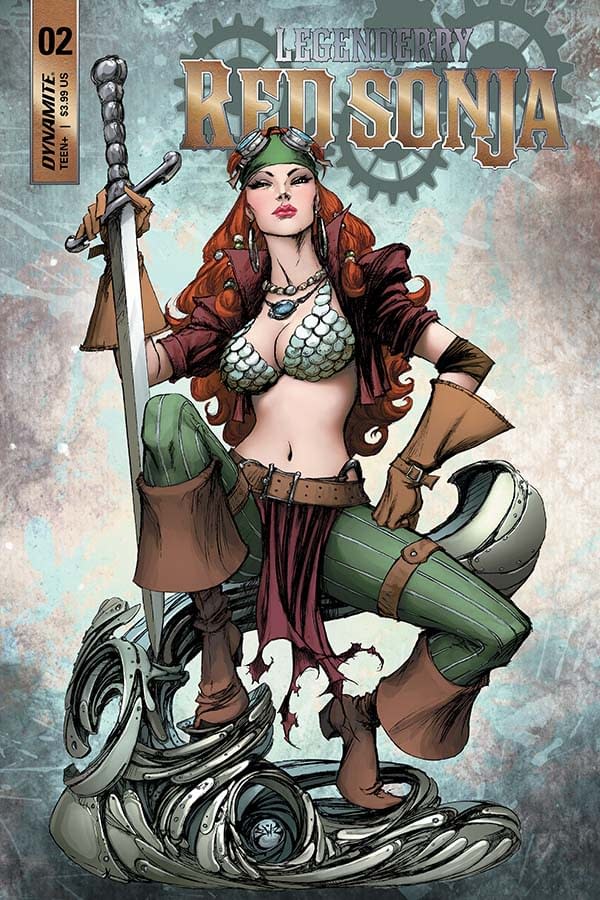 *****
PAGES 1-4:
It has been said that you should enter a scene late and leave it early, so who am I to not follow good advice here? And since this miniseries is all about pirate movie/movie serial adventure, I went all in with a literal "cliff-hanger"… well, cliff-jumper, at least.
And here we see just how important Igor is to the story: he has lush detailed backgrounds, multiple environments and characters, AND has to make it feel frenetic. Boom. He makes it look damn easy.
I must give a shout-out to our colorist, Adriano Agusto. His palette is the final ingredient to make the visuals on this book sing. His palette choices, his attention to detail are simply wonderful. It's always a treat when the whole team is firing on all cylinders.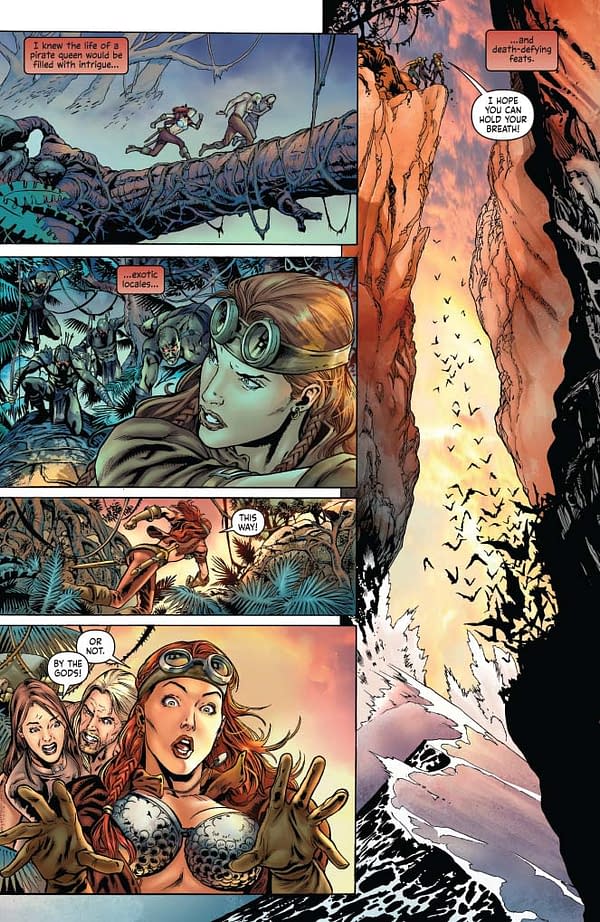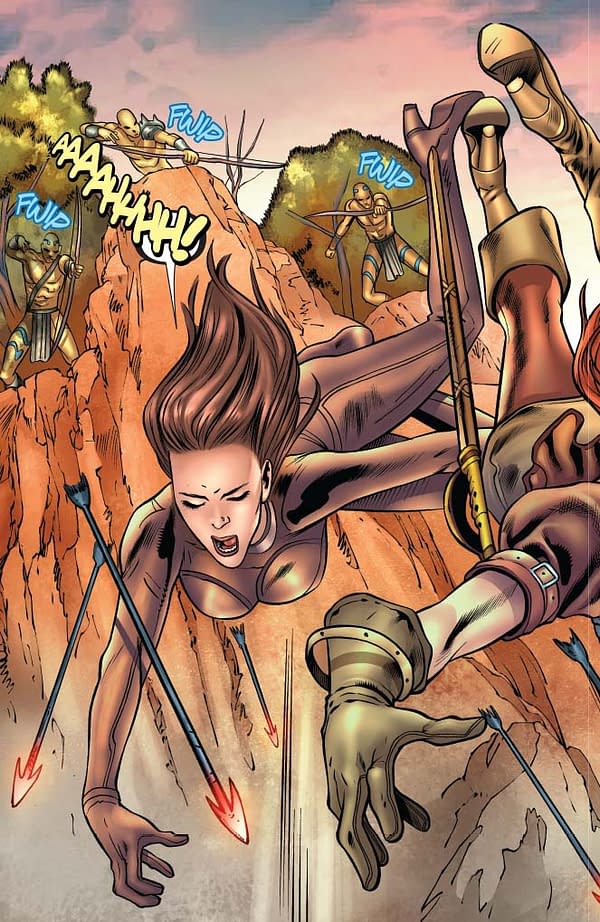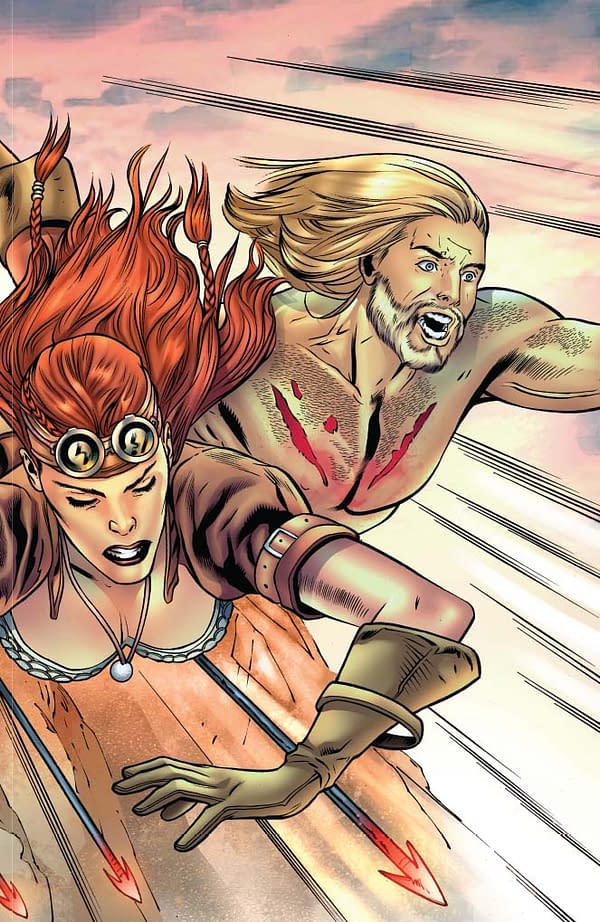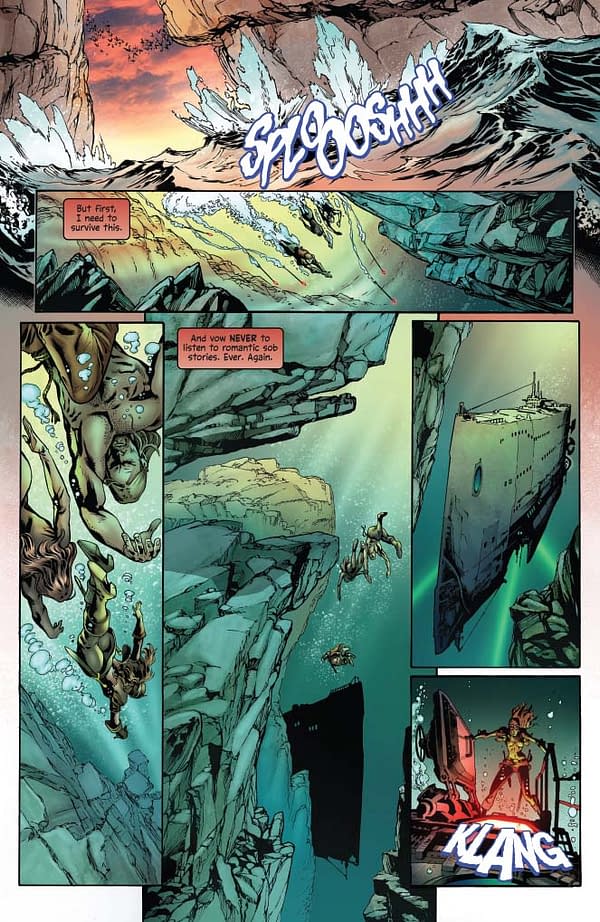 PAGES 5-8:
Here is where Igor really earns his money. The dreaded "people standing around talking" scene. Sometimes an info dump isn't a cheat, but totally necessary. (That's why you don't have the audience ahead of the characters at this point. The readers and the cast are finding out info at the same time. Plus: it's only issue #2, so there are lots of questions that need answering.)
The way Igor moves the camera around not only creates visual interest in a static scene, but it also defines the space that Red and Tesla are in.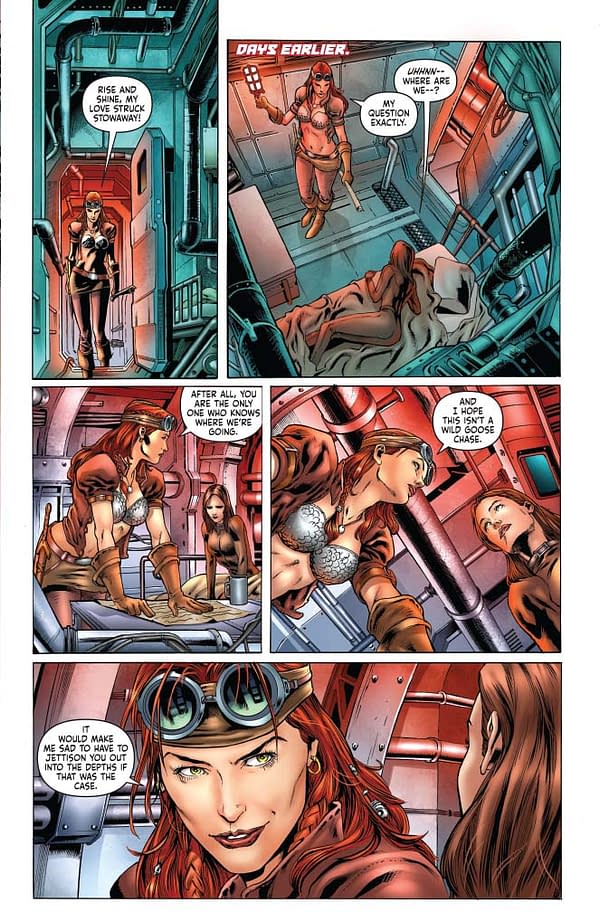 PAGES 9-15:
Gath!!! He's a blast to write! Like all great fantasy villains, he's just nasty and arrogant. (And damn ugly, IMHO.) Torture in castle dungeons, peeping via talismans, killing tentative underlings, mad cackling — it's all there. And once more, Adriano adds the color that makes that lava adjacent torture chamber FEEL hot.
PAGES 18-20:
Info-Dump, Part Deux. Here, again, a potentially dull scene, but by following the characters as they walk and talk (think The West Wing), we get a tour of the Nautilus and the reader gets an even more detailed look at the layout of the sub. This is important as having the audience have a sense of space early on makes fight/action scenes in the space later far easier to choreograph and for the reader to follow.
No cliff-hanger ending here … but, more calm before the storm.
Take a deep breath. It only gets crazier and more accelerated from here!
---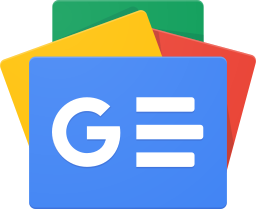 Stay up-to-date and support the site by following Bleeding Cool on Google News today!