The King-Size hardcover range from Marvel Comics are extraordinarily over-sized hardcovers, that take up much of the comic book shops that sell them. Around twenty-two-inches high and fourteen inches wide, it's hard to miss them in stores. Created and named to celebrate the work of Jack Kirby, they have published three volumes of his work in that fashion, Kirby Returns! King-Size Hardcover, Kirby is Mighty! King-Size Hardcover and Kirby is…Fantastic! King-Sized Hardcover. For Christmas, we are getting a Ditko is Amazing! King-Size Hardcover. And Marvel has also launched Jim Lee comics in a similar format, dubbed the XXL line.
And now for May, we are getting a Steranko is Revolutionary! King-Size Hardcover for May 12th in 2020. At 336 pages long, the contents haven't yet been revealed (though we could probably guess), given Jim Steranko's published work at Marvel Comics may fit in its entirety into that. Strange Tales, Nick Fury Agent Of SHIELD, Captain America and a few other bits and pieces.
While we don't have any visuals from this monstrosity – we do have Steranko's tribute to Stan Lee from Jim Steranko from the Celebrate Stan Lee comic book given to attendees to the Stan Lee celebration held in New York earlier this week (if they still have them). I say 'tribute to Stan', it does read a little more like a tribute to Jim…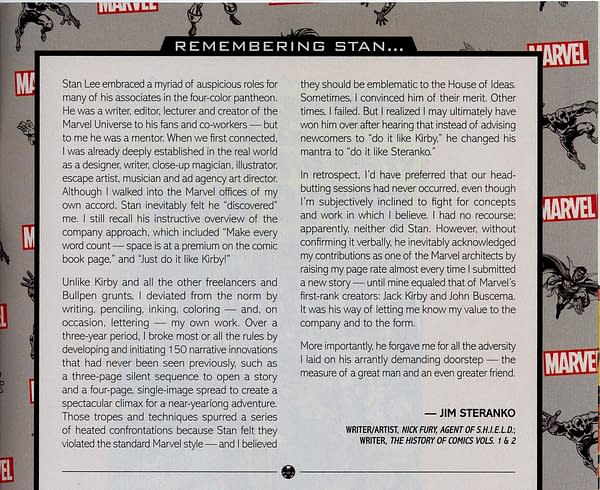 Enjoyed this article? Share it!