You ever get the feeling that somebody is watching you? If you've ever said anything about Marvel Comics, it might not just be paranoia… maybe they really are out to get you!
Earlier today, the New York Times confirmed Bleeding Cool's scoop that the teasers Marvel has been dropping all week for Al Ewing and Friends were the creative teams of an 80th-anniversary Marvel #1000 comic book, which each team doing a single page story in a comic. Some of those teams involved celebrities and creative folks from outside the world of comics, and in the article, Marvel Editor-in-Chief C.B. Cebulski revealed how Marvel came to select those specific people to participate in this project… and the answer may kind of creep you out!
From a press release Marvel just sent out:
Also speaking with the Times, Editor-in-Chief C.B. Cebulski described how the buzzworthy creative teams were cast – especially with talents outside of comics: "Our characters are mentioned in so many different ways and in so many different mediums and we always keep track. Now these distinguished individuals are able to contribute back to the comics they grew up on."
Just let that sink in for a second. Marvel is "always keeping track" of whenever anyone mentions their characters in "so many different ways and in so many different mediums." In other words, Marvel is running a massive surveillance apparatus to keep track of everything anyone ever says about them! In other other words: Marvel is ripping off Santa Claus, making a list, checking it twice, and classifying people who talk about Marvel into one of two groups: naughty, or nice. In other other other words: boy, are we in trouble!
So Marvel is keeping track of what people say about them, and if people say nice things, they get a job at Marvel writing comics. But what if they say not nice things? What happens to those who are naughty?
*gulp*
Look, all we're saying is, if you don't hear from us for a few days, well, you know what happened.
Actually, you know what, Marvel can do their worst. Because we can't really think of a punishment worse than having Rockwell stuck in our head for the rest of the weekend, and now that ship has already sailed.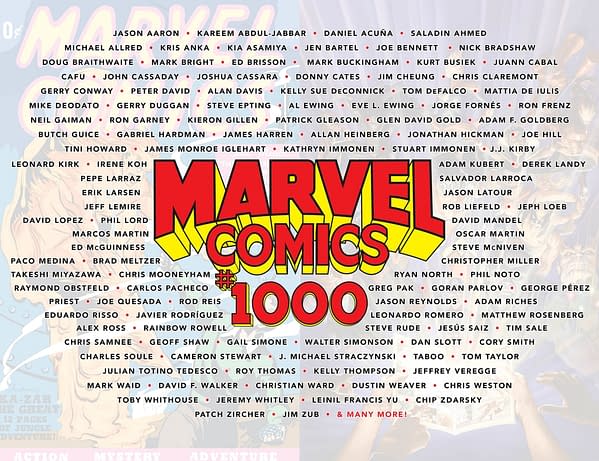 Enjoyed this article? Share it!