Mike Norton's Anti-Trump Webcomic Lil' Donnie Collected at Image in August
Opinions on the President of the United States tend to differ depending on who you ask (try it at your next family get-together), but there's one thing people on both sides of the aisle can agree on: we can't get enough of Trump.
From our newspapers to our 24-hour cable news networks to our '80s TV sitcom revivals to our Russian social media bot propaganda, Donald Trump is a subject that it seems everyone is talking about, all the time. Well, hopefully that hasn't been a two-year fluke that's about to end this Summer, because Image Comics is counting on the hunger for Trump to fuel sales on Lil' Donnie Vol. 1: Executive Privilege, a hardcover collection of the webcomic of the same name by Mike Norton.
Featuring lots of pictures, and presumably talking about Trump on every page, even the President can make it through this 80-page document. Look for it in August, and check out the solicitation below: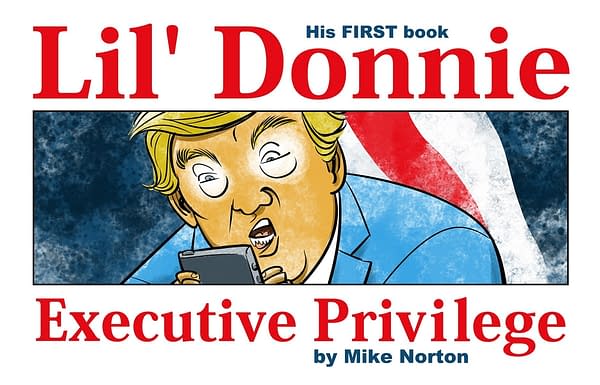 LIL' DONNIE, VOL. 1: EXECUTIVE PRIVILEGE HC
STORY / ART / COVER: MIKE NORTON
AUGUST 22 / 80 PAGES / FC / T+ / $12.99
9 x 6 landscape format
Finally, the acclaimed Rueben Award-nominated webcomic is collected! Follow the timely and terrifying adventures of Lil' Donnie, the worst president in the history of the United States of America. This collection contains the first year of antics of a truly motley crew of weirdos and degenerates as they work (HA!) to make our world a better place… for them! Get one while we still have a first amendment!
Collects the first 125 LIL' DONNIE comic strips