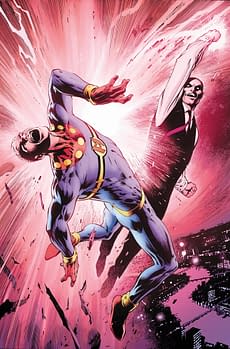 In cinemas in the US over Memorial Day weekend, Bleeding Cool has been told that Marvel Comics will be running ads for the Miracleman comic book.
The ad will run in 365 cinemas, before PG-13 films, and Marvel have told retailers that it is expected to be viewed by two-and-a-half million people. It will run approximately ten minutes before previews.
An interesting choice as, from last month, Marvel are bagging the comics in question for content issues and only the first four issues, in modified form, are available through Marvel's digital comics app.
And it will, no doubt, foster rumours that we may be looking at a Miracleman film sooner rather than later.
Enjoyed this article? Share it!