More Exclusive Editions of DC Titles for Barnes & Noble – With Added Pages and Lithographs
Looks like the Barnes & Noble exclusive edition of the Mister Miracle trade paperback by Tom King and Mitch Gerads must have done the business. As Barnes & Noble are now offering four exclusive editions of their titles, starting with the newly released Batman Damned by Brian Azzarello and Lee Bermejo.
And here's what that exclusive gets you. It seems so long since Barnes & Noble were pulling Sandman and Watchmen off their shelves in a fit of pique over DC Comics' deal with the Amazon Fire…
This Barnes & Noble Exclusive Edition includes an exclusive lithograph and 8 bonus pages that include additional character designs and pages filled out from black & white artwork from the book.
The Joker has been murdered. His killer is a mystery. Batman is the World's Greatest Detective. But what happens when the person he is searching for is the man staring back at him in the mirror?

With no memory of the events of the previous night, Batman is going to need some help. So who better to set him straight than John Constantine? The problem with that is as much as John loves a good mystery, he loves messing with people's heads even more. So with John's "help," the pair will delve into the sordid underbelly of Gotham as they race toward the mind-blowing truth of who murdered The Joker.

Batman: Damned is a visceral thrill-ride and supernatural horror story told by two of comics' greatest modern creators, Brian Azzarello and Lee Bermejo.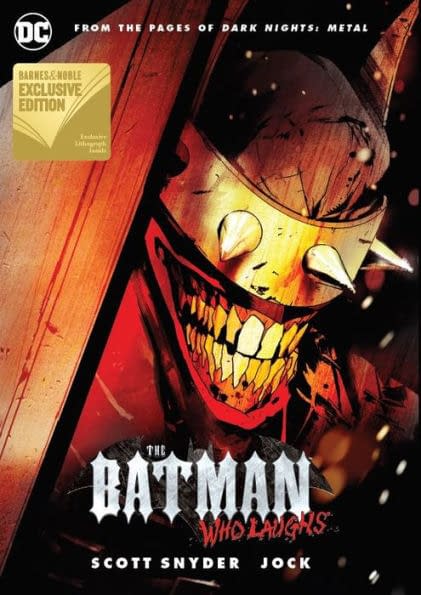 This Barnes & Noble Exclusive Edition includes an exclusive lithograph by Greg Capullo.
Oh and we have the lithograph, courtesy of Ian Melton.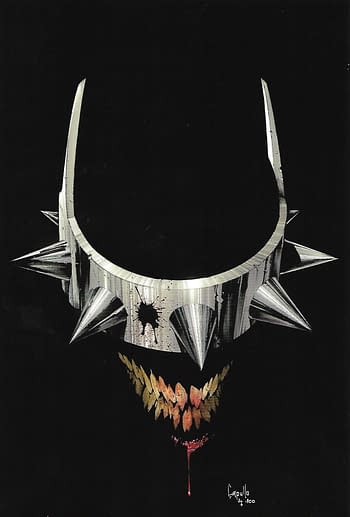 Collects the seven-issue miniseries, the one-shot The Batman Who Laughs: The Grim Knight.
Left rattled by the events of Dark Knights: Metal, Bruce Wayne must come face to face with the ultimate evil spawned from the Dark Multiverse. One part Batman one part Joker. The Batman Who Laughs.

"A Batman who laughs is a Batman who always wins."

The mastermind behind Dark Nights: Metal, Scott Snyder, gives you a look inside the most terrifying version of Batman ever! He and superstar artist Jock (Batman: The Black Mirror) kick off a chain of events that makes Dark Nights: Metal seem like child's play.

The Batman Who Laughs not only survived his fight with The Joker at the end of Dark Nights: Metal, but is now enacting a sinister plan across the Multiverse—something both terrifying and oddly familiar. When Bruce Wayne realizes the only way to stop this madman is to kill him, he must consider violating the very rule Batman can't ever break … the rule that created this insatiable villain—the Batman Who Laughs!

As Bruce begins to deduce that his current life is somehow wrong and that all the mistakes he's made are somehow connected, the Batman Who Laughs unleashes a brand-new evil. Enter one of the most punishing Batmen of the Dark Multiverse: the Grim Knight!
Wonder Woman Volume 1: The Just War (B&N Exclusive Edition)
This Barnes & Noble Exclusive Edition includes a variant cover + 8 pages of pencils, sketches, and script.
A new era of Wonder Woman begins as best-selling, Hugo Award-winning and Ms Marvel writer G. Willow Wilson makes her return to DC!

Far below Themyscira, Ares, the God of War, has been imprisoned for generations, repenting his past sins. But his new cellmate Grail may have an unexpected effect on him…and the plan they've come up with will change Themyscira—and the world—forever! When Wonder Woman rushes to eastern Europe to rescue Steve Trevor from a mission gone wrong, she'll find herself face to face with a very new, very different God of War.

It's true, Ares has been reborn on Earth—but has he changed for the better? Of all the role models in the world, he seems to have chosen…Wonder Woman?! Diana and Steve Trevor better watch their backs, because Ares isn't the only creature of myth to find his way to Man's World…and he's not the only resurrected Olympian either.
Collects Batman #251, Detective Comics #475-476, Batman #429, Batman #614, Batman (vol. 2) #40, and Batman: Europa #1
THE WORLD'S GREATEST DETECTIVE TAKES ON THE CLOWN PRINCE OF CRIME!

Of all the villains that threaten Gotham City, none is more dangerous—or more persistent—than the Harlequin of Hate himself, the Joker!

As Batman's oldest and deadliest foe, this mirthful maniac has served as a fearsome foil to the stoic Dark Knight for decades—and become public enemy number one in the process!

More deranged, murderous and resourceful than all of Gotham's other rogues put together, the Joker won't quit until the entire world sinks with him into insanity—something that Batman will never allow!

Neither one will rest until the other is defeated—and so the battle continues!

Featuring career-defining work from such legendary talents as Dennis O'Neil, Neal Adams, Jim Starlin, Marshall Rogers, Scott Snyder, Jim Lee, Brian Azzarello and Greg Capullo, BATMAN VS. THE JOKER collects seven of these iconic antagonists' most memorable confrontations for the first time in a single volume—available exclusively from Barnes & Noble!