CeaMarvel retreat day one over! Most discussed story topic: Hotdog

— BRIAN MICHAEL BENDIS (@BRIANMBENDIS) December 8, 2014
Bleeding Cool has, in the past, mentioned that Marvel Comics writer retreats have been a bit of a sausage-feast when it comes to creators. Okay, Brian, a hot-dog fest.
While plenty of female editors are present, the creators mapping out the future of the Marvel universe have been rather on the male side. The reasons given are that only creators who have signed exclusive contracts, to stop them creating work-for-hire for other publishers, specifically DC Comics, can attend such summits.
As to why Marvel hadn't thought to sign any female creators to exclusive contracts, that was never brought up.
Last year saw Charles Soule attend, even at the time he wasn't exclusive with Marvel – thought people at the Summit were told he was. That got sorted out in the months that followed.
And today?
Well, along with the usual crowd is one G Willow Wilson, novelist, graphic novelist and author of the book that no one expected to do as well as it did, Ms Marvel. The only Marvel comic that sells more copies digitally than in print, with a ferociously loyal fan base and…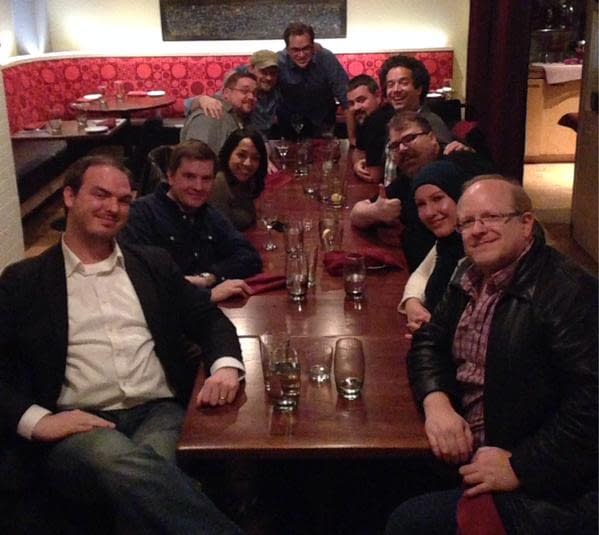 Fun, frenetic and fantastic first day at the 2014 Winter Marvel creative retreat! pic.twitter.com/dwbw0EFLZX — C.B. Cebulski (@CBCebulski) December 9, 2014
…now at the Marvel Writers Retreat, with her hands on the reins of the future of Marvel and signed up to a Marvel exclusive contract. Also at the table is her editor, Sana Amanat.
I wonder what G has come up with?
Enjoyed this article? Share it!