Neil Gaiman Original Cover Artwork Auction for #ComicWritersChallenge
In the early/mid-nineties, I was a comic book self-publisher. With LA-based Mike Meyer, we were Twist & Shout Comics, and published a comic book called Dirtbag and a spin-off comic called The X-Flies. Thirteen issues between them, it paid for a few trips to San Diego Comic-Con and friendships that have lasted a lifetime. I mean it's not like I was any good or anything., So I had to try and find ways to get people to order my comics regardless of quality. And so I invented the jam cover. Going to comic book conventions and persuading comic artists of note to add a sketch to a planned cover, allowing me to solicit covers by Simon Bisley, Frank Quitely, Mark Buckingham, David Lloyd and many more people who are much better than me. For my third issue, I found myself at a Neil Gaiman event in 1994 organised with Bryan Talbot – and so I pounced. He signed my Good Omens, my Hellblazer and very generously, sketched Sandmouse on the cover art for Dirtbag #3, signed and sticking out behind a monstrous concoction by Bryan Talbot.
The comic was published in November 1994 and it made enough to send me to San Diego Comic-Con for a third time. It remains one of my most treasured possessions, which means it has to go..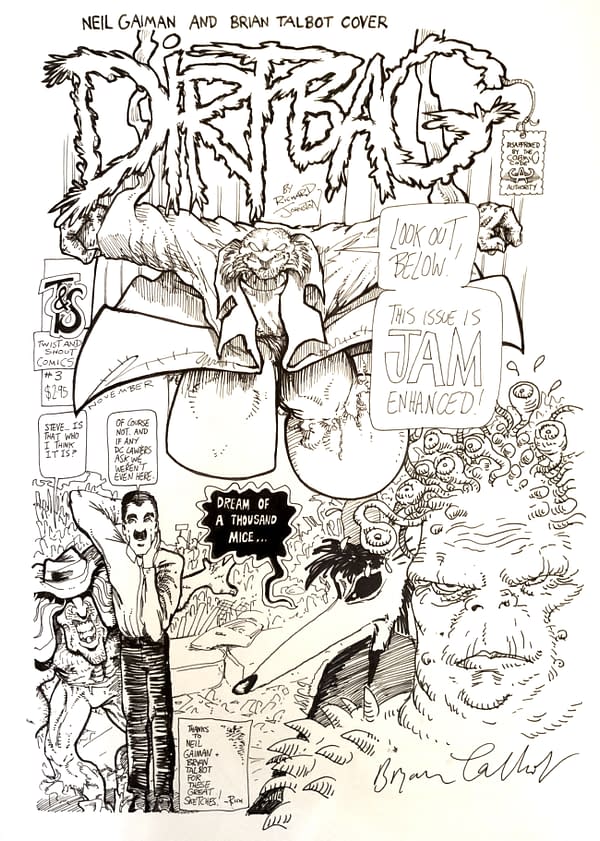 Because Gail Simone has challenged comic book writers to make a sacrifice, give up artwork they own, representing part of their career, that they hold the most dear, and auction it for Black Lives Matter charities. So, after shouting at myself a lot, I took this piece down from the wall. An original A3 sized piece of original cover art on bristol board, by me, Bryan Talbot and Neil Gaiman, from a published comic book that is included in Gaiman's bibliography and sometimes makes collectors act a little stupidly. This is the original and is a unique addition to any serious Neil Gaiman collections.
Bid in response to this tweet, as instructed. I will ship worldwide, which will probably cost $50 or so, so I hope your bid will be higher than that. Good luck. And to the successful bidder, I hate you even more than I hate Gail Simone right now.
Other Ways To Help
The protests against police brutality now span the entire globe and there are many ways you can get involved. You can go out and peacefully protest if you want. You can also donate to numerous organizations that are doing a lot of good work for the cause. Here is a list of just some of them
Over at AfroTech, there is a great list of five apps that can help you find black businesses to help support in these trying times. The rest of us should be supporting, protecting, and lifting up our black friends, family, colleagues, and total strangers whenever we possibly can.