From NYCC – Advance Artwork From Infinity Wars, Justice League, Iron Man, Thor and Detective Comics
Not every piece of advance artwork shown off at New York Comic-Con gets its own post on Bleeding Cool. I know it may seem like it, but no. So here are a few Marvel and DC shots from the day that are still worth sharing…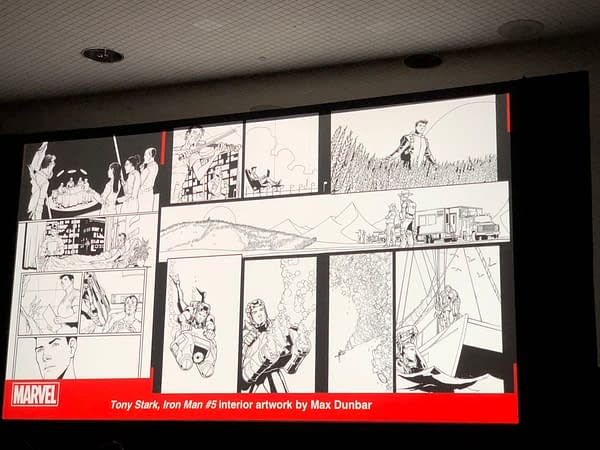 An advance look at Tony Stark: Iron Man #5 which will be an all Arno Stark issue as 2020 gets closer and closer…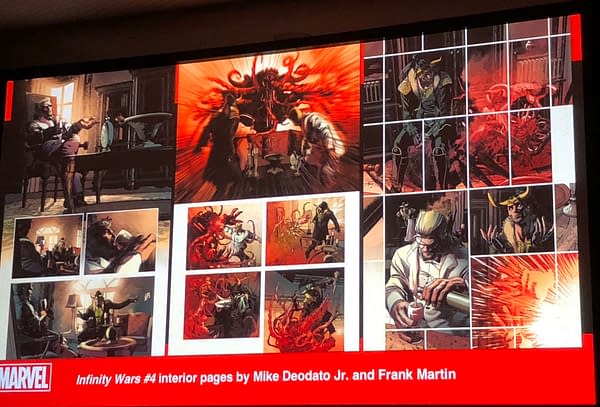 A look at the upcoming issue of Infinity Wars which has battles both physical and mystical.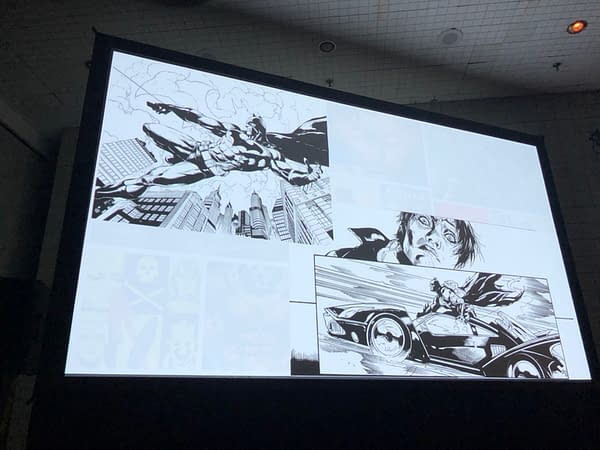 A look ahead at Detective Comics #994 – and the word that Detective Comics #1000 will see a new ongoing artist join the book with Pete Tomasi as writer.
Howard Porter just killing it on Justice League/Aquaman: Drowned Earth…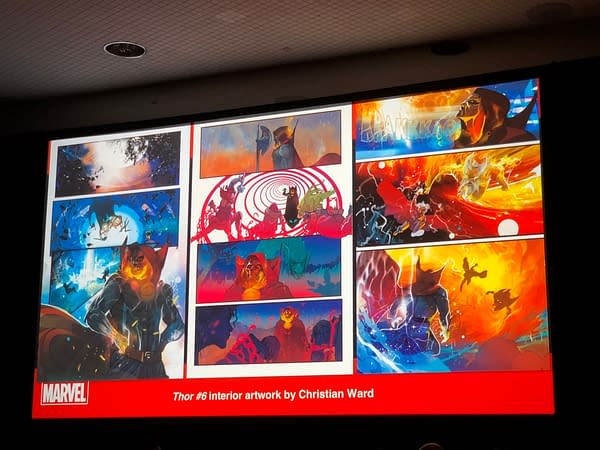 And a peek into the wonder of Thor #6 from Christian Ward…
THOR #6
(W) Jason Aaron (A) Christian Ward (CA) Esad Ribic
ALL-FATHER THOR FACES HIS DOOM!
If you thought Old Man Phoenix was crazy, then wait'll you see what we've done to Marvel's greatest villain. It's the end of the universe – and the return of Doctor Doom. A Doom more powerful than anything that has ever lived. Get ready for the greatest battle the far future has ever seen, as Old King Thor and the Phoenix Wolverine stand together at the end of time against an army of monsters and the final Doom. Rated T+ In Shops: Oct 17, 2018 SRP: $3.99

JUSTICE LEAGUE AQUAMAN DROWNED EARTH #1
(W) James TynionIV (A/CA) Howard Porter
"Drowned Earth" part one! The Ocean Lords-ancient sea gods with a grudge against Aquaman and Wonder Woman-invade the Earth with an alien army and flood the globe. As Batman, Superman and the Flash race to stop the waters from rising and turning everyone into aquatic monsters, Mera seeks the advice of an old enemy, and Arthur must face down Black Manta…or lose his connection to the ocean forever! In Shops: Oct 31, 2018
Final Orders Due: Oct 08, 2018
SRP: $4.99

TONY STARK IRON MAN #5
(W) Dan Slott (A) Lim, Gang Hyuk (CA) Alexander Lozano
20/20 VISION!
• The future has arrived!
• The return of Tony Stark's smarter brother, Arno.
• A classic Iron Man villain reappears.
• And a new alliance is forged that will plague Shell-Head for years to come.
Rated T+In Shops: Oct 31, 2018
Final Orders Due: Oct 08, 2018
SRP: $3.99

INFINITY WARS #4 (OF 6)
(W) Gerry Duggan (A/CA) Mike Deodato
Requiem is victorious. Infinity has been warped. Reality only has one hope.
Rated T+In Shops: Oct 10, 2018
SRP: $4.99

DETECTIVE COMICS #994
(W) Peter J. Tomasi (A/CA) Doug Mahnke, Jaime Mendoza
Batman's strangest case begins as the new creative team of writer Peter J. Tomasi and artist Doug Mahnke take over DETECTIVE COMICS!
Commissioner Gordon calls in the Dark Knight Detective when there's a murder at the Gotham City Aquarium-staged to look exactly like Thomas and Martha Wayne's crime scene, right down to the Playbill and pearls. How does this bizarre homicide tie into the shadowy monster that attacks Dr. Leslie Thompkins? This creature looks to wage a war on Batman-and it's using Joker Gas to do it!In Shops: Dec 12, 2018 SRP: $3.99
---
---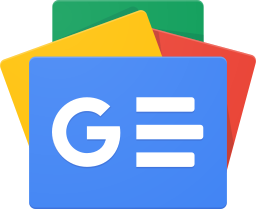 Stay up-to-date and support the site by following Bleeding Cool on Google News today!