A New Origin For an Old Wonder Woman Foe – But Could This be 5G in the Making? (Annual #3 Spoilers)
Today sees the introduction of a new character to the Wonder Woman universe – or is she? One Helen Paul, rescued by Wonder Woman and placed with ARGUS agents to raise as their own child, as shown off in Wonder Woman Annual #3 by Steve Orlando, V Kenneth Mario and Sandu Florea.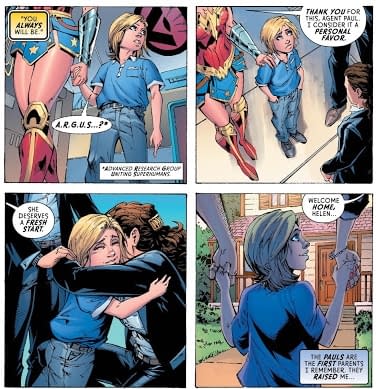 And someone who Wonder Woman kept an eye on over the years – and also establishing Wonder Woman has been on the scene for quite some time, ahead of the upcoming new DC Comics headline that may establish her as the DC Universe's first superhero.
And as Wonder Woman changes her look, so does Helen Paul.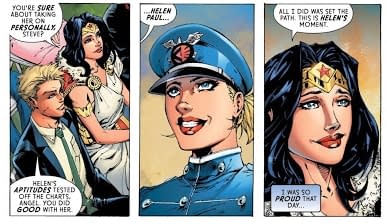 Until she becomes an ARGUS agent, fighting alongside Wonder Woman…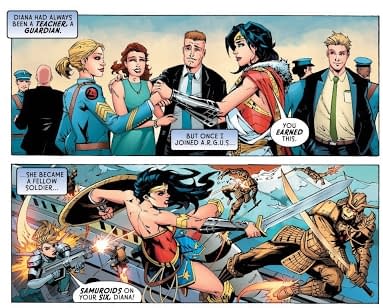 Whatever she happens to be wearing at the time.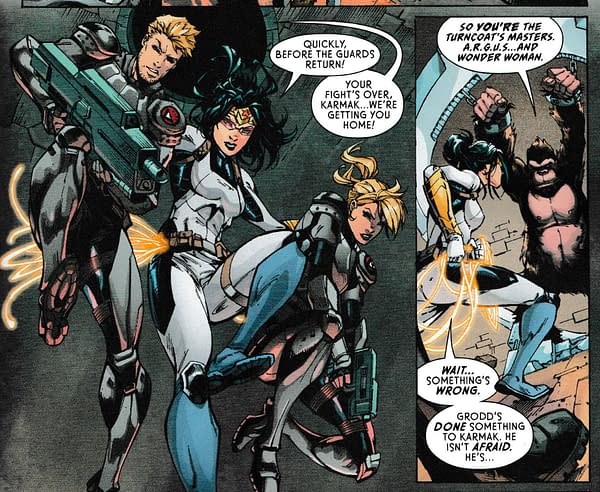 Although no longer a historian… and there's your first tease of a foreshadowing,. Maybe if she had been a historian, she may ave uncovered some uncomfortable truths.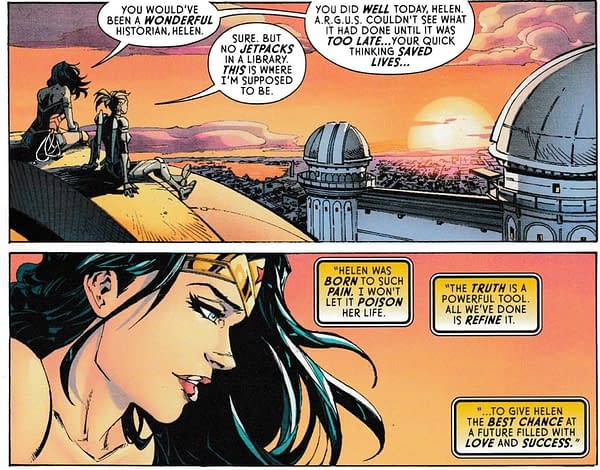 But without the truth, she is vulnerable to the machinations of Leviathan. Yes, it's an Event Leviathan crossover hiding in plain sight.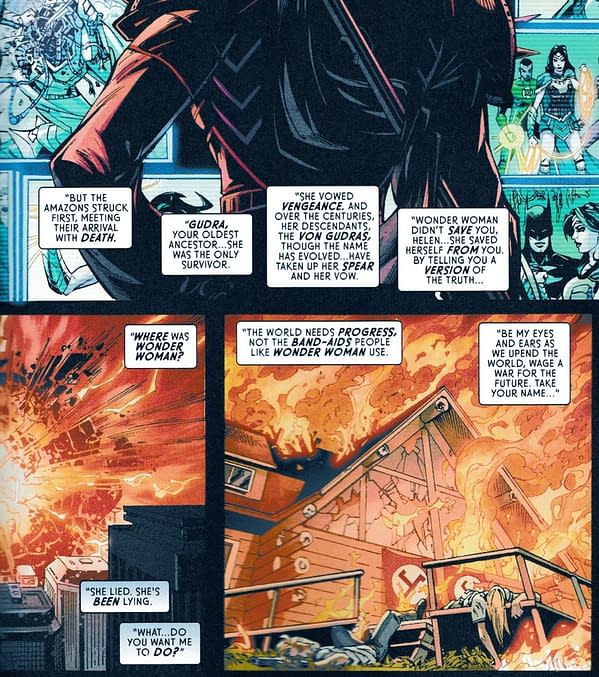 And the truth is out, ready to be weaponised.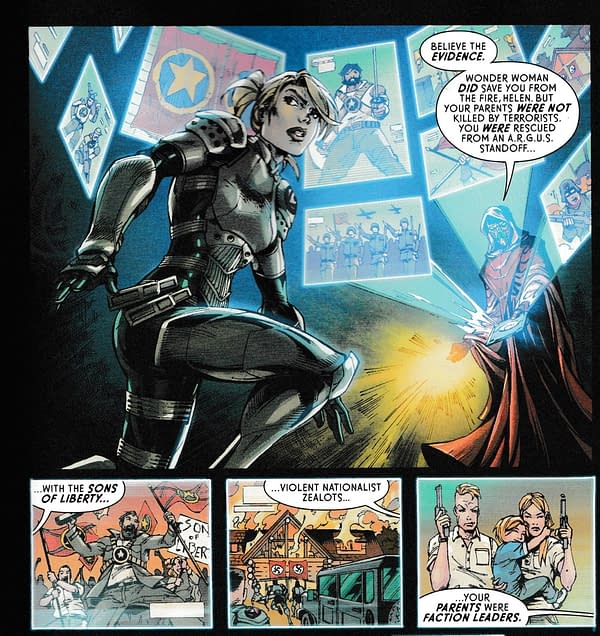 And a brand new origin for a familiar character… Big spoilers…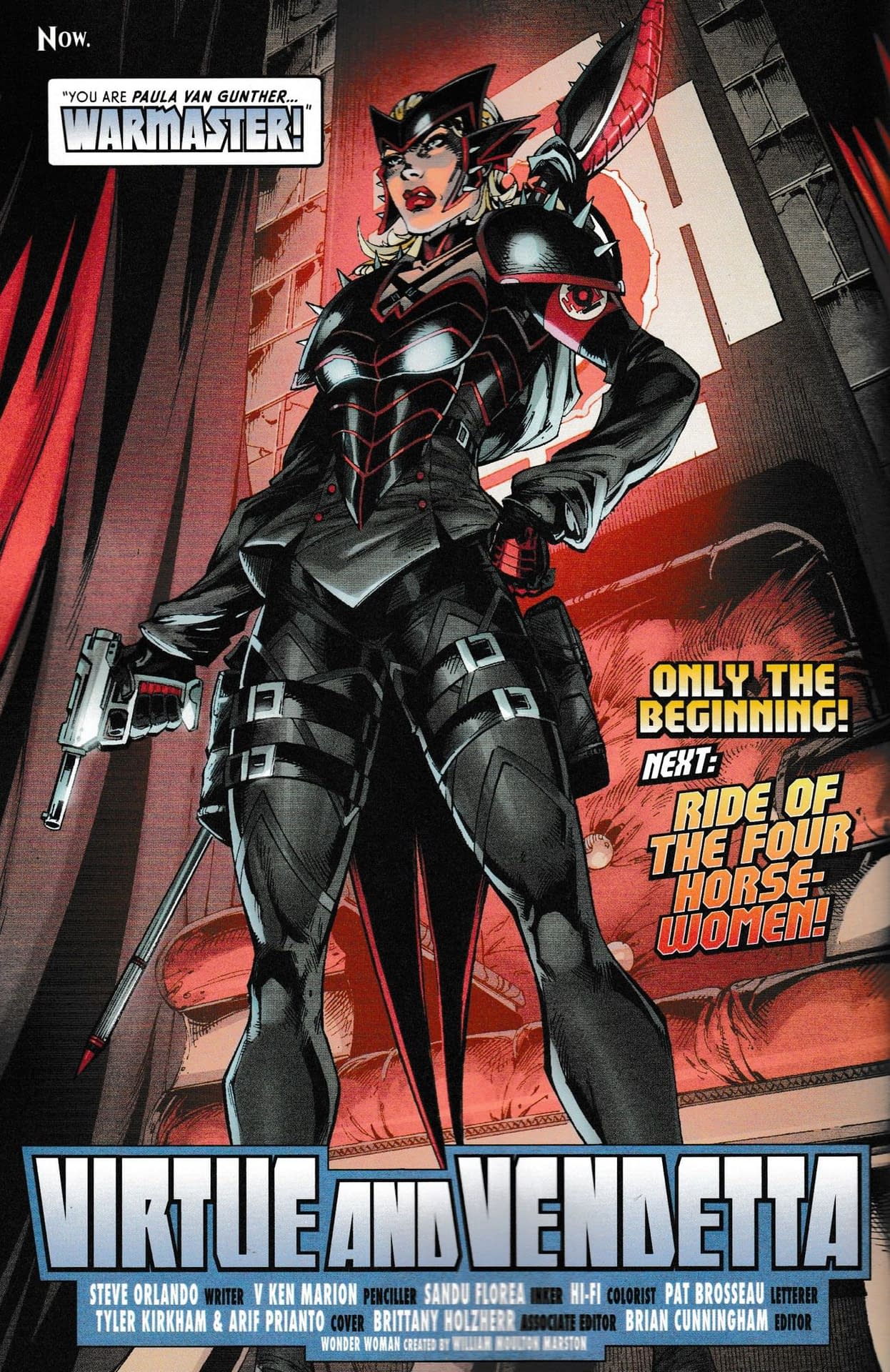 Paula Van Gunther, Warmaster.
Originally co-created back in 1941 by Wonder Woman co-creator William Moulton Marston, Baronness Paula Von Gunther was a Nazi spy and saboteur, later reformed into an ally, after it was revealed she had been blackmailed by Nazis who held her daughter Gerta hostage.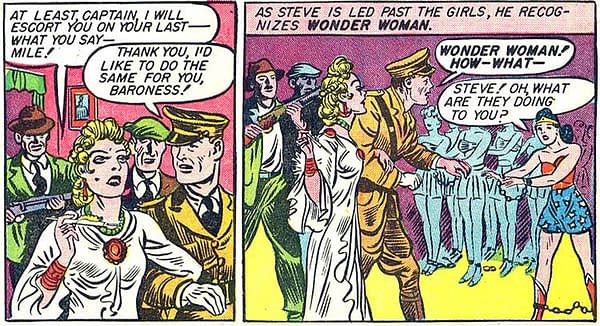 Decades later she was rebooted as a villainous Nazi mastermind by John Byrne in the nineties. And later revealed to have been a human host for the evil wandering spirit/multiversal doppelganger of Donna Troy. Dark Angel, later separating itself from Van Gunther.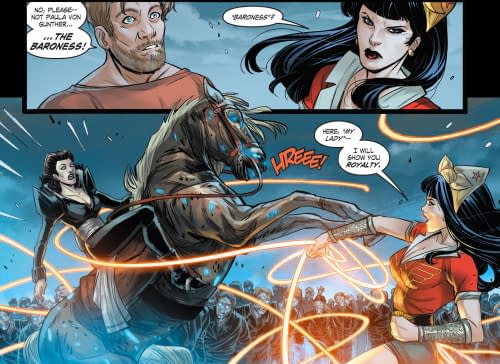 While Warmaster was Aristotle Buchanan, a conman merged with the spirit of Ares to become the Warmaster, intent on inspiring war by flooding the city with deadly advanced technology pilfered from the defects and rejects of S.T.A.R. Labs.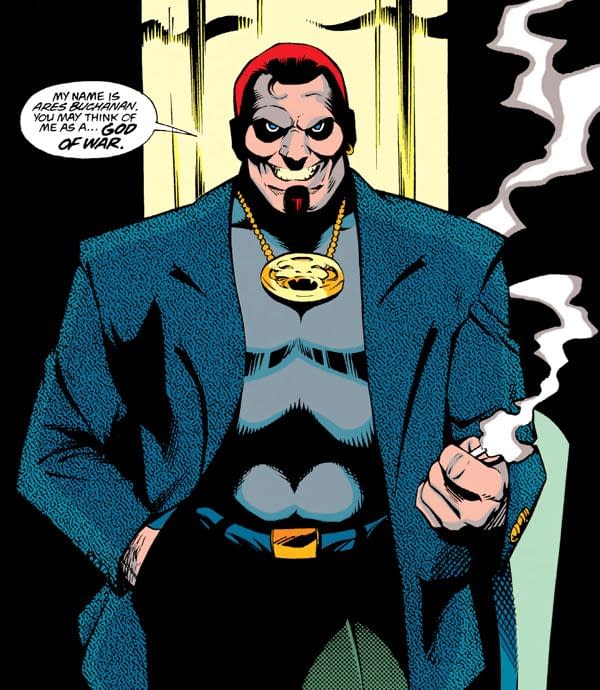 And now combined, with new origins and a Wonder Woman #750 on the way…
Also… and look, this is just mindless speculation, but if rehabilitation is part and parcel of Gunther's stories, could she be a candidate to take over Wonder Woman's position in 5G? Just a thought…
WONDER WOMAN ANNUAL #3
(W) Steve Orlando (A) V Kenneth Marion, Sandu Florea (CA) Tyler Kirkham
An EVENT LEVIATHAN tie-in issue! Years ago, Wonder Woman saved young Maria Paul from an explosive standoff between A.R.G.U.S. and the insurgent Sons of Liberty. By pulling that child from an inferno of hate, Wonder Woman changed her life. Diana watched Maria grow up into one of A.R.G.U.S.'s top agents. Every step of the way, Wonder Woman mentored Maria, taking her on her first mission – a daring rescue in Gorilla City. But when Leviathan decimates A.R.G.U.S., Diana's absence causes Maria to question everything, pushing her toward Leviathan itself. And when she does… the truth about her fiery rescue by Wonder Woman might just kill her.In Shops: Oct 30, 2019
SRP: $4.99