Time Magazine has released their list of the twenty-five more influential people on the internet. Yes, Donald Trump is there, But so is Matt Furie, creator of the cartoon character Pepe The Frog, seized on by, amongst others, Trump supporters, the alt-right and white supremacists last year, leading the creator to kill him off in this year's World's Greatest Cartoonist comic for Free Comic Book Day from Fantagraphics. Time Magazine states,
The 37-year-old artist never intended to create the Internet's most notorious meme. But when far-right extremists chose Pepe the Frog — the "blissfully stoned" character Furie had drawn for a 2005 web comic — to be their mascot, there wasn't much Furie could do. As the 2016 presidential campaign heated up, members of the alt-right started editing Pepe's likeness and using it to spread racist, sexist and anti-Semitic messages, so much so that the Anti-Defamation League declared Pepe a "hate symbol." Furie has repeatedly condemned the memes, and in May he killed Pepe off in an attempt to reclaim his creation. But those efforts have been mostly futile, showing just how quickly and powerfully the Internet can seize — and transform — even a seemingly benign piece of content. —Lisa Eadicicco
He is the first comic book creator to be part of the list. Though unlikely to be the last.  You can read the whole thing here.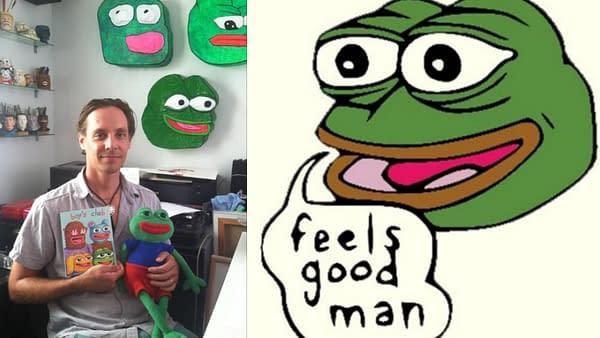 Enjoyed this article? Share it!