Judge Dredd is the last line of defense against the Dark Judges in 2000 AD this upcoming May. Plus, of course Dredd is the star of the Judge Dredd Megazine. All this comes from Rebellion's May 2018 solicits. More details below.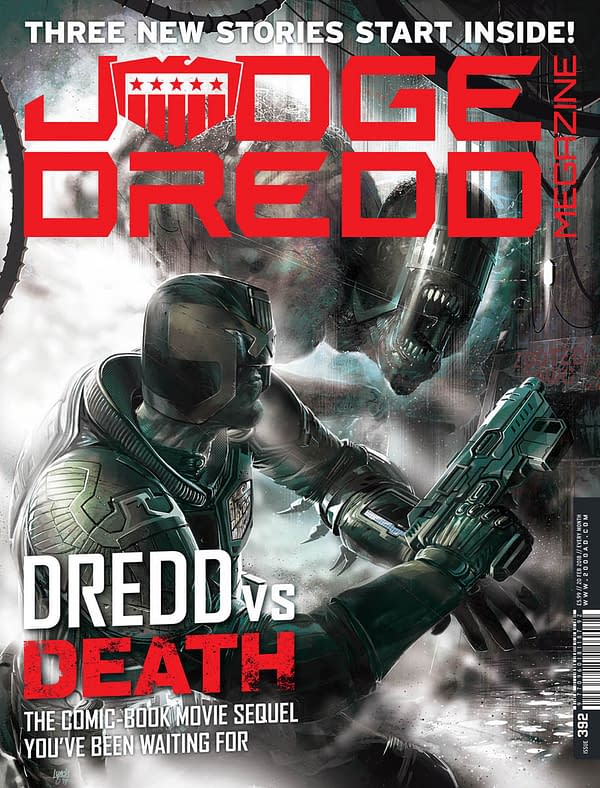 JUDGE DREDD MEGAZINE 396
396 on sale 16 May 2018
More action and adventure in the future-shocked world of Judge Dredd! Dredd is confronted with a dimensional incursion in the all-new crossover story 'This Corrosion' by Michael Carroll and John Higgins, where the lawman meets the terrifying Razorjack; Cursed Earth Koburn battles mutants on every side in the finale to 'The Law of the Cursed Earth' by Rory McConville and Carlos Ezquerra; the lawman makes a last-ditch attempt to stop the Dark Judges in the climax to DREDD movie sequel 'The Dead World' by Arthur Wyatt, Alex De Campi and Henry Flint; the demon claims more souls in 'The Returners' by Si Spencer and Nicolo Assirelli; and Chopper must fight to save his Aboriginal friends from mutant raiders in 'Wandering Soul' by David Baillie and Brendan McCarthy. Plus the usual interviews and features – and in the bagged supplement this month, Dredd has his hands full keeping Gramercy Heights under control in 'Block Judge' by John Wagner and Carlos Ezquerra!
64pp (+ bagged 64pp graphic novel), monthly, £5.99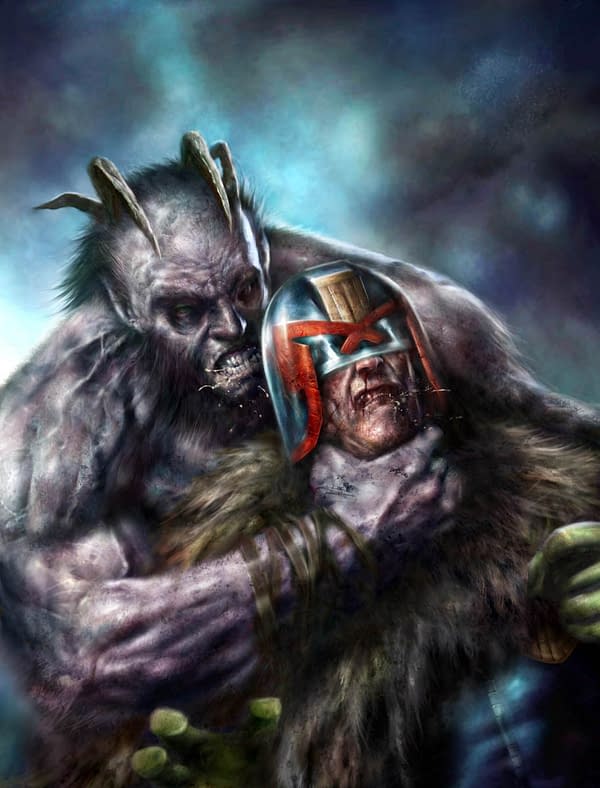 2000 AD PROGS 2079-2083
2079 on sale 2 May 2018
2080 on sale 9 May 2018
2081 on sale 16 May 2018
2082 on sale 23 May 2018
2083 on sale 30 May 2018
Incredible SF action from the Eisner-nominated UK anthology! The line-up of Durham Red, Anderson, Psi-Division and Jaegir all come to their explosive climaxes, making way for a whole new roster of stories to start in Prog 2081 – mutant bounty hunter Johnny Alpha is back and partnered with the offspring of his old buddy Wulf Sternhammer in Strontium Dog: The Son by John Wagner and Carlos Ezquerra; we return to the post-apocalyptic landscape of Deadworld as the Dark Judges wreak havoc in 'Damned: The Fall of Deadworld' by Kek-W and Dave Kendall; the dimension-hopping nerds get a taste of celebrity in Survival Geeks: 'Geek-Con' by Gordon Rennie, Emma Beeby and Neil Googe; on the dangerous, dog-eat-dog world that is The Cube, Nolan Blake tracks down wanted criminals in new series Skip Tracer by James Peaty and Paul Marshall; and there's more law enforcement from future cop Judge Dredd!
32pp, weekly, £2.75
Enjoyed this article? Share it!