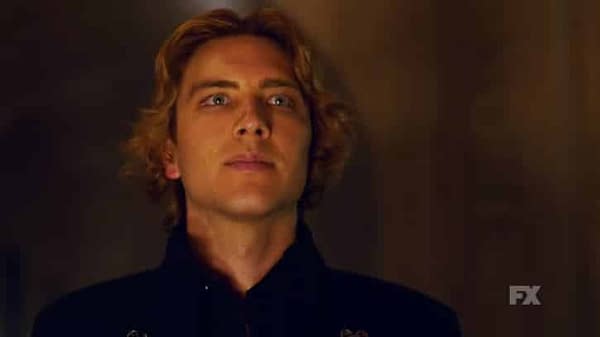 Welcome back to End of Days! Bleeding Cool's 'American Horror Story: Apocalypse' Live-Blog as we take a look at the fifth episode of Ryan Murphy and Brad Falchuk's FX horror anthology, 'Boy Wonder'.
After last week's mostly flashback episode explained how Queenie (Gabourey Sidibe) made it out of the Hotel Cortez alive (Hotel alert!) and how Madison (Emma Roberts) shuffled back onto this mortal coil (again), Michael Langdon (Cody Fern) proved himself worthy of the fast-track to becoming the first male Supreme – or "Alpha." Big problem: Supreme Cordelia Goode (Sarah Paulson) realizes Langdon's power comes from something ancient and truly evil – more than even the combined powers of the witches and warlocks can contain.
This week's episode takes us back to the show's current timeline – and while we'll still be getting some more of the backstory that lead up to the end of the world, it also appears that Cordelia and her coven are ready for a fight – with the fate of what remains of the world hanging in the balance.
https://www.youtube.com/watch?v=ub9GqnIvgQs
American Horror Story: Apocalypse s08e05 'Boy Wonder': Written by John J. Gray; Directed by Gwyneth Horder-Payton.
● This page should update…but just to be on the safe side I strongly suggest you refresh every now and then to make sure because I've been known to ramble often and quickly.
● If you're going to social media to talk about what we're talking about, go with: #AHSBC #AHSApocalypse
● While you're waiting (or if you just need a breather from my raw, uncut cult-of-personality), check out some cool American Horror Story: Apocalypse "extras" we have waiting for you below.

Here's a look back at a key scene from last week's 'Could It Be…Satan?,' when Langdon proved to be the agent of change the warlocks were waiting for…or so they thought:
Here's a look at the official trailer for the Murder House/Coven crossover season, as well as a look at what we do know (not much) about the next episode:
https://youtu.be/xKrpgJTS-Vg
Sarah Paulson, Jessica Lange, Emma Roberts, Connie Britton, Dylan McDermott, Evan Peters, Kathy Bates, Cheyenne Jackson, Billie Lourd, Billy Eichner, Adina Porter, Leslie Grossman, Taissa Farmiga, Gabourey Sidibe, Lily Rabe, Frances Conroy, and Stevie Nicks have returned to Murphy's horrific universe. Joan Collins (Dynasty), Cody Fern (House of Cards), Ashley Santos (We All Fall Down), and Kyle Allen (The Path) are new cast members for the season.
Enjoyed this article? Share it!