A.P. Bio Episode 4 'Overachieving Virgins' Review: I Am Jack's C-13
Welcome back to Bleeding Cool's "weekly" recap/review of NBC's new Thursday night comedy series A.P. Bio, starring It's Always in Sunny in Philadelphia's Glenn Howerton and Happy!'s Patton Oswalt. We're taking a look at tonight's fourth episode, 'Overachieving Virgins' — no matter what NBC says because…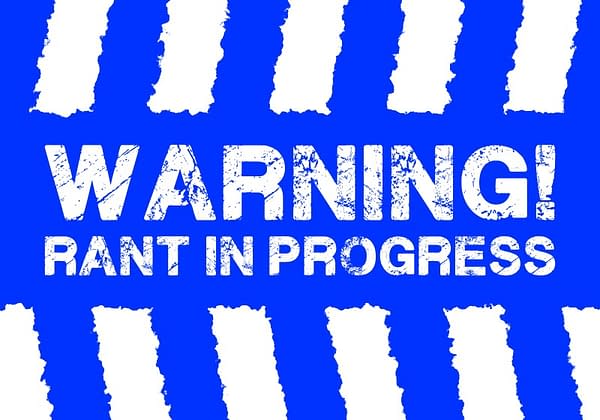 PLEASE NOTE: Bleeding Cool believes it's important for fans to be able to watch a series in the order in which it was intended – apparently, NBC doesn't quite feel the same way. You're watching my takeaways from Episode 4 after I posted my thoughts on Episode 3 'Burning Miles'…which makes sense, right?
Except NBC premiered Episode 4 at 8:30 p.m. ET tonight…before premiering Episode 3 at 9:30 p.m. ET.
I need NBC to understand that this is another example of the "Firefly-ing" of shows that's been turning viewers away from broadcast networks for years. The network launches an odd "sneak preview," only to delay the series until after the Olympics – but then you could watch the first three episodes online. Then they stuck the second episode at the end of the Olympics Closing Ceremony. Then they changed the show's time from 9:30 p.m. ET to 8:30 p.m. ET, scheduling two more new episodes tonight in reverse order.
See what I mean? I'm not saying NBC's not doing enough to support A.P. Bio – but I am saying that there's been a lot of "drama" for a half-hour sitcom that hasn't even aired its third episode yet.
https://youtu.be/WDtymS5gCGs
A.P. Bio s01e04 'Overachieving Virgins': Jack (Glenn Howerton) gets into a petty dispute with Marcus (Nick Peine), the President of Student Council. Marcus surprisingly refuses to back down and the situation escalates much too far. Stef (Lyric Lewis) sells makeup at school as a side business. So our A.P. Bio "revaps" (recaps/reviews) are going to cover both the nitty and the gritty of the episode, along with some of our thoughts on what worked and what should've been left unseen by sane eyes. So I guess what we're trying to say is that you're wading into a potential "spoiler minefield", so tread carefully. You can check out our recap/review of A.P. Bio Episode 3: 'Burning Miles' here.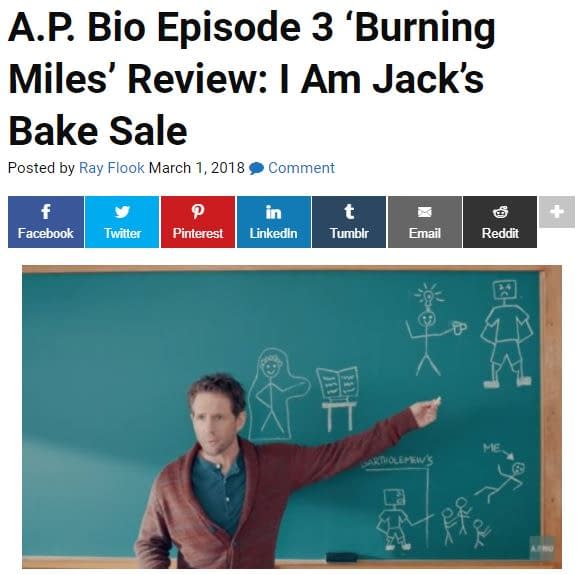 In the clip below, get to know a little but more about Oswalt's Principal Ralph Durbin, aka "The Durbs":
Here's a "first look" at this season of A.P. Bio, as well as an overview of the series:
https://www.youtube.com/watch?v=WWc2-_WyKxQ
When disgraced Harvard philosophy scholar Jack Griffin (Glenn Howerton) loses out on his dream job, he is forced to return to Toledo, Ohio, and work as a high school Advanced Placement biology teacher. As he comes crashing in to Whitlock High School, Jack makes it absolutely clear he will not be teaching any biology. Realizing he has a room full of honor roll students at his disposal, Jack decides instead to use the kids for his own benefit. Eager to prove that he is still king of the castle, Principal Durbin (Patton Oswalt) struggles to control the force of nature that is Jack Griffin.
NBC's A.P. Bio also stars Mary Sohn, Lyric Lewis, Jean Villepique, Jacob McCarthy, Tom Bennett, Aparna Brielle and Paula Pell; and written by Mike O'Brien, who also serves as executive producer alongside Lorne Michaels, Seth Meyers, Andrew Singer and Mike Shoemaker. Universal Television, Broadway Video and Sethmaker Shoemeyers are producing.