Augmented Reality Comic Priya's Shakti Free On ComiXology To Combat Sexual Assault Worldwide
I've been hearing about this project for some time through glimpses of artwork in process when I happened to see internationally-minded comic artist and writer Dan Goldman at conventions. His long-running series Red Light Properties, using a mixture of photographic and digital media to build a supernatural thriller comic, is currently being collected in trade editions by IDW. It's no surprise to me that Goldman, who has long been involved in experimental digital media, should produce a project with augmented reality, digital flair, and his trademark engagement with mythological themes on a psychedelic scale, but with Priya's Shakti, the winner of a grant from the Tribeca Film Institute New Media Fund from the Ford Foundation, he's also taking on an important theme: sexual violence against women.
The focus of the narrative is Priya, the victim of gang rape in India, and her superheroic journey with the goddess Parvati to combat sexual violence against women in her homeland. The comic also hopes to extend support for assault victims and those who have faced gender inequality world-wide. For that reason, the comic is currently free on ComiXology to spread its significant message. The comic will be debuting officially at the Mumbai Film and Comics Convention from December 19-21, 2014, where creators Ram Devineni and Dan Goldman will be presenting the comic book to attendees, and demonstrating the ways in which it uses augmented reality app Blippar to make animation, videos, real-life stories, and other interactive elements to life.
The press announcement for the comic reports that "several large colorful murals from the comic book are being painted on walls throughout Mumbai. Audiences will be able to unlock special animation and movies that will pop out of the wall when they scan the murals via their smart phones", as well, bringing the world of the comic to life to engage with the message of the work.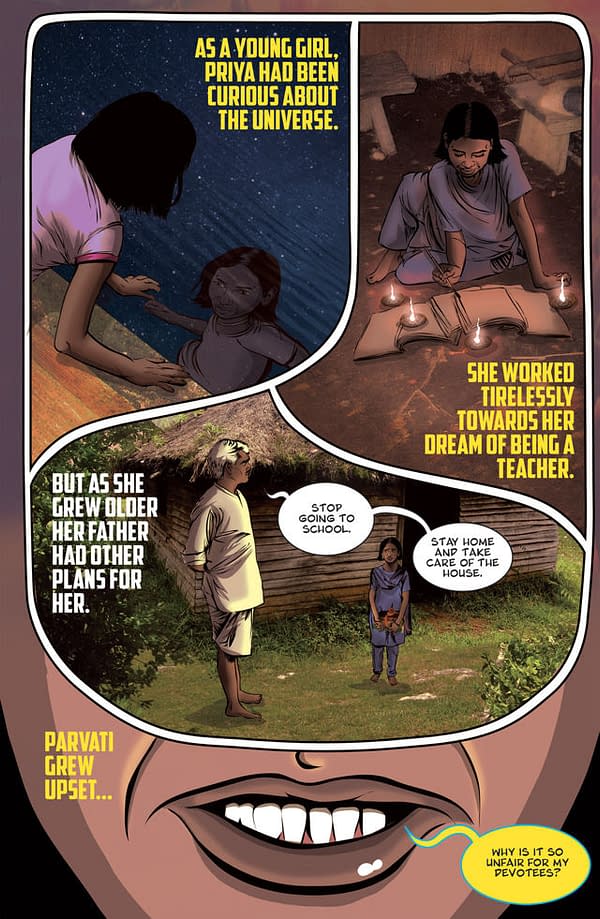 The publishers of the comic also report that, "the comic book is free worldwide in every digital format and downloadable on the project's website and at ComiXology, Apple's iBooks, Amazon, and BitTorrent. The printed comics will be available at the comic book convention in Hindi and English, but eventually will be translated into other languages".
Rattapallax, a literary publishing house and film production company based in New York City and New Delhi, is producing the project.
You can read and share Priya's Shakti now for free on ComiXology to help support this project and its mission.