[Book Review] Dark Souls: Beyond the Grave, an In-Depth Story of Game Development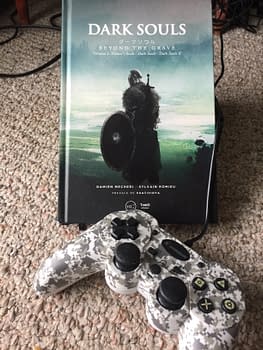 [rwp-review-recap id="0"]
Dark Souls: Beyond the Grave is an in-depth look at the Souls game series, in particular from Demon's Souls to Dark Souls and finally Dark Souls II. Exhaustively researched by Damien Mecheri and Sylvain Romieu, Beyond the Grave focuses on the whole of the creation from a historical standpoint, creating a detail-rich, text-heavy tome focused on the people who made the game, what influenced those people, and how a unique experience was created for players unlike other games at the time.
As with any form of art, game creation is not done in a vacuum. Parts of the game were inspired by movies, books, games, and philosophies that Hidetaka Miyazaki and Takeshi Kajii had experienced, and these games were made with a focus on exploration, meditation, and mystery. Details inlaid throughout the games' lore, background, and music allow a player to have their own unique and mythic experiences as they learn to to be patient, observe, and persevere — a direct contrast to its western hack-and-slash kin.
This is not eye-candy; do not let these lush hardcovers trick you. This is mind-candy. It doesn't shy away from problems the games had in development; from issues with communicating aspects of Demon's Souls with Sony and early glitches and slow playthrough, to issues going from console to PC. The book also takes an in-depth look at the world building and art direction in Dark Souls and Dark Souls II.
This book is a solid, text-heavy tome. It isn't the kind of book you can just flip through; it's a deep, well-researched and cited book, referring to not just the games themselves, but also interviews with those involved with the game development process, as well as taking a look at the influences — from pop culture to medieval architecture — that helped make the games shine. It is a long, intense read, and one I have greatly enjoyed.
[rwp-review-ratings id="0"]
[rwp-review-form id="0"]