Just When You Thought You Were Out, The Missing Episodes Pull You Back In – Monday Trending Topics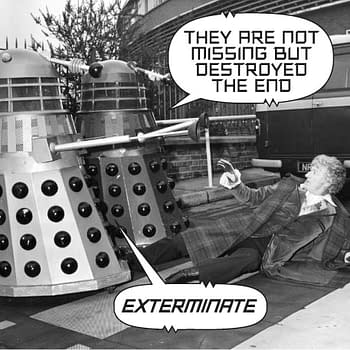 Measured by the variety of unexpected stories, Monday was one of the most interesting days in recent memory on BC. Missing episodes, Marvel Mystery movies, Mark Millar, Moomba (wait… Moomba? Yes, it's true.), Boom and Archaia, and so on.
Most-Read TV/Film Stories Monday:
Will A Missing Episode Teaser Appear On The Doctor Who: The Terror Of The Zygons DVD?
Did you think that firm denials by involved parties would stop the Doctor Who Missing Episodes rumours? Think again!
Mark Millar Responds To Jim Carrey's Kick-Ass 2 Sandy Hook Comments
So, some hours after he set about writing it, Millar published his response on his Millarworld forums.
Another Marvel Movie Takes July 8th 2016 Release Date
Marvel's second release for 2016 has been given a release date, and it's set for July 8th 2016. What will it be? Your guess will likely be as good as mine. I don't have… um… inhuman powers of precognition.
Most-Read Comic Stories Monday:
So Where Did Angela Come From And What Was She Doing In Age Of Ultron #10?
This is the variant cover to Age Of Ultron #10, spotlighting the first appearance of Angela in the Marvel Universe, now fully bought from Neil Gaiman.
The Very Quotable Before Watchmen (UPDATE)
Barbara Kesel, one of the original editors of Watchmen once committed a personal act of sabotage against DC Comics over planned Watchmen prequels when they were first proposed in the nineties. She secretly leaked the news to Alan Moore, who phoned up then-DC Comics President Jenette Kahn and put a kibosh on it. Possibly by shouting "Kaaaaaaaaaahn!" down the line.
Lying In The Gutters 24th June 2013 – Man Of Steel Spoilers!
Okay, so this week saw our biggest traffic to date, with one post breaking all our known records in a single day….