When The 'Love Is Love' Panel At Flame Con 2017 Took A Turn…(VIDEO)
In memory of those tragically lost in Orlando's Pulse nightclub tragedy and to benefit the victims left in its wake, the comics industry came together to produce the charity comic book Love Is Love. Organized and curated by writer Marc Andreyko (Batwoman, Manhunter) and published jointly by IDW Publishing and DC Comics, the book featured an array of one- and two-page comics intended to mourn those who died, inspire those who live-on in their names, celebrate the entire LGBTQ community, and embrace all facets of love.
The over-sized comic would raise over $165,000 for the OneOrlando Fund, earning a fifth printing and a top spot on The New York Times' bestseller list for graphic books. Love Is Love would go one to win the 2017 Eisner Award for Best Anthology.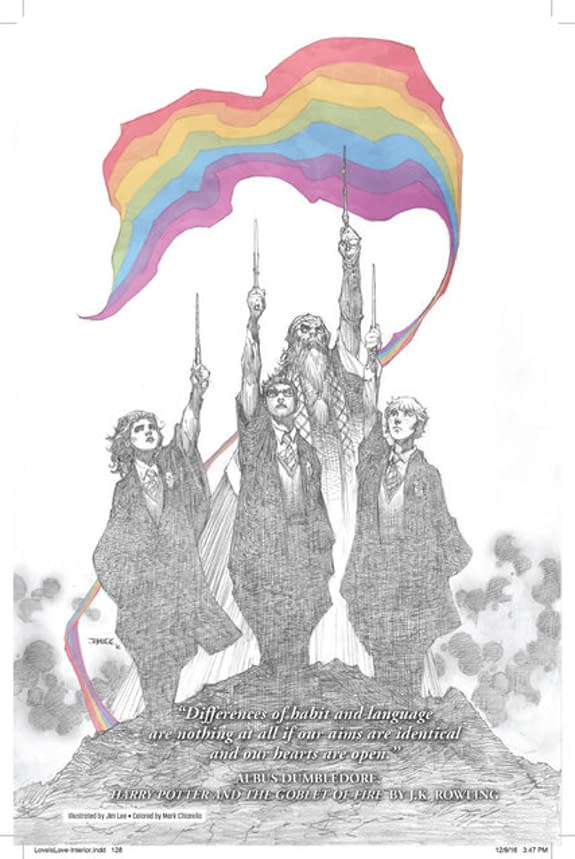 So with the one year anniversary of the comic's planning and publication quickly approaching, Geeks OUT's Flame Con 2017 hosted a panel looking-back on how the project came about, the impact it had and where efforts go from here. Moderated by Andreyko and with a panel listing that included Tee Franklin (Bingo Love, Nailbiter), Sina Grace (Iceman, The Li'l Depressed Boy), James Tynion IV (The Woods, Detective Comics), Phil Jimenez (Astonishing X-Men, Wonder Woman), Steve Orlando (Midnighter, Justice League of America) and Jennie Wood (Flutter series).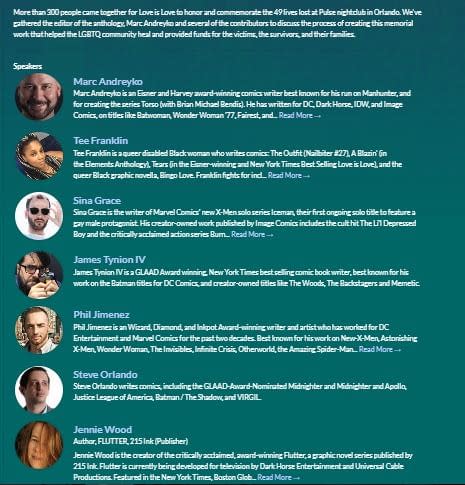 While the beginning of the panel served as a general overview of the project and what it meant to each of the panelists personally to be involved, the conversation changed noticeably when the panel opened-up the floor for audience questions. A member of the audience brought-up the fact that a large number of contributors to the comic were white males, and wanted to know if that was ever addressed at any point and what their feelings were on there not being more diverse representation on the book.
Andreyko's response (at around the 15 minute mark) has raised some eyebrows and gotten some to question how a book meant to promote diversity and acceptance can relay on what they consider to be the same cliched excuses used in the past to silence diverse voices:
For his part, Andreyko acknowledges the difficulties that come with putting together and publishing a comic book/graphic novel successfully; and owns-up to the fact that they could've done and need to do better when it comes to reaching-out to a more diverse pool of creative talent.
But some on the panel and in attendance took serious exception to Andreyko's comments in response to the question, and book sales and an uncomfortably confusing correlation between working with diverse creators and deadlines.
Franklin addressed the issue during the exchange after Andreyko's initial comments and a response from Jimenez, but took to Twitter later to further elaborate on her feelings: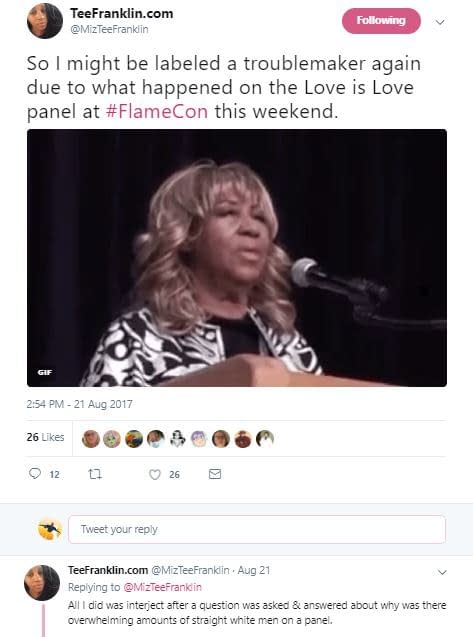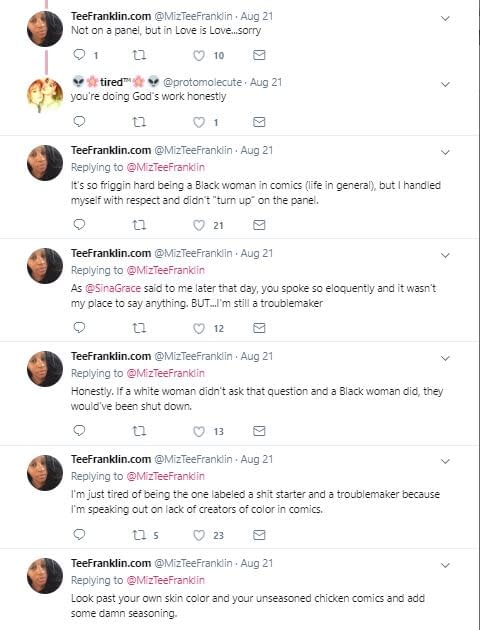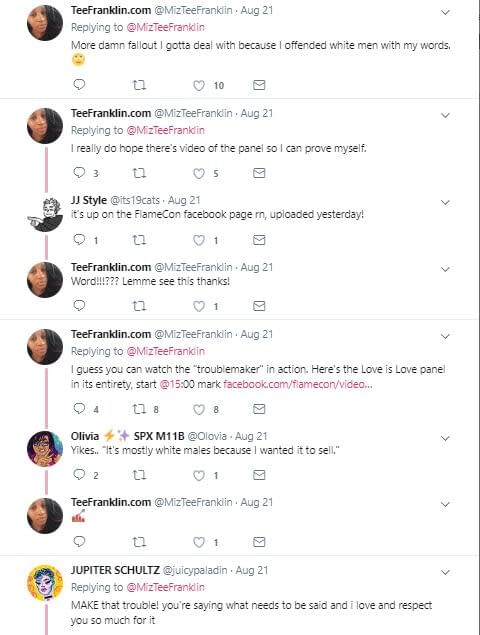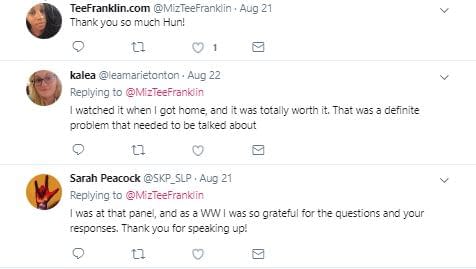 Comic creator/podcaster Katie Schenkel (Moonlighters, The Cardboard Kingdom) wasn't comfortable with Andreyko's train of thought, either: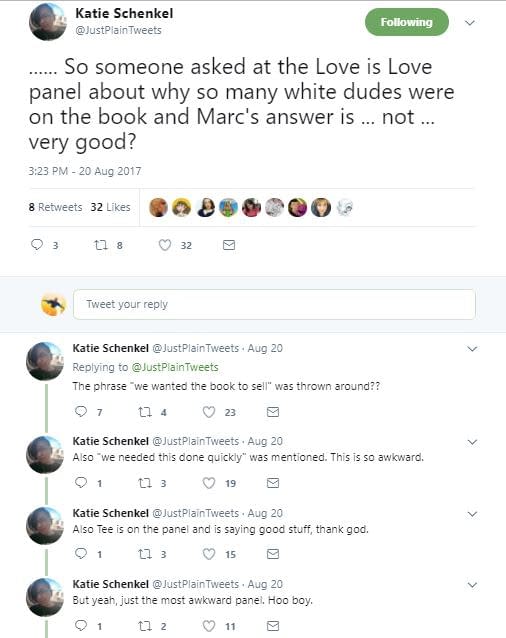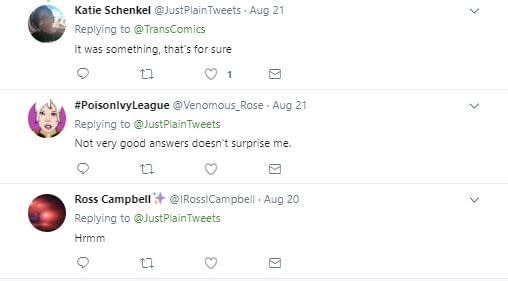 Whatever the meaning and intent was, this is not what you want an attendee taking-away from your panel: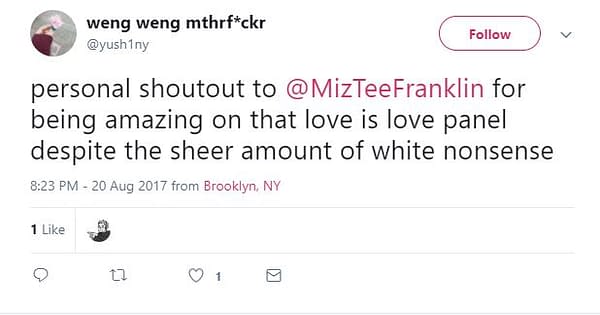 Comics creator and panelist Justin Hall (Glamazonia, No Straight Lines: Four Decades of Queer Comics) was appreciative of the fact that someone on the panel was able to address the issues from a different perspective:
Along with Andreyko, Franklin, Grace, Tynion IV, Jimenez, Orlando and Wood, over 300 contributors from in and around the comics industry would come together for Love Is Love, including: Joshua Hale Fialkov; Gabriel Bautista; Teddy Tenenbaum; Mike Huddleston; Judd Winick; Jeff Jensen; David López; Carla Speed McNeil; Kaare Kyle Andrews; Joe Kelly; Víctor Santos; Rafael Albuquerque; Jim Zub; Vivian Ng; Paul Dini; Bill Morrison; Daniel Beals; David Lafuente; Nunzio DeFlippis; Christina Weir; Emma Vieceli; Steve Pugh; Rob Williams; Mike Dowling; Marc Guggenheim; Brent Peeples; Grant Morrison; Jesús Merino; Eddie Gorodetsky; Jesús Iglesias; Devon TW Morales; Rags Morales; José Villarrubi; Robert Venditti; Pedro Víllora; Brad Walker; Amanda Deibert; Cat Staggs; Scott Synder; Jock; Jeff Dixon; Karl Slomnski; Gail Simone; Jim Calafiore; Justin Zimmerman; Rabbi Rodriguez and Jeff King.
---
---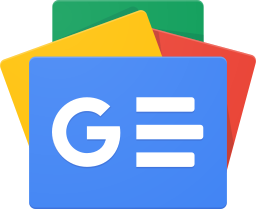 Stay up-to-date and support the site by following Bleeding Cool on Google News today!