Sci-Action Thriller Transference Moves Your Mind: The Complete Black Mask Solicits For June
Black Mask Studios' June Solicits have landed, and with them the new "sci-action thriller" Transference arrives, written by Michael Moreci, with art by Ron Salas. We Can Never Go Home returns with its tales of strangely powered teens on the run, joined by Space Riders, Young Terrorists, The Disciples, Mayday, and Godkiller. It's shaping up to be the Summer of Black Mask what with their debut Tubecomics and the announcement of a TV deal for The Disciples as well.
Here are their complete June Solicits:
TRANSFERENCE #1 Diamond code: APR151162
Writer: Michael Moreci
Artist: Ron Salas
Cover: A- Ron Salas, B- Gio Valetta
SRP: $3.99
MR, Color, 36 pages
Description:
Colton Moss and his elite team of special agents run counter-terrorism operations utilizing a secret form of time travel technology called "transference," which enables them to send their consciousnesses back in time – but, when Colton's past is altered to reshape his life in the present, he discovers this technology isn't as exclusive as he thought. Now Colton must prevent a large-scale insurgency in the U.S. – and do so in the transference-past, where a terrorist's consciousness could be in any body, so everybody is a potential suspect.

Fresh off the white-hot ROCHE LIMIT and a string of highly regarded genre books, Moreci's sci-action thriller mixes smart storytelling with intriguing twists while Salas' sharp and stylish renderings portray a range of eras as well as characters that may be lurking below the surface… much farther down than skin deep.
THE DISCIPLES #2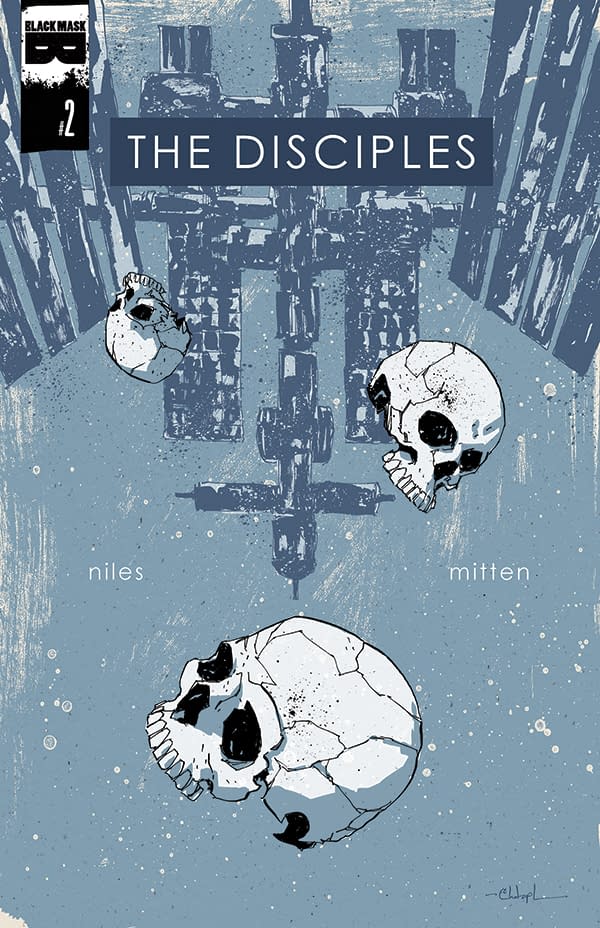 Diamond code: APR151158
Writer: Steve Niles
Artist: Christopher Mitten
Cover: Christopher Mitten
SRP: $3.99
MR, Color, 36 pages
Description:
Despite foreboding premonitions, interstellar private investigators Dagmar, Rick, and Jules land on Jupiter's moon Ganymede… and, to their horror, our doomed heroes realize things are far worse than they could have imagined. One will die this issue… and that's the lucky one.
YOUNG TERRORISTS #2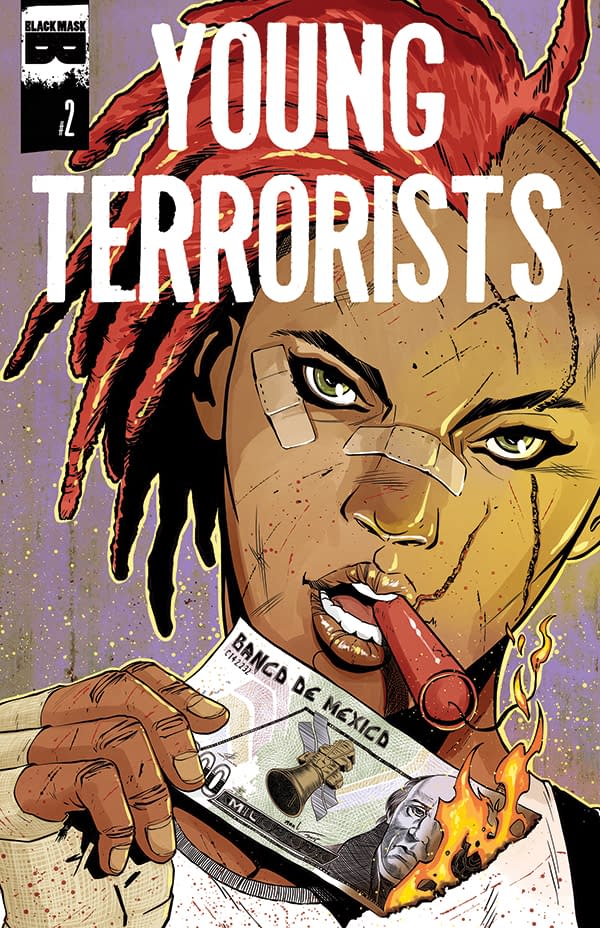 Diamond code: APR151164
Writer: Matt Pizzolo
Artist: Amancay Nahuelpan
Cover: Amancay Nahuelpan
SRP: $3.99
MR, Color, 32 pages, monthly
Description:
The Young Terrorists crank things up to 11 when Sera hits the US-Mexico border to recruit a militia for her imminent strike on the New World Order. Meanwhile: bizarre mind-melding sex, severed heads, and radical conspiracy theory collide in the most deliciously seditious comic of the decade.
SPACE RIDERS #4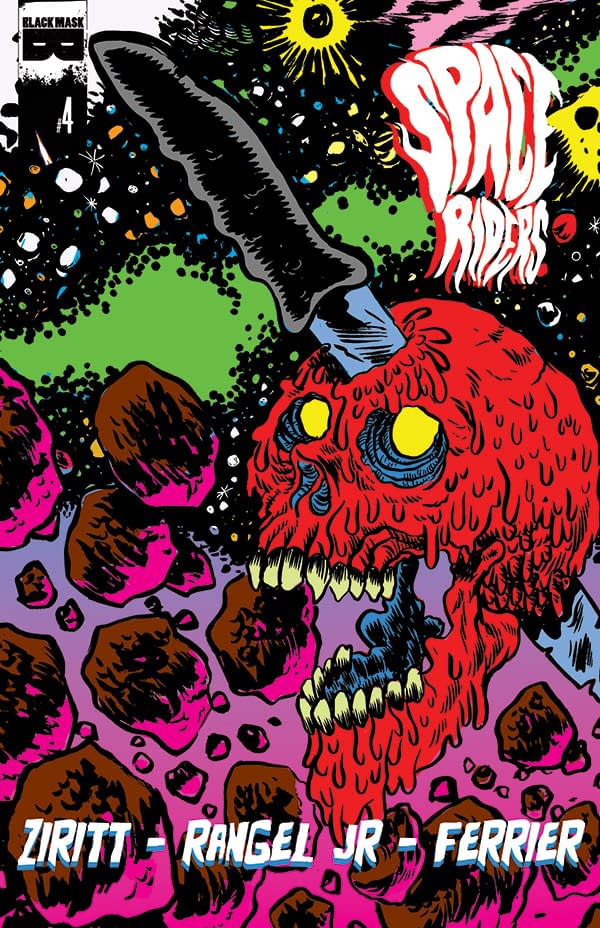 Diamond code: APR151161
Writer: Fabian Rangel Jr.
Artist: Alexis Ziritt
Cover: Alexis Ziritt
SRP: $3.99
MR, Color, 32 pages, monthly
Description:
The SPACE RIDERS have fought space Vikings, survived a vortex of madness, were captured by robot armies, and bore witness to the mind melting majesty of the space gods. Now they must battle new and old enemies united against them. Buckle in for the insane conclusion of "THIS VENGEFUL UNIVERSE!"
WE CAN NEVER GO HOME #4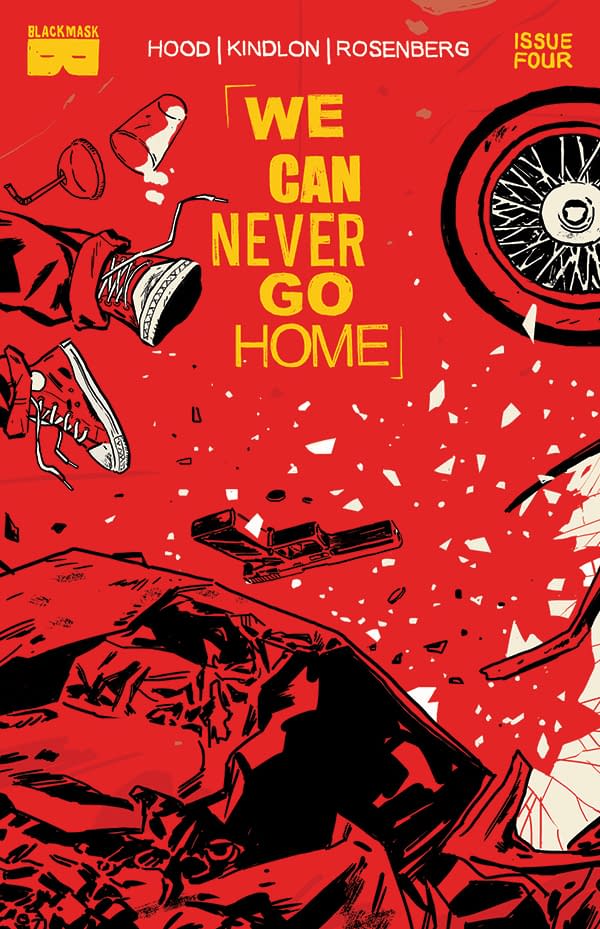 Diamond code: APR151163
Writers: Matthew Rosenberg & Patrick Kindlon
Artist: Josh Hood
Covers: Michael Walsh
SRP: $3.99
MR, Color, 32 pages, monthly
Description:
When you are on the run, robbing and killing, sometimes $#!& goes really wrong.
MAYDAY #4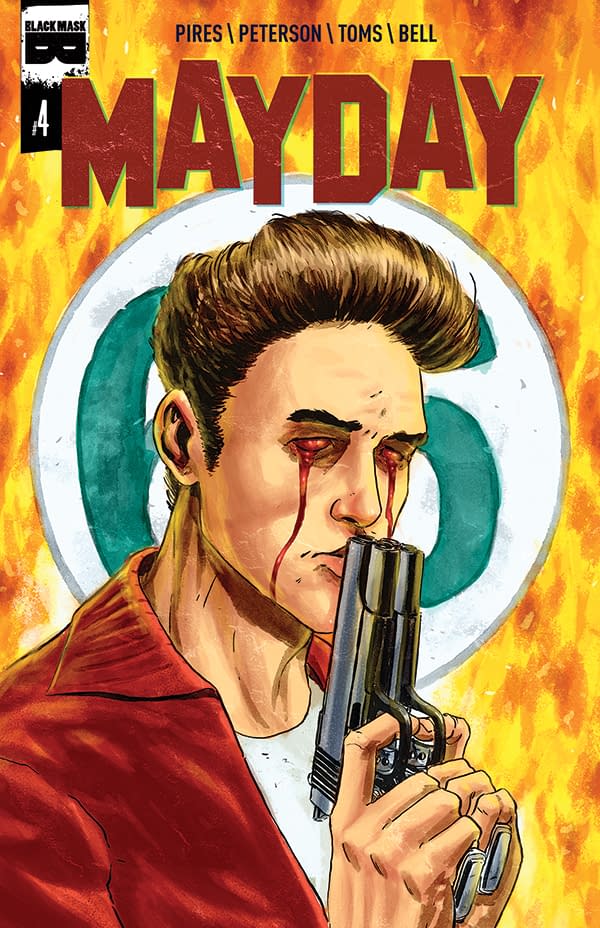 Diamond code: APR151160
Writer: Curt Pires
Artist: Chris Peterson
Cover: Chris Peterson
SRP: $3.99
MR, Color, 32 pages, monthly
Description:
Route 66. The end of the line. Welcome to Black Hole Sun.
GODKILLER #7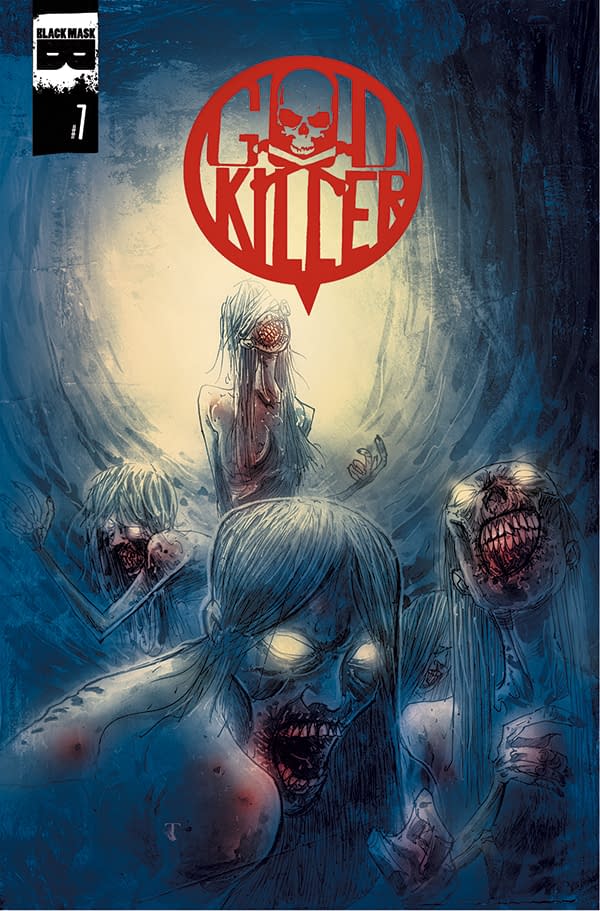 Diamond code: APR151159
Writer: Matt Pizzolo
Artist: Anna Muckcracker Wieszczyk
Cover: Ben Templesmith
SRP: $3.99
MR, Color, 36 pages, monthly
Description:
Godkiller has its own special breed of zombie, a weirder and more shocking variety than Romero or Ennis ever imagined… and our surviving heroes are surrounded by them in this epic climax to Godkiller's "Walk Among Us" arc.
About Black Mask Studios
Black Mask Studios is a publishing/production company that specializes in working with creators to create the most daring, smartest, riskiest comics around. Launched in 2013 by Brett Gurewitz (Bad Religion, Epitaph Records, ANTI- Records), Steve Niles (30 DAYS OF NIGHT), and Matt Pizzolo (Occupy Comics), the company's mandate is to support unique creators and expand their audiences. Black Mask's initial slate included the political, not-for-profit Occupy Comics (with Alan Moore, Charlie Adlard, Art Spiegelman, Molly Crabapple, and dozens more), the animal-rescuing vigilantes story Liberator, Adam Egypt Mortimer and Darick Robertson's transreal, cyberpunk adventure Ballistic, and the multi-platform gangster odyssey 12 Reasons To Die by Ghostface Killah and RZA. Black Mask recently announced its 2015 slate which features new works by Grant Morrison, Vanesa Del Rey, Michael Moreci, and Steve Niles.