Separated At Birth: The Last Page Of Secret Empire FCBD And Jae Lee's Inhumans #1? (SPOILERS)
This article contains spoilers about Secret Empire Free Comic Book Day Special and other fascist imagery. Yesterday, Bleeding Cool told you what happens on the last page of the Free Comic Book Day Secret Empire comic by Nick Spencer and Andrea Sorrentino: Hydra Steve, standing tall over Marvel's fallen heroes, holding Thor's hammer, Mjolnir, high in the air. Since that time, an image of the page has hit the web:
That picture is cropped from the overall page, by the way. At Cap's feet, in the full page, lie several defeated Marvel heroes.
But the image above might look familiar? Why is that?
Imagery is an interesting thing, as is the way we process it. Looking at the image above elicits a response, not just from the image itself, but from previous images our minds recall which add meaning and context to what we're seeing. It's personal for each person looking at the art, though some themes are shared culturally. And your own interpretation of art, colored by your accumulated life experience, is valid, even if it differs from the intention of the artist. The artist's intention does matter too, of course, but it's not a magic bullet that kills all criticism.
What we're saying is, if a significant number of people are reminded of Nazis by a comic book super-mega-crossover event story that you insist isn't about Nazis, there comes a point where you can't just continue to write that off as people not understanding the story or not understanding comics or being haters or reading inflammatory headlines. If the message isn't being received the way it's intended, maybe the fault lies with the message.
Over at Screenrant, Andrew Dyce does a fantastic job of analyzing the "charged imagery" of Secret Empire and its preceding Captain America comics in the course of a wider discussion making the case that it's impossible to separate Marvel's fictional Hydra from real life Nazis, no matter what Marvel does to distance its fictional fascists from the real life ones. The full article is worth a read, but here's an excerpt from that, dealing specifically with imagery:
Even if the story intends to free Hydra and its new, star-spangled leader from the ideology of the Nazis, the message doesn't escape artist Daniel Acuña. As Captain America's secret Hydra plan finally reaches its climax, with hundreds, if not thousands dying in Hydra attacks or superhuman explosions around the globe, he reveals himself to the Hydra troops now boarding his S.H.I.E.L.D. Helicarrier. He reveals to them that he is their Supreme Leader, as S.H.I.E.L.D. insignia is presented in a white circle on a red field – for the first and only time in the issue – evoking both Third Reich flags and Germany's Reichsadler ("Imperial Eagle").

It's just one of many instances of Marvel calling on charged imagery to, in a sense, have their cake and eat it too: distancing Steve Rogers and Hydra from the ideologies of the Nazis… while using iconic propaganda and symbolism that blurs the line for impact. Captain America's star insignia torn away amidst the broken concrete and barb wire of World War II. Captain America standing in a perversion of Uncle Sam's "I Want You" as enemy flags hang in American streets, pigeons conjuring images of fighter planes dotting the sky. Captain America standing behind his podium, placed before him akin to a podium, fists raised into the air. Or Captain America dressed in a double-breasted military tunic, waving the flag of his new empire as posters show his men with a single fist raised in salute, his adoring public looking on, waving flags in support.
So we know where the imagery in general is coming from in Secret Empire. But what about this specific image of Hydra Steve holding Mjolnir above high above his head? A google image search reveals lots of potential images that, if filed away in your memory, could be automatically recalled when viewing Hydra Steve's triumph. Some are sinister, we'll find while googling for images of raised fists, while others lean a bit more whimsical… But as usual, when it comes to the subject matter of the column formerly known as Swipe File, we don't have to travel that far to find the most obvious inspiration for this image, right there in front of our noses the whole time… No, that's not it. We're talking about this one, from Jae Lee, on the cover of Inhumans #1: Though, we can't take credit for figuring it out. It was a reader, who sent us this gif: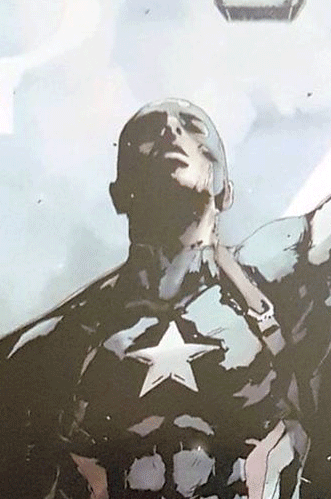 Separated at birth?
Loading
Separate at Birth: Hydra Steve Triumphant And Black Bolt
Thank you for voting
You have already voted on this poll!
Please select an option!
Related Posts