By Jared Cornelius
Welcome back to Sweet Release!  Bleeding Cool's look at the new video games hitting store shelves this week.  February continues to be a bit niche for releases.  With a series of unusual genres being represented like dating sim/management, Nintendo rogue-like, and super oppressive role-playing games all being featured.  This week isn't much of a divergence from that path with another series of slightly bizzare entries. From popular mascots with a whole different control scheme, cover shooting gone classical, and cheesecake-fighting.  So dust off that Wii U gamepad because you'll actually need it for our first title.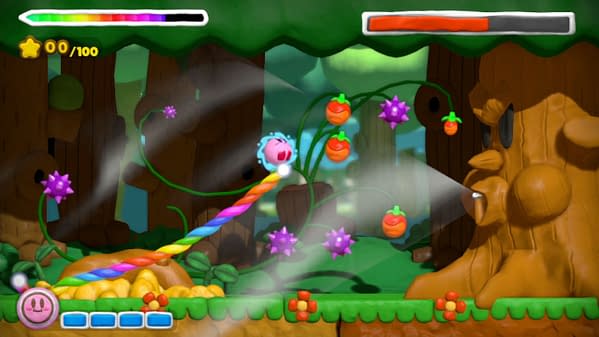 Nintendo's amorphous pink puff ball is back this week in his first Wii U game.  Kirby and The Rainbow Curse, see's Kirby trying to restore the stolen color from Dreamland with the help of a magical paint brush.  Rainbow Curse has players using the Wii U's touchscreen to draw Kirby a path that he follows through the level.  A 2015 update of 2005's cult DS hit, Kirby Canvas Curse, Rainbow Curse's controls are almost identical to its touchscreen cousin.   With 7 different areas to explore, Rainbow Curse also has up to four players in co-op, and Amiibo functionality like extra health, and upgraded dash attacks.  Kirby and The Rainbow Curse releases Friday exclusively on the Wii U.

If you thought Gears of War would be better off with less burly men and set in Victorian England, The Order 1886 might be for you.  A third person cover shooter from Sony stalwart Ready At Dawn Studios, The Order places players in a futuristic steam-punk Victorian London besieged by a rebelling group of "half-breed" monster men.  Players take the role of Galahad, a solider in a quasi-Knights of The Round Table group.  The game's main hooks seem to be in its cinematic and motion capture with a heavy emphasis on cut scene to game transitions and motion capture.  Ready At Dawn also put together a series of interesting future-past weapons like a thermite gun.  The jury's still out on this one, but olde timey Gears of War didn't seem to be getting anyone overly enthusiastic in previews.  The Order 1886 is available Tuesday exclusively on the PlayStation 4. Overhead strategy comes roaring back like a conquering army in Total War Attila.  Developer  Creative Assembly's fan favorite strategy series has taken players through the ages with medieval Europe, feudal Japan, and colonial America, with this version focusing on the early Roman Empire.  It's no easy task running the enormous kingdom as player must contend with threats from the inside as well as the outside from the Hunnic Empire.  With a list of new features like razing buildings, enhanced control of fire, period specific weapons, and overhauled visuals.  Total War's always been a big hit with the strategy crowd, so fans of games like Civilization and Command & Conquer, this one might be for you.  Total War Attila released Tuesday on PC. Following in Capcom's footsteps, we're getting another slightly new iteration of a popular fighting series, but upgraded to new generation consoles.  Dead or Alive 5 Last Round is the third iteration of the "boob-tastic" fighting game from infamous Japanese developers Team Ninja.  The long running fighting series revolves around something or other but it doesn't matter, this game is just an excuse to see pixilated cleavage.  The new version contains two new characters, two new stages, and over 400 costumes to dress the characters in.  It comes in at a lowered $40 price point and contains all the downloadable content from the previous two releases.  In case you think I'm kidding about the cleavage thing here's the names of a few of the content packs,
-Intimate Costume
-Player's Swimwear
-Kitty Pack
Dead or Alive 5 Last Round released Tuesday on PlayStation 4 and Xbox One, with a PC release around March.
That's all for this week folks, you can check out my other regular column, Typing on The Dead, which just got a brand new release last week.  You can also check out cool stuff from our very own Christine Marie like Geek Shopping.
Jared Cornelius is some guy from the Jersey coast who's sick of snow. If you'd like to complain about the weather contact him on Twitter @John_Laryngitis.
Enjoyed this article? Share it!