Twenty-Three Thoughts About Twenty-Three Comics – Infinity, Love Stories (To Die For), X-Factor, Superior Foes Of Spider-Man, God Is Dead, Uber, Batman Black And White, X-Men Legacy, The Creeper, Satellite Sam, Sheltered, Chew, Witchblade, Baltimore, Garfield, Mouse Guard, Suicide Risk, Catalyst, Shadowman, Quantum & Woody, Hit, Deathmatch And The Star Wars
You know how Ultron's head got kicked off at the end of Age Of Ultron #10? I'm wondering if that hunt for Ultron's head in Brian Bendis' Moon Knight was meant to actually happen after Age Of Ultron…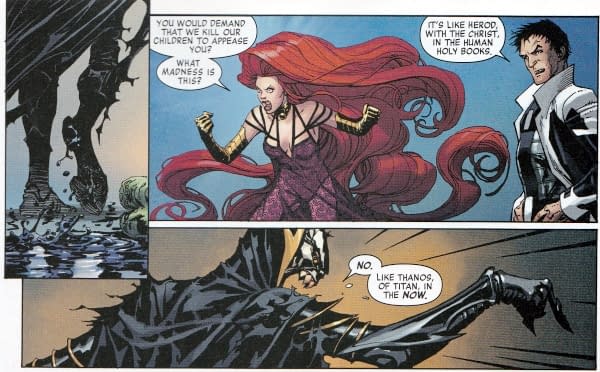 Sorry, I've had disembodied heads on the brain, as it were, today, thanks to this week's comics. First there's the demand in Infinity #2 for the Inhumans to sever the heads of ever 16-21 year old Inhuman and offer them as tribute to Thanos. With allusions to another demanded sacrifice, that involved the child of God…
Then we have a rogue fighting head in Love Stories (To Die For) #1 that fits the pattern. While Superior Foes Of Spider-Man, another excellent and hilarious issue (costume design resemblances and the current makeup of The Defenders being a particular favourite) also offers us a Cliff's Notes to what in the world happened to Silvermane's head… possibly.
And now back to comic books that keep their heads on their shoulders. Metaphorically and literally.
In Jonathan Hickman's God Is Dead, published by Bleeding Cool owner Avatar Press today, we get a flashback to a much earlier work by Hickman. Welcome, folks, to a brief reappearance of The Nightly News… While Kieron Gillen over at Uber #5 from Avatar, seems to be channeling his inner Mark Millar rather. He's not the only one. In Batman: Black And White, we get the return of pottymouth Batman from Chip Kidd, drawn by Michael Cho.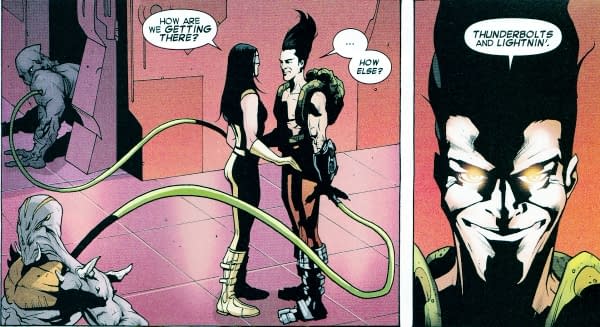 David Haller decides his transport options in X-Men Legacy via the lyrics of Queen. I know I covered a lot of DC comics earlier, but this pair of panels from The Creeper does still rather freak me out. And yes, that's The Book Of John, Chapter 3 Verse 15. Do I feel the hand of Iscariot lover Dan DiDio in that choice?
Satellite Sam, if it's possible, gets even seedier with this issue. I hope no one does do anything with these pictures. Howard Chaykin has a career to consider drawing Batman as well. In comics where he doesn't say "bastard". Sheltered brings out its madness as a conspiracy group that was hiding within another conspiracy group. A kind of Truther Turdurken… with the outer conspiracy group as shocked by the inside as the rest of the world is by the outside.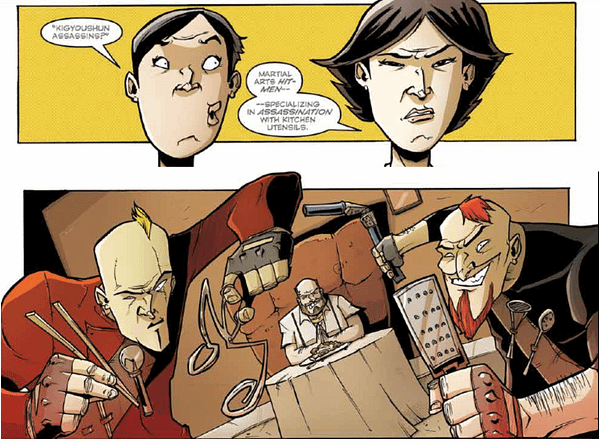 Turdurken are forbidden by law in Chew, of course. But they do have culinary assassins. That, right there, is the reason everyone should read Chew. This is Tim Seeley's last issue on Witchblade. Man we are going to miss dialogue like that. It's like Warren Ellis never went away.
From Baltimore: Infernal Train, there are bad things happening to good people. Still, as deaths go, there must be worse than having your throat ripped out. Not like I'd want to try any of them, but come on, stiff upper lip , and all that! The Marvel Universe may be cracking up under the strain of time travel but so, it seems, is Garfield's world…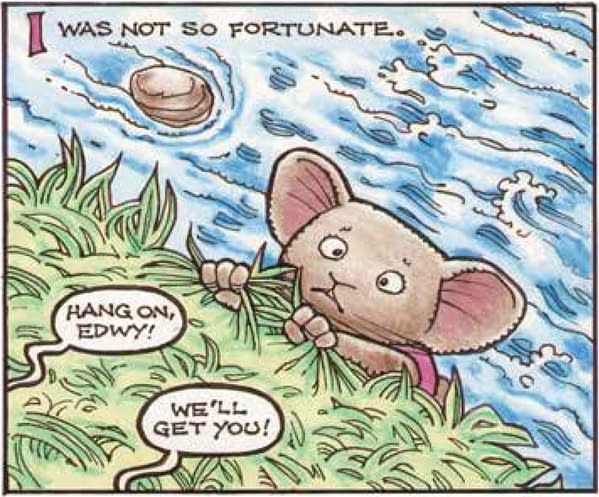 Mouse Guard plays on the heart strings rather. Not only is someone clinging on for dear life, but they have to be the cutest, littlest mouse in the whole world. I feel manipulated but what's worse is that I just don't care. From Suicide Risk #4. And, no. This is a comic. You get ever ending suffering and misery. Don't you know how things work? Still if we're getting all religious…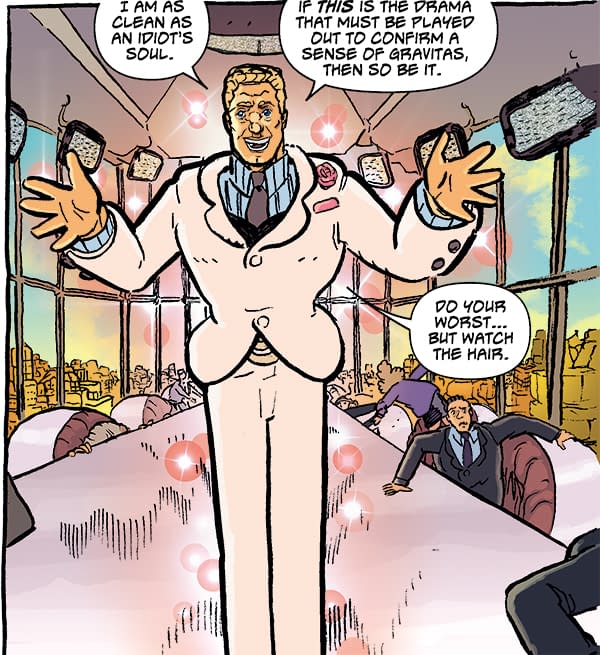 …then Catalyst #3 gives us an angel in a white (ish) suit. And hair, so it can't be Grant Morrison. From Shadowman #1o. When he says "weapon", that's not a euphemism is it? I need a legal expert on this.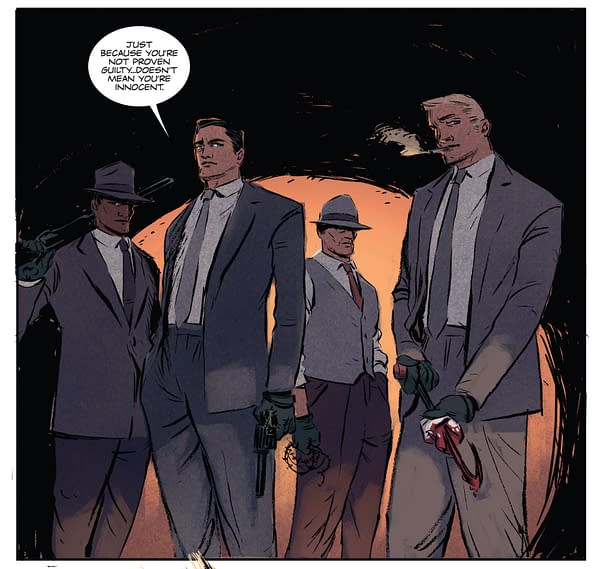 It does under rules against Double Jeopardy. I guess that varies state to state, country to country. And in Scotland anything happens. But I think Hit is set in America…
Unless of course these are bad guys enacting their own twisted sense of justice. Oh, as you were then. Because if I were they guy they're talking to, I'd be singing like a canary. A pink canary. Thank you, Deathmatch. "I can't believe how bad Phantom Menace was!" "I know, I know! Lucky for us we were from a previous continuity wiped out by events!" "Ha ha! What an escape!" Jokes about magical black men and costumes with pouches less than half an inch apart? Thank you Quantum And Woody #3.
And finally…. the end of a favourite comic. X-Factor. And the waste of a damn good sandwich. Roll on the Marvel Now relaunch!
Comics courtesy of Orbital Comics, London. This weekend, launching their gallery by photographer Steve Cook of Sophie Allred, in the Doctor Who years.