Tom Cruise Talks Top Gun 2 In Video Interview, Hints The Old Crew Is Onboard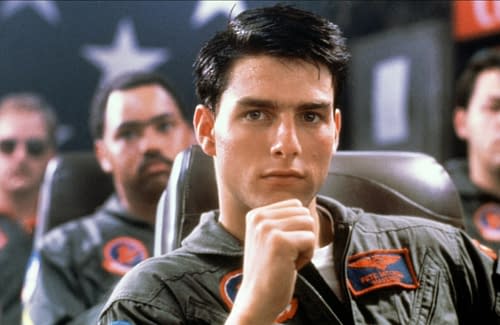 For over a year now there have been talks of a sequel to Top Gun getting ready to go, but if you thought this project was dead in the water then Tom Cruise is here to correct you. In a video interview with MTV News, Cruise hinted that he, Jerry Bruckheimer and Tony Scott are all currently involved with the development of Top Gun 2, so much so that they've started planning how to shoot it.
"We all want to make a film that is in the same kind of tone as the other one and shoot it in the same way that we shot Top Gun."
For the record, I want it noted that there are a number of jokes here that I could be making, but won't. Because Bleeding Cool is too classy for that sort of thing.
There doesn't seem to be much of a story figured out so far, or at least if there is then Cruise isn't telling. When asked if he could answer any more specific questions about what his role in the film will be, he simply replied, "We're working on it."
Personally, I think the film should be about Maverick coaching a sub-par team of junior school volleyball players to believe in themselves no matter what anyone else thinks, finally taking them to the National Under-16s Volleyball Tournament where they come in second but learn a valuable lesson about the power of teamwork. And at the end of the film someone should stand up and start clapping slowly until everyone joins in. Who's with me?