Two Highly Giftable Nobrow Graphic Novels – Art Schooled And Robert Moses: The Master Builder Of New York City
I recently heard someone talking about Nobrow Press books at Thought Bubble in the UK and saying what great gifts they made. They are certainly high in production value, immediately strike the viewer as beautiful, and since they are usually in hardback give a substantial feel to any gifting situation.
In the past couple of months, Nobrow have released two books that are particularly appealing, though in truth their back releases are pretty giftable as well.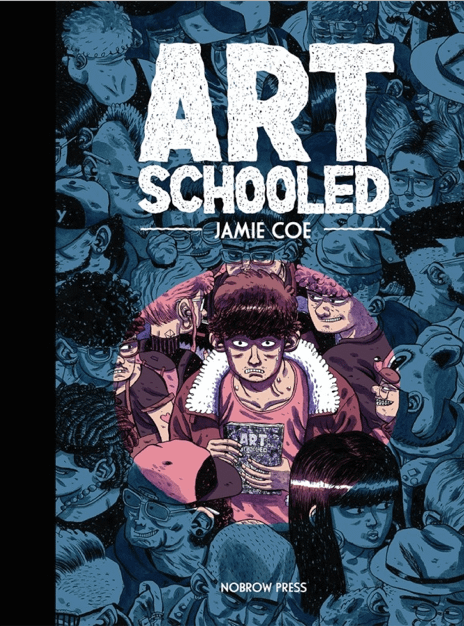 Firstly, there's Art Schooled, by Jamie Coe. Since I'm your personal shopper here I'll explain that this is well suited for the alternative comix fan and indie comix lover, especially those who like autobiographical comics. British cartoonist Coe produces his first full-length graphic novel here with a humorous, critical account of art school life in a winning and idiosyncratic style. The book is full-color which seems particularly appropriate when discussing art school and all the strange characters and vistas his character Daniel Stope is likely to encounter. Particularly amusing to me are his half page spreads of student "types" presenting commentary surrounding their clothes, tastes, and foibles. There's a lot packed into the graphic novel, an inundation of experience and observation, and some very imaginative uses of page layouts that make Coe someone to keep your eye on as his professional career sets off into full-length work. Next up, there's a very different but equally enthralling work by Pierre Christin and Olivier Balez, Robert Moses: The Master Builder of New York City. As you may deduce from the title, this is non-fiction and likely to strike the fancy of readers who have an affinity for New York or the big city and the ways in which it's presented in comics format. The historically-minded or people with an interest in architecture will, of course, give suitably moderated squees if they find this one under the tree. It's a fascinating avenue in influence which I, for one, was completely ignorant about, that of Robert Moses' tremendous influence on the architecture and character of the Big Apple. Something that I find easy on the eyes is the way in which artist Balez has taken care to decompress the information being presented enough so as not to be overwhelming to readers new to the subject-matter. There's almost always a panel which is a bit more dense in exposition, then several that are more vista-oriented and visual-experience based on each page. There's a crisp, wood-cut feel to the panels which harmonizes well with the iconic art, posters, and comics of the time periods being tracked across the decades of the 20th century. Robert Moses is an excellent example of why the comics format excels in presenting biography, giving you snapshots of life while picking key "moments" to guide you through an intricate narrative. In fact, you can pretty much scrap what I said about certain people finding this book more attractive than others might: this book will pull in pretty much any comics enthusiast, regardless of their usual browsing habits.
Both books are currently available through Nobrow's website.