Join BC Grindhouse for… The Walking Dead/Preacher Live-Blog Double Feature!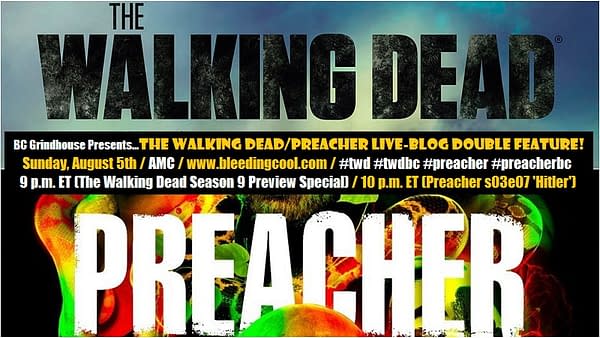 The worlds of AMC's The Walking Dead and Preacher collide Sunday night, August 5th, with BC Grindhouse Presents… The Walking Dead/Preacher Live-Blog Double Feature!, as we live-blog both The Walking Dead's season 9 preview special and the seventh episode of Preacher's third season, 'Hitler.' Starting at 9 p.m. ET with The Walking Dead special (hosted by Yvette Nicole Brown), visit our website for the live-blog homepage and tune into AMC; then stay with us at 10 p.m. for our Preacher coverage.
Reminder: If you're on social media and want to be part of our live-blog coverage, use hashtags: #twdbc and #preacherbc

Here's what you need to know about The Walking Dead and Preacher before Sunday night's live-blog: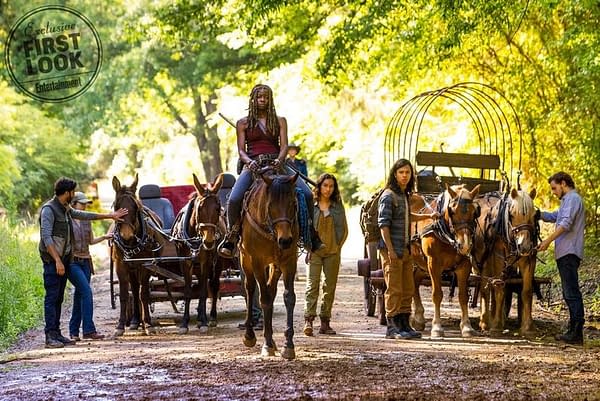 https://www.youtube.com/watch?v=eBaKVC1wIW4
Based on the comic book series written by Robert Kirkman and published by Image Comics, "The Walking Dead" reigns as television's most watched drama for adults 18-49 for a record-breaking six consecutive years. "The Walking Dead" tells the story of the months and years that follow after a zombie apocalypse, and follows a group of survivors, led by police officer Rick Grimes, who travel in search of a safe and secure home. The series is executive produced by chief content officer Scott M. Gimple, showrunner Angela Kang, Robert Kirkman, Gale Anne Hurd, David Alpert, Greg Nicotero, Tom Luse and Denise Huth.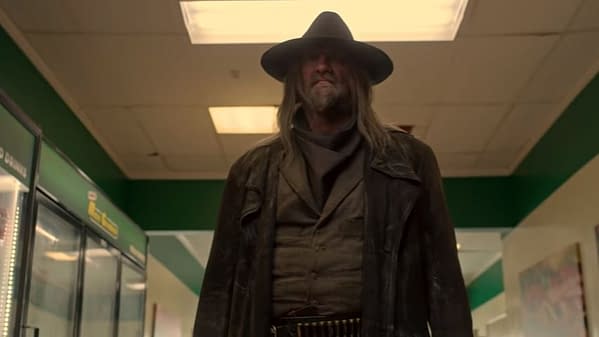 Preacher s03e07 'Hitler': Jesse, Tulip, Gran'ma and Starr form an uneasy partnership to avert the apocalypse; Cassidy learns to love Eccarius, but at a cost.
https://youtu.be/wgIEHlYD2w4
PREACHER is a dramatic thrill ride that follows West Texas preacher Jesse Custer (Dominic Cooper), his badass girlfriend Tulip (Academy Award nominee Ruth Negga) and an Irish vampire named Cassidy (Joseph Gilgun) as they embark on a road trip to find God and are thrust into a twisted battle spanning Heaven, Hell and everywhere in between.

The 10-episode third season follows Jesse's quest for God which takes him back to the place he's been avoiding his whole life: home. Jesse, Tulip and Cassidy return to Angelville, the Louisiana Plantation where Jesse was raised, and find old grudges and deadly obligations await them. With the help of his friends — and a few enemies — Jesse will need to escape his past…because the future of the world depends on it.