Red Sonja/Tarzan #4 Review: Back to Cimmeria for the Final Battle
[rwp-review-recap id="0"]
The gorillas look after Tarzan's grandson while, in Cimmeria, Eson Duul and his people take Tarzan's daughter-in-law into the city of K'Hal. Elsewhere in K'Hal, Tarzan and Red Sonja seek out the Traveler, the woman who gave Sonja her sword. When they find the Traveler, they are more troubled than relieved. Soon, the two heroes find Eson Duul once again, and the final battle begins.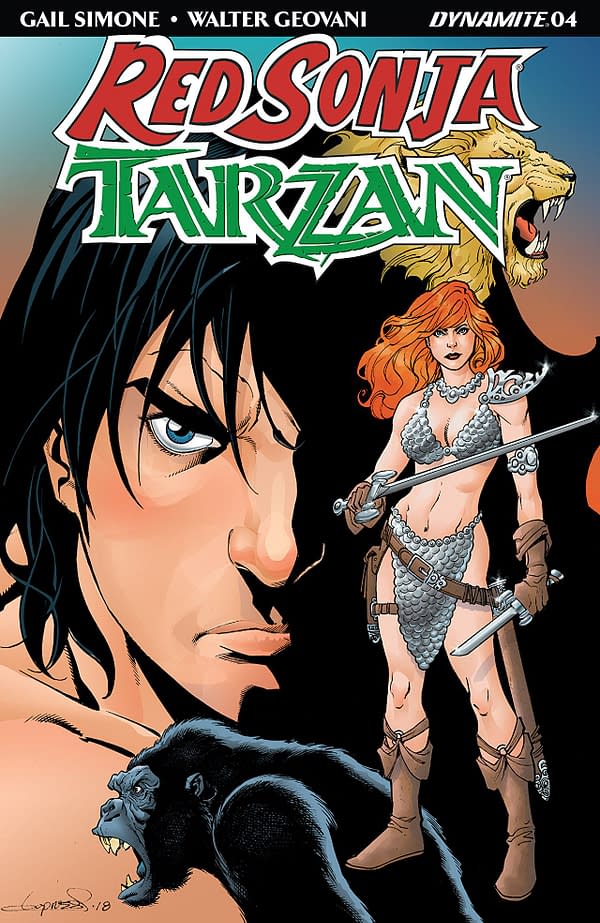 Red Sonja/Tarzan #4 is a setup issue for that final battle. It gets the characters into place for a big blowout battle, and it raises the stakes. That meet-up with the Traveler shows Sonja and Tarzan what they are truly up against, and it isn't looking good for our heroes.
We have some good moments between Red Sonja and Tarzan, particularly when Sonja makes a joke about Tarzan being "fancy-birthed" or admires his body while he strips out of his suit.
We do get some of the fight between Tarzan and Sonja against Duul and his people here. Tarzan takes on the boxer, Red Sonja takes on the swordswoman, and Eson Duul gets to be a bastard the entire time, as is his nature.
The comic doesn't do much more than that, but that is enough for a decent reading experience, especially if you're into these characters. I am becoming quite fond of Red Sonja myself. She's a thorough badass.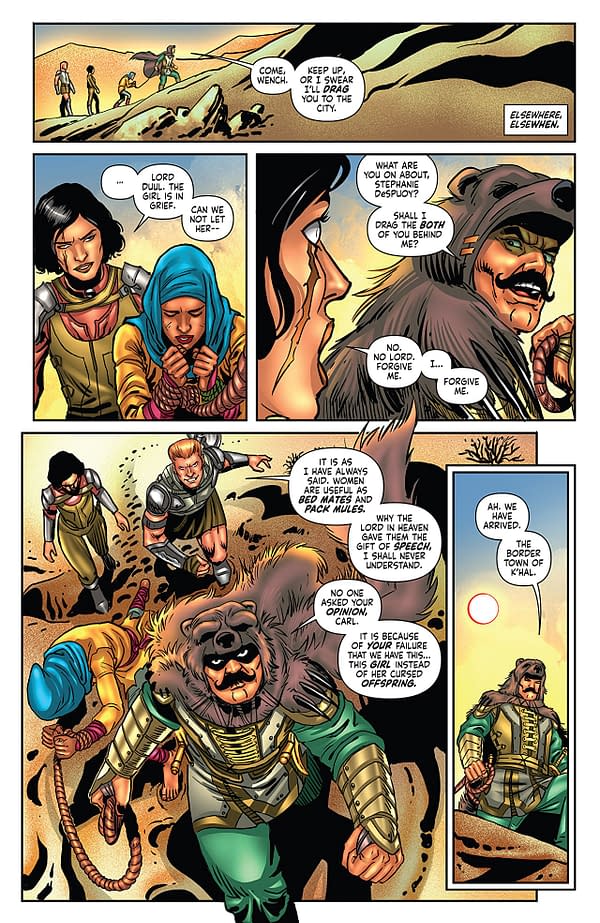 Walter Geovani once again provides some excellent artwork, continuing the highly-detailed and classical style that has made this book look so great. The action scenes are impactful and enjoyable. Adriano Augusto's color work is well-balanced and further feeds the classical aesthetic. The book continues to look fantastic.
Red Sonja/Tarzan #4 is another solid issue from Gail Simone, Walter Geovani, and Adriano Augusto. The final battle is prepped, the characters move into place, and we know the odds standing against Red Sonja and Tarzan. This one earns a recommendation. Check it out.
[rwp-review-ratings id="0"]
[rwp-review-form id="0"]