Roc Upchurch Returns to Image Comics With "Lucy Claire – Redemption"
As we noted in our article on Image Comics' December 2019 solicitations, there is a new title debuting from Image Comics in December, Lucy Claire: Redemption by John Upchurch. John is better known by the pen name Roc Upchurch, co-creator of Rat Queens.
In October 2014, Upchurch was arrested on charges of domestic violence, first reported by Bleeding Cool the following month. Later, Upchurch confirmed to Bleeding Cool that he had assaulted his wife. In August 2015, talking to CBR, he said that the charges were to be wiped off his record after attending counselling for six months. However his wife, identifying as Reese U, subsequently messaged the Mary Sue site and made further allegations against Upchurch.
After that there was radio silence for a few years. But in July of this year, he participated in a Kickstarter for a new comic book, written by Blake Northcott and Scott Lobdell, Everglade Angels, which raised $41,874 CAD against a $20,000 CAD goal.
And he now has a new comic book launching in December from Image Comics through Jim Valentino's Shadowline imprint, which also published Rat Queens, titled Lucy Claire- Redemption.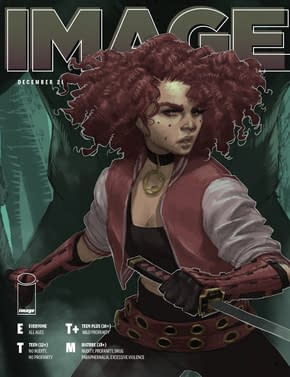 The text of the solicitation below describes a protagonist who was "once hailed as a hero," then "slandered and defamed, and her children were taken from her," which in part could be read as a reference to events that have previously been reported from Upchurch's life and career. It reads:
LUCY CLAIRE: REDEMPTION #1

Written and drawn by John Upchurch.Lucy Claire was once a celebrated hero. But through a series of sinister events, she was slandered and defamed, and her children were taken from her. But when an old danger re-emerges, Lucy will have to take on the mantle of hero once again in order to right the wrongs of her past and—above all else—find a way back to her children.

Age Rating: M, Imprint: Shadowline, Published: December 11, 2019, Price: $3.99
Image Comics, Shadowline and John were contacted for further comment but declined at this time.