Spoon! The Tick Event Auction at Heritage Starts Tonight
Fans of the Amazon Prime series The Tick now have a chance to bid on and win their favorite costumes and props from the show. Based on the Ben Edlund comic book character, The Tick follows the titular hero and his sidekick Arthur. We reported on this auction mere days ago, but starting tonight at 7pm EST fans can check out the auction, and bid on their favorite items from the show. There's a little bit of everything here too!
Fans can bid on a number of screen-worn Tick and Arthur costumes, Overkill's gadgets and helmets, and everything in between. While I know many of us would rather see another season, fans can instead make their own fun within the big blue goofs costumes. Many of the costumes are already over the $1k mark via proxy bidding, which will make these an expensive yet one-of-a-kind collector's item. There are still a number of affordable items such as Arthur's phone case, Dot's workout gear, and Tinfoil Kevin's hobo outfit is still an inexpensive buy as well. I know some of these items may seem commonplace and downright weird, but if you're a fan of this show (like I am) the sentimental value behind them is pretty high. And they also make some very interesting discussion pieces when displayed at home.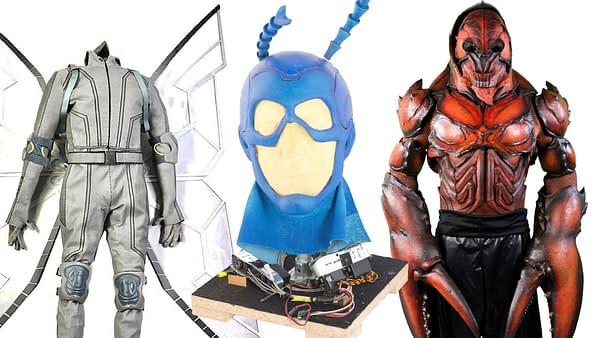 If you are interested in bidding on any of these unique items, you will need a Heritage account — which are free. Heritage also has a buyers premium of 20% with all winning bids. Heritage also has a number of other interesting finds, including old comic books, jewelry, posters, and more. You never know what you may find within their pages. Sometimes I myself get lost and spend hours just browsing what they have up for auction.