Writer's Commentary: Swords of Sorrow: Vampirella & Jennifer Blood #1 by Nancy Collins. Interior art by Dave Acosta.
Pages 1-4 As the writer of the Vampirella & Jennifer Blood mini-series, my job on the first issue was to 1) introduce the main protagonists to an audience that might not be familiar with them, and 2) incorporate elements and characters from the larger Swords of Sorrow story created by Gail Simone. Various realities, locations, and time eras that compose the larger Dynamite Universe are starting to merge, so rifts/portals between these various worlds are starting to open, allowing things like dinosaurs, cavemen, or Barsoomian Tharks to cross from one world into another. This mini-series takes place shortly after the events in SWORDS OF SORROW #1, where Vampirella unexpectedly finds herself face-to-face with a displaced T. Rex, and shortly after the events in VAMPIRELLA #13. I begin by introducing Vampirella to the reader. Since she is one of the more established characters in the Dynamite Universe, I don't really have to go into a lot of detail as to who and what she is, beyond mentioning her current connection to The Kabal, which ties into her book's recent continuity. Vampirella's narration is in the third person, similar to what I employ in the monthly VAMPIRELLA series. The Kabal has sent her to Southern California to track down a serial killer the media is calling 'The Pacifica Slasher', but who is, in reality, an ancient demon-possessed Native American shaman called Tahquitz (based on an actual Cahuilla legend). To differentiate Vampirella's reality from Jennifer Blood's—which I would classify as being 99.9% our own—I changed the name of what is Pacific Park in Santa Monica to 'Pacifica Park'. Tahquitz has been exploiting the sudden appearance of these rifts in the time/space continuum to jump between the world he shares with Vampirella (where magic works and monsters exist) and Jennifer Blood's , where magic and monsters are nothing more than fantasy, in order to double his hunting grounds. In Jennifer Blood's world, he is 'The Anaheim Ripper' and is stalking a notorious hook strip located between two famous amusement parks. (There is, indeed, such a place in real-life, btw.)
Here I bring in our second protagonist, the female vigilante Jennifer Blood. The reader's first glimpse of her is while on undercover stakeout, trying to find and put an end to the 'Anaheim Ripper'. Since Jennifer has not been around as long as Vampirella, I assumed most readers picking up the mini would not be familiar with her character. I added a flashback sequence that serves to introduce Jennifer Blood to new readers and get them up to speed on her back-story and the world she lives in. It also sets the tone for her character's 'voice', as her narrative is always told in the first person. She has gone undercover to try to catch the 'Anaheim Ripper'—a serial killer who has been killing prostitutes. We also get to see, in Page 11, that while Jennifer Blood is a self-styled vigilante, her drive to punish those she considers 'sleaze bags' makes her an extremely dangerous person, even to those who aren't hardened criminals.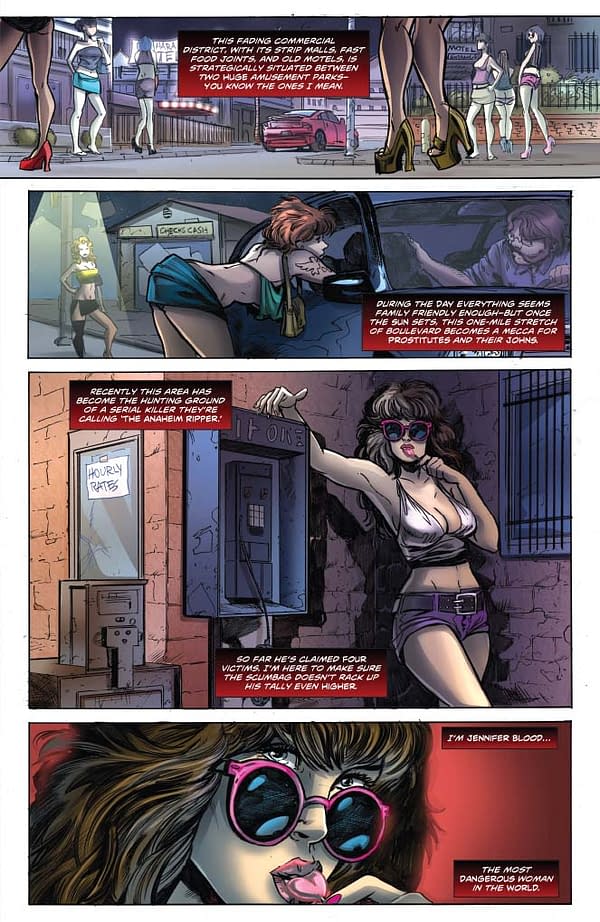 Page 14
This is where I introduce the Courier, one of the characters Gail Simone created who plays a major part in the larger Swords of Sorrow event, as well as reference the Traveller, the enigmatic figure who is trying to rally the diverse women of the Dynamite Universe by giving them these weird swords. Gail had already given Jennifer Blood her sword—in the form of a machete—but left me to pick the type of sword Vampirella would get and where she would receive it. Vampirella's sword is based on the sickle-sword wielded by the Hindu death-goddess, Kali, who is sometimes referred to as the Queen of Vampires. As to where the Courier presents her with the sword—I will just say it is in a less-than-glamorous location under far-from-heroic circumstances.
Pages 19-22
This is where Vampirella and Jennifer Blood meet for the first time. I wanted to underline the major difference between the two characters, which is how they perceive what they consider 'the real world'. Vampirella comes from a world where the supernatural exists, while Jennifer Blood belongs to one that is grounded in reality. Of the two, Vampirella has an easier time coming to grips with what is happening to her—After all, this far from her first rodeo when it comes to other worlds, time-travel, and demons. Jennifer Blood, on the other hand, is rooted in a far more prosaic (if violent) reality, and it is far more difficult for her to accept what is going on. It is far more rational (in her mind, at least) to disregard her weird experience with the 'Anaheim Ripper' and dismiss Vampirella as a scantily clad nut job with a Dracula fetish.
For more on Swords of Sorrow: Vampirella / Jennifer Blood #1, click here.
Enjoyed this article? Share it!