We've reported a fair bit from this weekend's London Film and Comic Con, but there are plenty more tales to tell. Here are a few bullet points that reached me at the Bleeding Cool table:
Wil Wheaton is quite the fan of comic creator Emma Vieceli. Dean Cain is quite the fan of Marv Wolfman. And the Power Rangers love their Iron Maiden comics!
Dan Fogler had the biggest line in the Comics Zone. But Kieron Gillen didn't do too badly…
Ian Livingstone chose poorly in his adventure getting a cab from Heathrow to the show during the London Bike Race — a tube might have been a lot quicker — and have got him to his panel on time.
As the guests were shipped off to their hotel, they found one very courteous elderly staff member helping guests off the shuttle bus, and handling their luggage. This turned out to be John Rhys Davies, Gimli from Lord Of The Rings, who wanted to pitch in.
Will the DeLorean even enter the doors of a certain police box? Will anyone ever say "where we're going, we don't need Weeping Angels"? Will Davros ever end up in the manure? We can't answer those questions. And now that IDW don't have the Doctor Who comics license to crossover with their Back To The Future license, the likelihood is getting less and less. But today at the London Film and Comic Con, we got a brief glimpse of what could be, as Christopher Lloyd…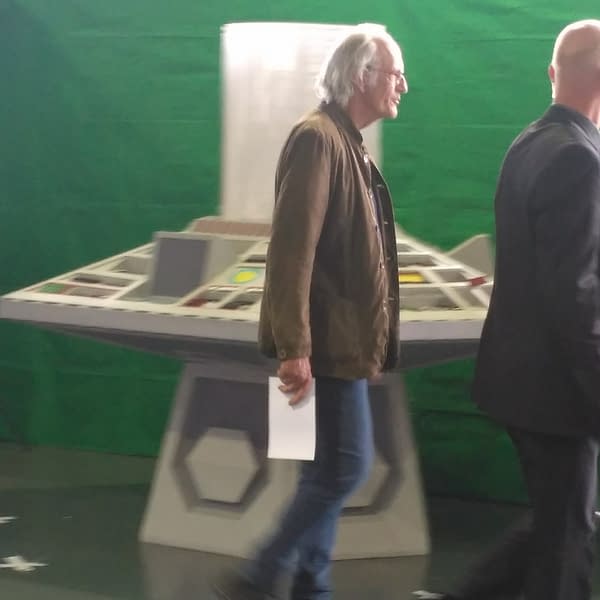 …walked past a TARDIS console.
If you stand next to Kevin Smith in the smoking area, you will get stoned yourself. However, if you sit in on Fatman On Batman, you won't.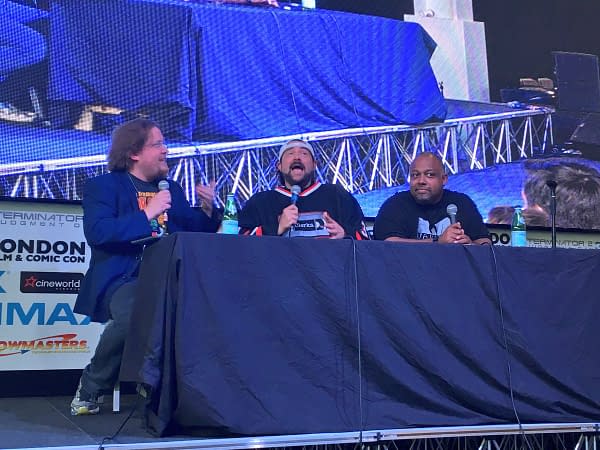 Bootleggers are selling pillows with Jodie Whittaker's face on it already.
Tony Lee had to say no to a £15,000 script doctoring gig this weekend as he had committed to running the Comic Zone.
Pamela Anderson won't allow any photos of her unless she can control the lightning. As Kevin Smith said, "she looks just like she dropped in from the '90s, she hasn't changed at all…from a distance."
Matt Lucas identified someone in his photo line as being individual who sends him hateful bile on social media — but they still wanted a photo with him. And we know what happened with Dan Fogler…
Enjoyed this article? Share it!