Tales of Suspense #101 Review: Great Character Interactions and High Action
Tales of Suspense #101 opens with the Winter Soldier and Hawkeye narrowly survive an explosion. Clint thinks it was the work of the Black Widow. Bucky doesn't believe it.
The two return to New York and link up with an old S.H.I.E.L.D contact who verifies that there is another player in the spy game taking hits on former Hydra officers. This leads to another brutal murder, and Bucky and Clint find another lead on this possible Black Widow.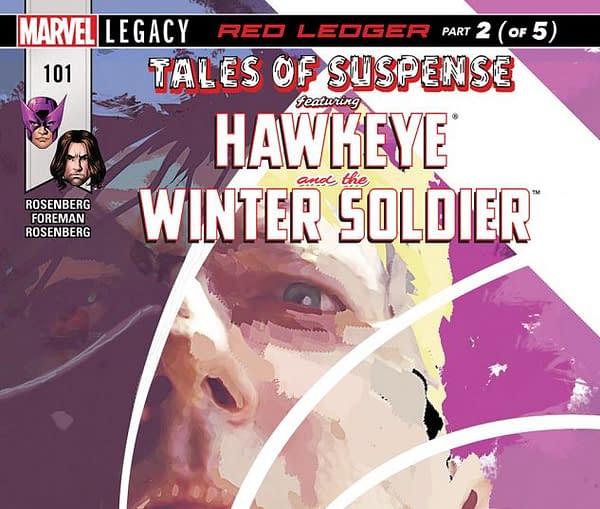 This issue of Tales of Suspense is told from the perspective of the Winter Soldier himself, Bucky Barnes. We get to experience all of these events from his point of view and his take on events. He doesn't like Hawkeye any more than Hawkeye likes him.
As such, we get a lot of dry humor, spy talk, and pessimism. It's great.
Matthew Rosenberg shows he understands the character of Bucky Barnes as well as he knows Clint Barton. The interactions between the two are thoroughly enjoyable, as neither one can really stand the other. Clint handles it by rambling and intentionally bothering Bucky. Bucky handles it with silence and an attempting to freeze Clint out.
There are some parts of the plot that feel a little skipped over. Tales of Suspense #100 was more tactile, and he we see every step that leads Hawkeye to Chernaya in search of Natasha. Here, the comic just cuts from them hiding out in Chernaya to the two meeting up with the other spy in New York. The last act of the comic takes place at a Westchester mansion presumably belonging to a former Hydra boss. We don't see what led the two here. It's not that big of a deal; you can fill in the blanks somewhat. However, this is a spy story, and those tend to be big on detail.
There are also a couple of moments when Bucky does somethings that recklessly endangers bystanders. The comic is aware of it, as Clint calls him out on these actions. However, Bucky himself doesn't acknowledge his mistake, and that doesn't look especially great for the character himself. You could argue that he's emotionally compromised or that this is just how he is. However, this is still a superhero comic.
Again, the interactions between Bucky and Clint make up for the comic's shortcomings and reading about these characters working together is delightful.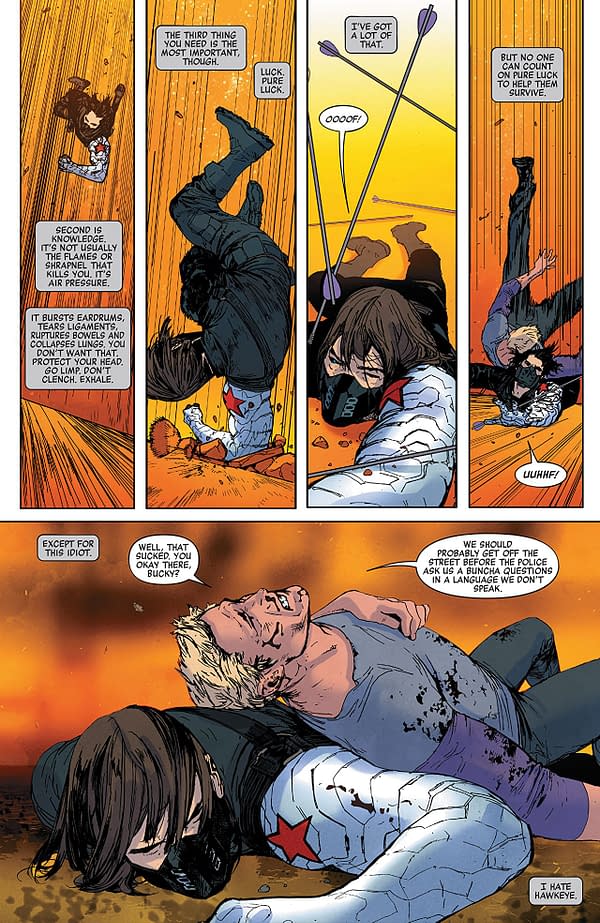 The fight scenes are really solid and high energy. Travel Foreman is really skilled at depicting movement and impact, making the punches especially satisfying. The character details are really vivid too, and Foreman's unique style brings a distinct atmosphere and texture to the visuals. Rachelle Rosenberg's color art is appropriately cooler and darker for the story, and it adds a lot to the comic.
Tales of Suspense #101 is an entertaining and kinetic continuation to the "Red Ledger" story. The characters interact in charming and enjoyable ways, and the art by Foreman and Rosenberg brings the story to life in an excellent manner. While there are flaws, they are vastly overshadowed by the positives. This one definitely gets a recommendation. Give it a read.