The Back-Order List 6/10/2020: Joker 80th, Adventureman #1, and LOSH
Every week your Local Comic Book Shop, hopefully, gets in a weekly assortment of comics, trades, posters, action figures, and other goodies from Diamond. Now some of these goodies sell out fast from your LCBS, so Tuesday and Wednesday LCBS retailers get on the phone (more often the computer) and let Diamond know they need more. Or sometimes they go to unpack those Diamond boxes and find items missing, or too damaged to sell (it does happen), retailers have to let Diamond know. However, the phrase no retailer likes to hear when they go to report those shortages, damages, or reorders is: "Sorry that item is on back-order," which means there are no more copies to send out from the Diamond warehouse.
The List Again Is Just DC This Week, Mostly
After a lull in new product being in the LCBS, June isn't any kind of normal, and with DC, love it or hate them for it, getting a jump by getting back into comic shops they have the most product in LCBS, even through Diamond. Image and Vault have the only two other entries on the Back Order List with Matt Fraction and Terry Dodson bringing us Adventureman #1 for Image, and No One's Rose #2 from Vault starting off the Back Order List.
The Joker 80th Anniversary Special #1 Dominates
So with DC titles still coming from Diamond, this week's Back Order List saw a repeat of the 80th Anniversary Specials dominating in several titles/covers on the Back Order List. The Joker 80th Anniversary Special #1 follows the Catwoman 80th Anniversary Special #1 with almost all the covers going on the Back Order List. Only the main cover and the 1940's Art Adams Variant Cover still available at Diamond, with all the other covers gone.
With a limit in products, customers and shops still seem to want more of these 80th Anniversary Specials, but the Joker one was driven up in demand by that factor and Punchline. Punchline's origin in the Joker 80th Anniversary Special #1 helped draw for the Special, but her appearance and lower print run for Batman Secret Files #3 seems to be why this issue is also on the Back Order List.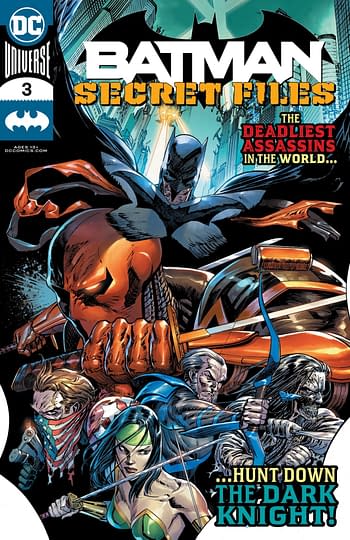 Everyone Really Wanted Gold Lantern
While the Joker 80th Anniversary Special #1 dominated, it was Legion of Super-Heroes #6, both the main cover and the variant cover, with the first appearance of the Gold Lantern driving both covers on the Back Order List by the end of Wednesday. The issue is already going to second print and jumping in price so both covers being on the list is not surprising.
So for those who can go to your LCBS and see any of these "back-order titles," grab them if you want them because Diamond won't be sending any more copies of these books. Though if your LCBS has set up new accounts with Lunar Distribution or UCS Comic Distributors, then maybe they can, but not likely.