The Bleeding Cool Top 100 Power List 2015 – 19 To 17 Welcome to the Fourth Bleeding Cool Top 100 Power List for the next Bleeding Cool Magazine, being serialized right now on the Bleeding Cool website.
It's an attempt to list the most powerful people working in the English speaking comic book marketplace. It's judged by all manner of attributes, the ability to influence what comics exist and sell, but also the willingness to use that power and the ability to retain said power if one aspect is taken away – a job, a gig or a prominent role. Which is why you will see a number of people on a higher spot than their bosses.
The Power List rewards those who combine roles, those who are double and triple threats and also where power is concentrated in one person or perceived identity. But it also notes certain teams who work together, who've built up a joint identity, a gestalt more powerful than the sum of their parts. Some powerful organisations or groups, where power is diffused amongst many, drop down or drop out altogether.
It does not measure talent or likeability and also does not intend to represent diversity. All it does is note power, used for the betterment – or the detriment – of comics.
The list has been created in consultation with a number of senior figures in the comics industry. However, I'm aware the one thing that can be guaranteed is that everyone will think it's wrong and prefer their own take. Including all of those who were consulted.
There will be a new post every day on Bleeding Cool. We'll run the previous ones below as well, so, in reverse order…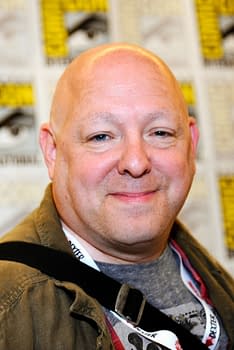 19. Brian Michael Bendis (UP)
The success of the Jessica Jones Netflix show cannot be underrated in how Bendis has jumped in standing this year – far more than his Powers TV show for Playstation Network. Writing the current lead book for Marvel, Invincible Iron Man, as well as Guardians Of The Galaxy and the hugely impactful Miles Morales: Spider-Man, his influence on the movies may have been cut short this year after the Marvel Coup that saw power seized by Kevin Feige and the Creative Committee neutered in its influence, but Bendis' power base in the comics has just increased as he takes on the big event of the summer, Civil War II. If any writer has autonomy at Marvel, it's Brian. It's just a shame that his creator owned line, which will do more than anything to preserve his legacy, has declined.
Position next year depends upon: Getting all his late books out of the door…. 18. Brian K Vaughan (UP)
The man who turned down television for comics books, Brian K Vaughan's work on We Stand Alone, Private Eye and Paper Girls this past year might add him to this list, but it is Saga with Fiona Staples that has seen him rise so successfully, the true claim to the title of the next Walking Dead, and he has achieved the sales figures without any kind of multi-media spinff, something he and Fiona are dedicated not to do.
He flies the flag for the hugely successful comic book that doesn't need a watered down Warner Bros cinematic interpretation to validate it. Comic books are the best medium to enjoy the story of Saga and nothing else will do. And having a sideline in a new digital comic book publisher isn't bad either….
Next years position depends upon: Doing that TV deal he said he wouldn't.
17. Bob Harras (DOWN)
Editor-in-Chief at DC Comics, Bob Harras was seen as a safe pair of hands at the publisher on his appointment, but made some significant hirings based on his time as EIC of Marvel. He recently brought in another ex-Marvel name Marie Javins into the building, to make the impossible of Covergence come out super quick and still ship on time.
A strong relationship with Eddie Berganza and Jim Lee has also made for a cohesive company, even as it went through a very rocky change, and he is not one to rock the boat too much, even when confronted with the heavy hand of Dan DiDio. And he seems to have survived Burbank rather well. The only person who has been EIC of both Marvel and DC Comics he brings a lot of history, knowledge and level headedness to the role.
Next year's position depends upon: Less of the laissez faire between DC's editorial groups.
#100-#98 – Dennis Barger, Janelle Asselin, Matthew Rosenberg
#97-#95 – Rich Johnston, Marc Silvestri, James Killen
#94-#92 – Jim Demonakos, Tim Buckley, Gahl Buslov
#91-#89 – Rob Liefeld, Peter Dolan, Catlin DiMotta
#88-#86 – Ken Levin, David Alpert, Kate Leth
#85-#83 – Jason Aaron, Stephen Christy, Jon Goldwater
#82-#80 – Stan Lee, Lorelei Bunjes, Marc Toberoff
#79-#77 – Jason Kingsley, Fiona Staples, Neal Adams
#76-#74 – Jim Sokolowski, Robbie Robbins, Corey Murphy
#73-#71 – Greg Capullo, Neil Gaiman, Art Baltazar & Franco
#70-#68 – Nemesis 43, Chris Powell, Mike Armstrong
#67-#65 – Hank Kanalz, Chuck Parker, John Rogers
#64-#62 – Alan Moore, Fred Pierce, John Wurzer
#61-#59 – Kate Beaton, CB Cebulski, Charles Soule
#58-#56 – Jeff Lemire, Matt Gagnon, Gail Simone
#55-#53 – Grant Morrison, Dinesh Shamdasani, Nicola Barrucci
#52-#50 – Skottie Young, William Christensen, Brian Azzarello
#49-#47 – Warren Ellis, Tim Lenaghan, Nicola Landau
#46-#44 – Eddie Berganza, Jonathan Hickman, Ross Richie
#43-#41 – Jonah Weiland, Peter Philips, Mark Waid
#40-#38 – Chris Ryall, Dan Slott, Mark Paniccia
#37-#35 – Nick Lowe, Raini Telgemeier, Sana Amanat
#34-#32 – Mark Doyle, Lance Fensterman, Mark Millar
#31-#29 – Hajime Isayama, Kieron Gillen & Jamie McKelvie, Kevin Tsujihara
#28-#26 – John Cunningham, Dave Marshall, Amanda Conner & Jimmy Palmotti
#25-#23 – David Goyer, Loot Crate Merchandising Team, Frank Miller
#22-#20 – Ted Adams, David Steinberger, Kelly Sue DeConnick & Matt Fraction
And catch up on previous years, here:
2014:
#100-#81
#80-#61
#60-#41
#40-#21
#20-#11
#10-#1
2013:
#100-#81
#80-#61
#60-#41
#40-#21
#20-#11
#10-#1
2012:
#100-#81
#80-#61
#60-#41
#40-#21
#20-#11
#10-#1
Bleeding Cool Magazine #19 is out now in all good comic book stores. Bleeding Cool Magazine #20 with the full Top 100 Power List will be out in January.