"The Deep & Dark Blue": A Milestone in LGBTQ Fantasy for Middle Schoolers [Review]
We're in an era where diversity and LGBTQ representation is hitting fever pitch in Children's and Young Adult literature. It's about giving all kids a mirror to experience their identities, to normalize their lives. Representation comes in all genres, be it school stories, romance, fantasy, Science Fiction, coming-of-age or a combination of several genres in one.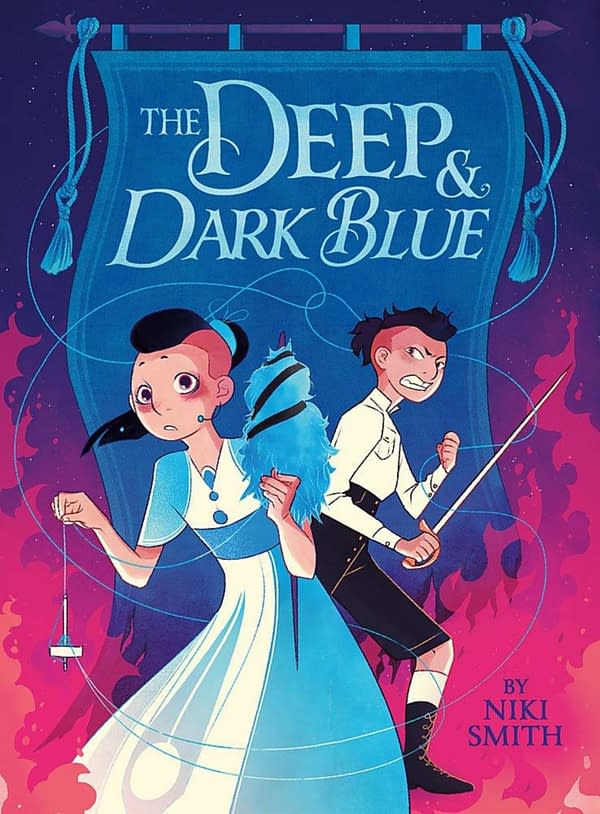 The Deep & Dark Blue is a lavishly illustrated epic fantasy for middle schoolers. Set in a fantasy world with magic, a pair of royal twins find themselves on the run after their house is conquered in a violent coup. They take refuge with a magical order of sisters by posing as girls, and one of them discovers her true gender identity. She has to decide whether to stay with the order or join her brother to take back their house. Their key to going home lies in learning the magic of weaving threads that binds the forces of the world together, a skill taught only to girls.
To the best of my knowledge, this book is the only transgender coming-out fantasy epic for kids out there. It weaves themes of coming-of-age, gender identity, tolerance and acceptance into a swashbuckling fantasy. It's exactly the type of book to give to a trans child who's coming to terms with their identity. Smith designed the story to be gentle and empathetic while also providing the fun and thrills of a fantasy epic of daring-do and friendship.
Nikki Smith's graphic novel The Deep & Dark Blue is a labour of love. She's of the generation of artists who absorbed manga and anime. Her storytelling style uses those techniques to make the story as emotional and viscerally direct as possible. This is a complete epic story in 250 pages, printed in full colour on heavy stock paper, built to last. It's designed to be a book for a kid to cherish and keep forever.
The Deep & Dark Blue is now available in both softcover and hardcover.