The Demon: Hell is Earth #6 Review – Playing with Lucifer's Ribcage
Belial has attained ultimate power. He will soon be in control of all the Earth, and the Demon, Xanadu, and Merlin are almost powerless to stop him. However, Merlin has one last ploy that may just give the team the upper hand. Unfortunately, it puts the fate of all the Earth in the hands of Etrigan the Demon.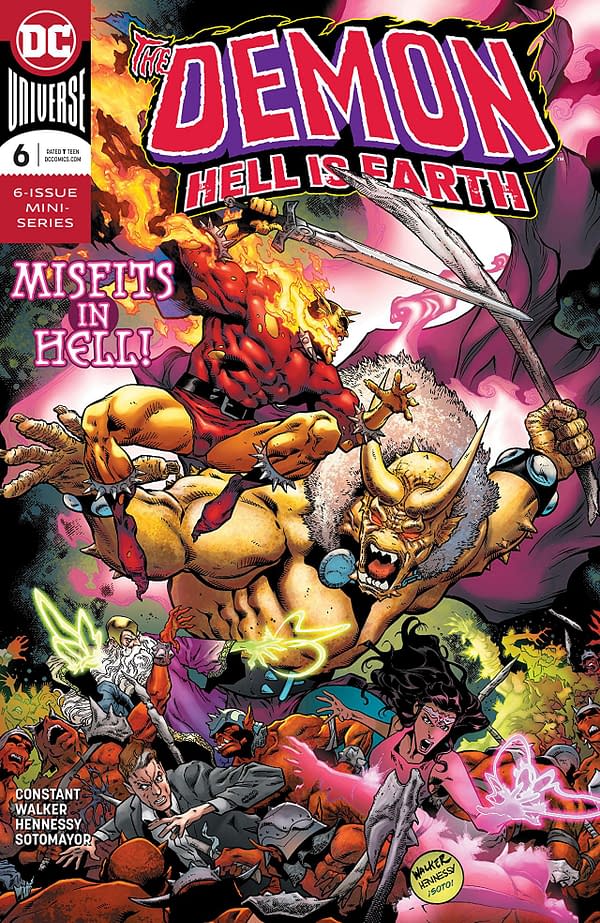 So, Etrigan gets Excalibur in this, and he duels Belial, whom wields a rib bone of Lucifer. I'm almost tempted to leave the review there, because I feel like that's all you need to know about this book—meaning you should buy it. But, alas, that would seem more unprofessional than even my usual antics.
It is indicative of how thoroughly fun this book is. It doesn't reach for any deeper meaning in all this, and it gets away with not doing so. It's just a wall-to-wall demonic slugfest between to immensely powerful beasts.
It tries to reach for a little bit of emotional resonance with Merlin, but it doesn't have the momentum to drive that home. Also, the ending feels cheap regarding the earthly consequences, but it isn't a fatal blow to the overall comic. Etrigan has a good ending though.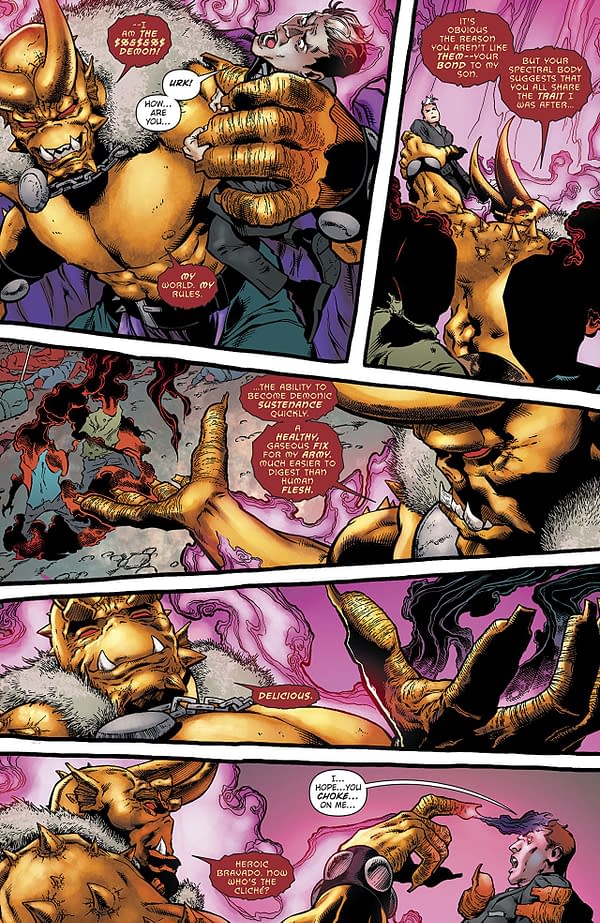 Brad Walker's artwork sticks the landing with another book of impressive devilish figures, hard and defined features, and bombastic action sequences. Plus, Lucifer is a giant bat-dog, so that earns some visual points on its own. Andrew Hennessy's inking adds some extra emphasis to the figures. Chris Sotomayor's colorwork is the right mixture of blood reds and night black for this kind of book.
The Demon: Hell is Earth #6 is the ending this book deserves—which is to say that it was fun and vicious. It's not especially thoughtful, but it never made pretenses of being so. Walker, Hennessy, and Sotomayor nail it in the visuals department, bringing Etrigan to devilish life impressively. This one earns a recommendation. Check it out.