The Legend Of Zelda: Link To The Past Graphic Novel By Shotaro Ishinomori Returns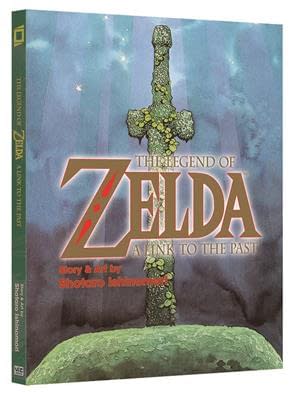 Viz Media is putting The Legend Of Zelda: Link To The Past graphic novel back into print, after two decades of… not being.
Out in May from Viz's Perfect Square imprint, the comics was originally serialised in Nintendo Power magazine then collected in graphic novel form back in 1993. The creator Shotaro Ishinomori who died in 1998 may be better known for Cyborg 009 and Kamen Rider but he also held the Guinness World Record for the "most comics published by one author" and there is a Ishinomori Manga Museum in Japan dedicated to his works.. The book currently sells from $70-$125 online.
But possibly not for long.
"THE LEGEND OF ZELDA: A LINK TO THE PAST is such a rare book, showcasing world-famous manga creator Shotaro Ishinomori's incredible art with the classic Nintendo story of Link and his quest to save Princess Zelda against all odds. We are honored and excited to make the publication available once again to North American readers from the Perfect Square library," says Beth Kawasaki, Senior Editorial Director, Perfect Square. "Many older fans recall eagerly awaiting each new issue of Nintendo Power magazine back in the '90s for a new monthly chapter of A LINK TO THE PAST. While it followed the overall story arc of the original Super Entertainment System game, creator Ishinomori also added new plot twists and characters that made this a stand-alone favorite among multiple generations of fans. Readers of all ages will be captivated by this timeless story and we can't wait for everyone to enjoy this long-out-of-print book!"