The Magic Of "Node" – An Interview with independent comic creator, David Rondinelli Timothy writes;
After taking a few days to process my experience at NYCC, I have discovered a few things:
A diet of foot-long hot dogs and coffee does a number on your digestive system;

New York City never sleeps. The streets are just as alive at 3 AM;

And finally, being a reporter for Bleeding Cool is a lot like being a celebrity – you get free stuff and people bombard you for interviews.
Which is exactly what happened in the case of the aforementioned David Rondinelli – founder of Horizon Line Comics, and the writer and creator of underground comic, "Node." I was sitting alone in the deserted press lounge when David approached me. "I like your vest," he said as he loomed by my table, dressed casually in a green, plaid button-up and jeans. He looked uncertain and timid, like a sighted deer in the wild. I wasn't sure who this man was, or if he was hitting on me, but flattery will get you everywhere, so I introduced myself, shook his hand, and invited him to sit down.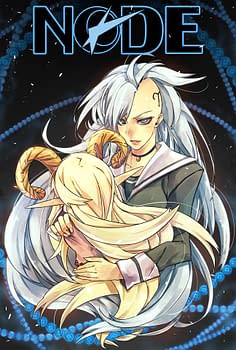 Like a flame fed with gasoline, David's enthusiasm skyrocketed after I told him I was reporting for Bleeding Cool; he began hurtling pamphlets and books onto the table, and I didn't have the heart to tell him that I wasn't prepared in the slightest for an interview. But, there was something exciting about his passion – I could tell this was a man on a mission. He wanted the big-time: movies, logos, copyright infringement lawsuits.
"Independents are kind of the future of comics – new characters, fresh stories," David said. And from what we spoke about, I believe "Node" to fulfill both categories. The world of "Node" is dystopian with a magical flare, layered with classic Greek mythology. There are nasty monsters, greedy villains, and badass magical heroines. Node, the titular character, draws power from her astrological moon sign, Aries. As such, her magical abilities only work at night. David describes Node as "the baby of Sailor Moon and Batman."
Now that is a crossover I'd like to see.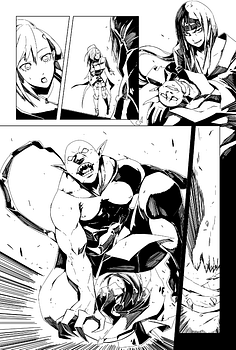 "I have taken more of a fantasy approach, expanding on mythology and creating modern myth through comics," David said while discussing the direction and themes of "Node."
"Node" seems to have many great elements that could appeal to a wide audience – a magical girl for the anime lovers, a futuristic, dystopian society, and a slew of bad guys for Node to face off against. In fact, David said that Node's mentor is "a lot like Giles from 'Buffy.'" So even Whedon fans can find something exciting within David's story.
David revealed that Issue #4 will be released soon, and hinted that the plot might be inspired by Jason and the Argonauts. Interesting, indeed.

Below are links to David's personal website, and the Facebook link for Horizon Line Comics. Check him out and support up-and-coming artists!

davidrondinelli.wix.com/horizonlinecomics.com
facebook.com/HorizonLineComics