In January Dynamite is launching Twilight Zone: Shadow and Substance #1, a new series based on the Rod Serling television series. Writing the new series with be Mark Rahner. Byron Brewer chatted with Rahner about trying to step into Serling's shoes.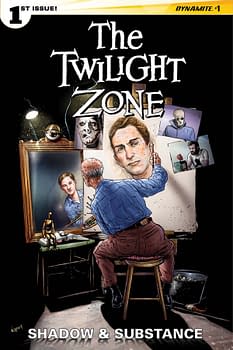 BYRON BREWER: Mark, tell us how you became associated with this relaunch of the Twilight Zone property?
MARK RAHNER: Through the power nagging. I've had a long, good relationship with Dynamite, and had mentioned my love of and expertise in Twilight Zone once or twice. Ahem. I did two 48-page Twilight Zone specials with three stories in each, and loved it. I'm very flattered to be picking up the baton from JMS.
BB: I hear you are a fan of Twilight Zone and similar works. What is it about these stories that appeals to the fan in you?
MR: Their humanism. Their nerve. Their weirdness. Their not-so-subtle commentary on real events. Rod Serling's layer of seething anger barely beneath the surface.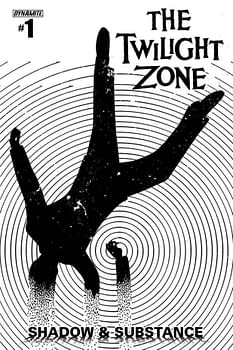 BB: Rod Serling left quite a legacy with the multi-season TV show, not to mention a later sequel and film. Do you look to any of these for inspiration, or perhaps to earlier comic book iterations?
MR: They're a constant, lifelong inspiration, along with Serling, himself, and a lot of his other work – Night Gallery, and his live television plays that are available. No disrespect to anyone involved in any other iteration – Harlan Ellison is a longtime friend and mentor – but the original TZ episodes and Serling are mainly what I keep in mind.
BB: So tell us about "Shadow and Substance."
MR: I was afraid that if I called it "The Fifth Dimension," people would think it was about "The Age of Aquarius" or marrying some dude named Bill. "Shadow and Substance" is another phrase from the original series intro. It signifies faithfulness to all of that. When you read the narration, I hope you hear it in your mind in Serling's voice like I do. They're meant to be contemporary stories that still play like they could be unfilmed episodes.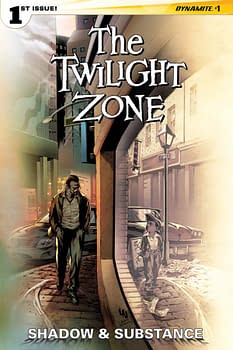 BB: Tell us more about your protagonist, the time-traveling writer. Is there anything autobiographical here?
MR: The story does have autobiographical elements, but anyone who could object is dead.
That's a familiar and beloved obsession of Serling's that you'll see in "Walking Distance" and "A Stop at Willoughby," a couple of the best-loved episodes. I wanted to start with a story that touched on familiar notes, like jazz that goes on familiar chord progressions – and then invert and subvert it. It's not a remake or an update, but a fairly wrenching variation on his theme of nostalgia from childhood. This writer had an awful childhood that he barely survived, and his trip back is anything but nostalgic. What would you say to your childhood self – especially if that kid was utterly tormented? How would you get through to him?
BB: Serling's twists to a story were always spectacular. Is this an element you will be incorporating into your stories?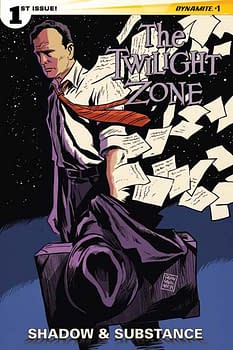 MR: You bet, but not all the time. There was much more to The Twilight Zone than just that. More than half a century later, everyone thinks they know what a Twilight Zone story is: a morality tale with a twist. And if they can guess the twist, they win. I'm here to tell you that there's a lot more richness and diversity to be mined from The Twilight Zone. It's an infinite, unpredictable, bizarre place.
BB: Are you excited to be working with artist Edu Menna?
MR: I'm not shooting phony PR out of my hole when I say I'm thrilled to watch him bring my stories to life. Edu did one story in each of my TZ specials, and his second one, "Cold Calculation," in The Twilight Zone: Lost Tales, is beautiful. He did my Avenger special, and it's turning out to be one of the books I'm proudest of. Keep an eye on this guy. Edu's got a touch of Steranko in him – which is very nice – but his style's distinctive.
BB: Is it harder to capture readers with books like this rather than one with a focused protagonist/hero, and how do you as a writer meet that challenge?
MR: I think it's fun to work on a title that doesn't have decades of continuity or so many rules that are so cumbersome that it stops being enjoyable. I always loved anthologies and short stories. Each tale is brand new – the first two stories are two-parters and the rest should hold to single issues. I get to try things. Respond to things. Get people killed, or at least have the option to kill 'em. All bets are off, all the way off, in The Twilight Zone.
Enjoyed this article? Share it!