The Truth About Marvel's X-Men/Inhumans Decision? Maybe…
Bleeding Cool was the first to tell you of the upcoming dangers of the Terrigen Mists to the mutant population in the X-Men comic books back in May, as well as being the first to note the confirmation of this, in a preview of Extraordinary X-Men made public, and signs in a recent issue of Ms Marvel.
While Marvel EIC Axel Alonso has denied any meta interpretations of the Inhumans' gas killing off the X-Men as Marvel Studios reducing the role and impact of the Fox-licensed X-Men, I did have it confirmed to me more recently by Marvel senior sources that Marvel did indeed push Avengers, Guardians Of The Galaxy, Inhumans and others to support Kevin Feige's projects, at the expense of those tied to Fox.
This of course may change now. I'm looking into that too.
But that Extraordinary X-Men preview has now been mashed up by our favourite folk at Illuminating Comics, revealing exactly what was going on at Marvel… in their minds at least..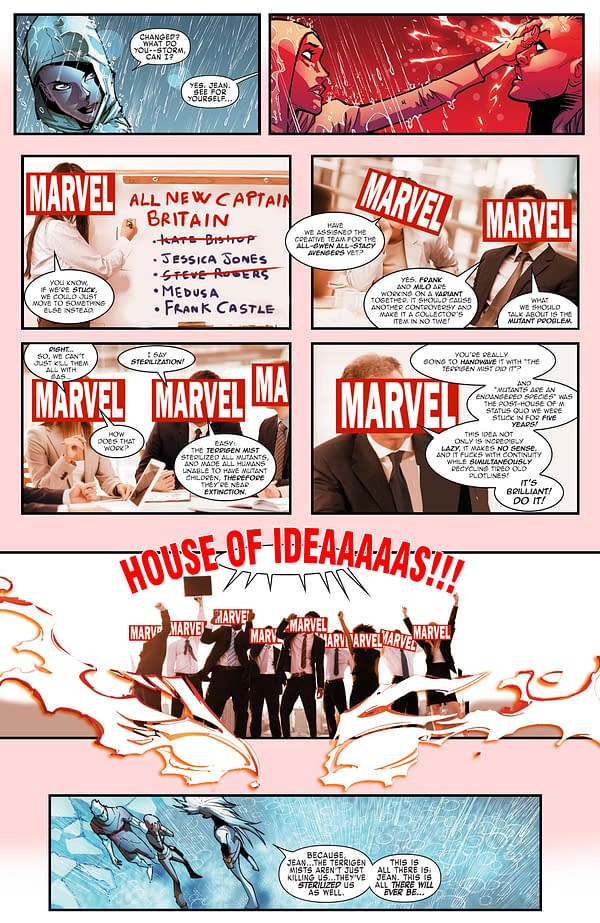 I hear a new Captain Britain series is coming for his 40th anniversary year in 2016…