John Oliver (no, not that one) is a customer of the Comic Cave comic store in Springfield, Missouri. And has set up a GoFundMe page to try and help his store out. And he sees one main culprit. The pull box.
The part of the comic business that few seem to realize is that when someone doesn't pick up their orders, it can kill a brick and mortar store. Inevitably, people special order products, subscribe to comics, and ask him to order in items and then never pick them up. They assume he can just "sell them elsewhere." The problem with that mentality is that comics are a "new, hot items sell best" business. When someone doesn't pick up their books over 3-4 months, Josh can't resell them for full price. They usually end up in a dollar bin or discounted so he will take a loss, if they sell at all. Below is a photo of special orders being "held" for customers. Many will pick them up… however, most of these items have been held for 3 months or longer. The photo below represents around $6,000 of items (retail value.)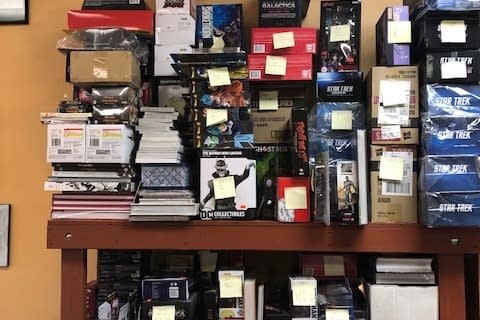 The next set of photos are 9 subscribers who just decided to stop coming in. Between just these 9, Josh is now stuck with over $4,000 worth of comics, some even 7-8 months old.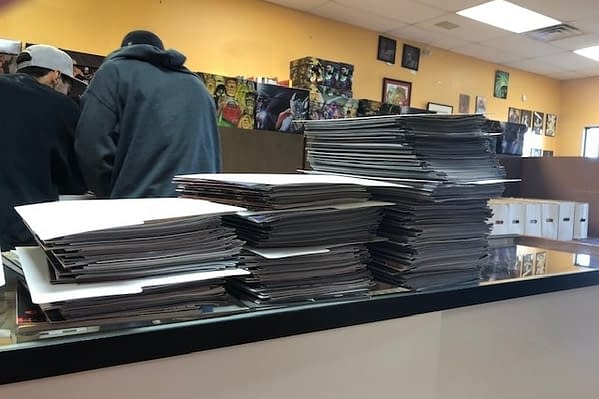 Josh is struggling to clear debt and be able to order new inventory for his shop He's not one to complain to his customers, or his friends.He's having trouble keeping his brick and mortar store open due to these situations and the high cost of giving Springfield its proper comic convention this year. I hear people complain about Amazon and that "other" chain store that carries comics in town. The Comic Cave has become a place to meet writers and artists, talk to other comic book fans, hang out and chat with Josh, and just be a fan for a while. It's a haven for many to escape the relentless day to day they face. If things don't change quickly, Josh will be forced to begin liquidating his store and, eventually, close this location permanently If each subscriber gave just $5, Josh could make up the ground he needs and we'd more than meet our goal. However, Josh has been generous enough to offer incentives for you to help him keep The Comic Cave open and thriving!
Donors so far include AfterShock publisher Joe Pruett, Popgun's Joe Keatinge, Exterminated writer Ed Brisson, Spread creator Kyle Strahm, X-Men's Matthew Rosenberg, Oni Press editor Charlie Chu, Rocket Raccoon's Skottie Young, X-Men's Cullen Bunn, and many more, 96 backers in total raising over $6000 of their %$10,000 goal.
Cullen Bunn has also donated 50 signed, random trades and comics to be shared betweeb five random backers who pledge $100 or more And any donation will entitle the donor to attend a Private Sale/Customer Appreciation Party.
Enjoyed this article? Share it!