UCS Retailers, Don't Sell Stjepan Sejic's Aquaman #59 Yet – Too Late?
With UCS Comic Distributors, Lunar Distribution and Diamond Comic Distribution all distributing DC Comics products to comic book stores right now, there is likely to be some market disparity with books arriving through one distributor at a different schedule to the other. We'd noted that Diamond Comic Distributors had reported late titles, with Lunar having a handful, well UCS has now done the same, though in this case it's down to DC dictate rather than their own delays.
Last night UCS Distributors (also known at Midtown Comics) untold retailers that "DC has confirmed that the following titles are experiencing shipping delays for some retailers, therefore, please note the following:"
Aquaman #59 main cover by Stjepan Sejic: Delayed to an on-sale date of June 2 for all retailers. If any retailer receives this main cover edition periodical prior to, please hold and do not release before June 2nd. The variant cover by Tyler Kirkham may go on sale May 26th.
The Flash #754 Raphael Grampa Variant Cover: Delayed to an on sale date of June 2 for all retailers.
Additionally, the following titles have been delayed to an on sale date of June 9 for all retailers:
DC Goes to War HC
Martian Manhunter: Identity TP
The Terrifics Vol. 3: The God Game TP
Wonder Woman Vol. 1: The Just War TP
Wonder Woman: Tempest Tossed TP
Young Justice Vol. 2: Lost in the Multiverse
Of course, this was after Tuesday-opening UCS retailers would have had Aquaman #59 on sale for the entire day. Also after plenty of sales on eBay as well. Oops…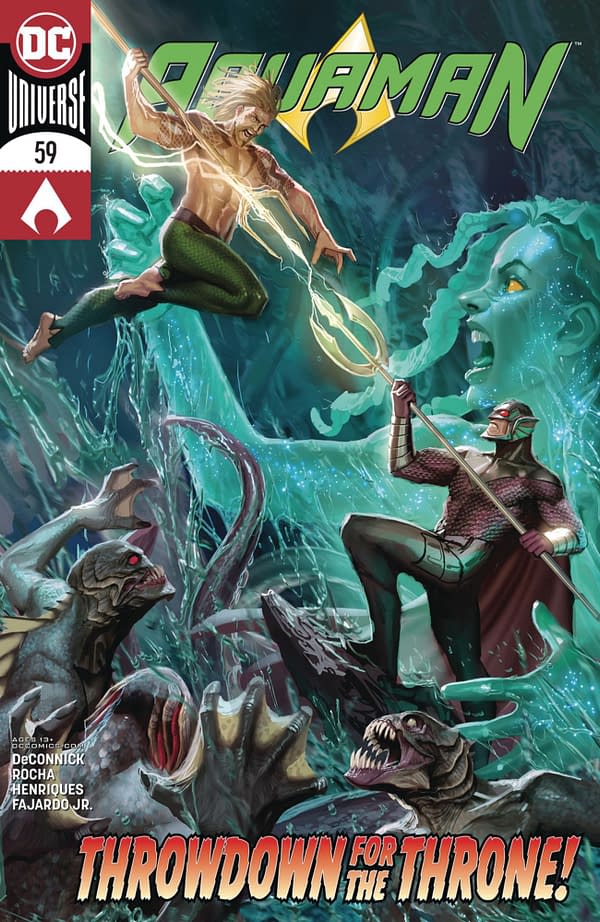 AQUAMAN #59
(W) Kelly Sue DeConnick (A) Robson Rocha (CA) Stejpan Sejic
Underwater fishticuffs! It's a battle royal as Orm's army, a bloodthirsty elemental,and Arthur go fin-to-fin-to-fin over the future of Atlantis's heir apparent. Alarm bells are ringing, and Mera better wake up soon, lest the kingdom come undone!In Shops: May 26/27, 2020 SRP: $3.99